Mesoraco sits, but hamstring not an issue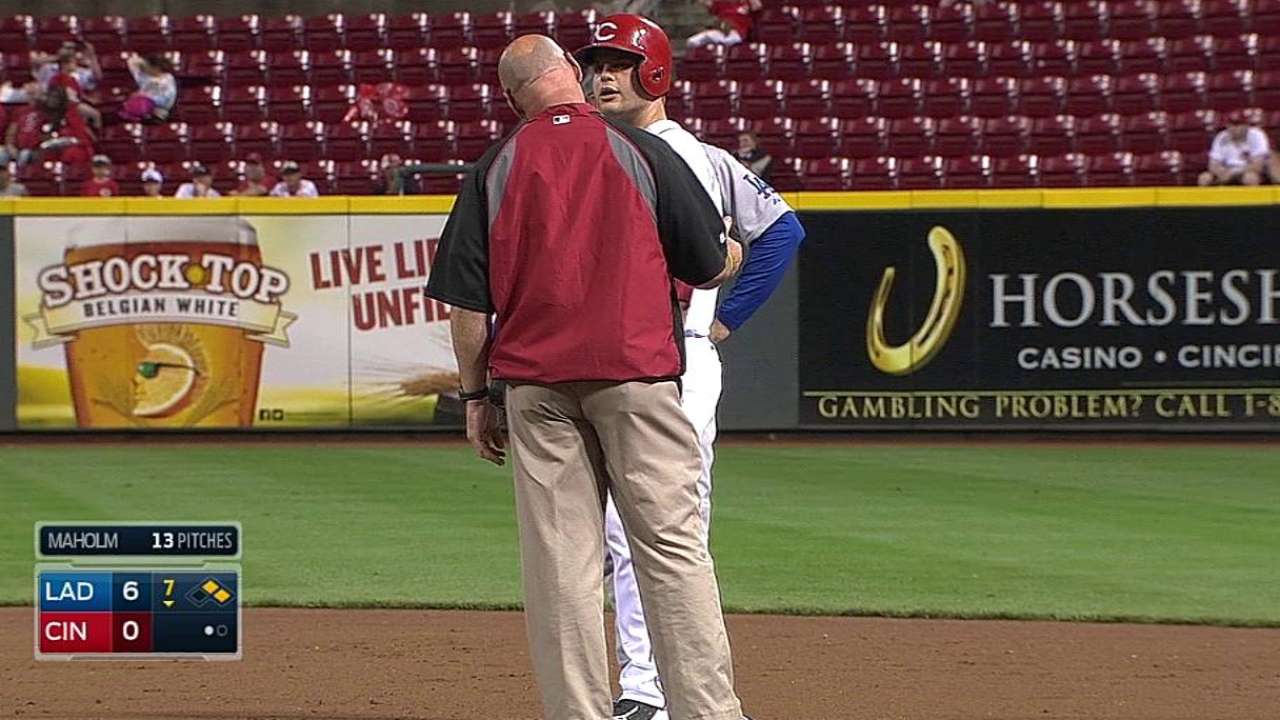 CINCINNATI -- For a moment, the Reds were worried that catcher Devin Mesoraco had sustained another leg injury on Tuesday night. Mesoraco is OK, however.
Mesoraco, who hustled for an infield single in the seventh inning of a 6-1 loss to the Dodgers, was examined by manager Bryan Price and the trainer after he had to scamper back to first base on Skip Schumaker's lineout to third base. Mesoraco, who spent nearly three weeks on the disabled list in April and May with a strained left hamstring, showed signs of discomfort.
"He had a little bit of discomfort, but they checked him. It looks like he's fine. He had a little bit of a tweak," Price said on Wednesday. "That was my concern that maybe he had re-aggravated his hamstring and that could have certainly been a huge setback. I think we're confident it's not going to be a big issue."
Neither Price, nor Mesoraco, would detail where he felt something.
"It's nothing to worry about," Mesoraco said. "All is fine. No problems."
Mesoraco -- in a 3-for-22 skid during the homestand -- was not in Wednesday's lineup vs. the Dodgers, but that was expected since backup catcher Brayan Pena usually works with ace Johnny Cueto.
With the Reds' offense struggling, Price was asked if he was tempted to alter his usual plan and have the right-handed-hitting Mesoraco in the lineup vs. lefty Hyun-Jin Ryu.
"The temptation is to keep getting really good results from Johnny as far as how he pitches," Price replied. "We're going to have collectively be better offensively. Devin hasn't been swinging the bat great lately. That's part of baseball. He had unbelievable first 80 at-bats and then he's done what most people do -- hit a little ebb in the production and then he'll come back and be a great offensive force for us."
Mark Sheldon is a reporter for MLB.com. Read his blog, Mark My Word, and follow him on Twitter @m_sheldon. This story was not subject to the approval of Major League Baseball or its clubs.