Bats can't pick up McCarthy as Keuchel halts D-backs
Hill's sixth homer of the year accounts for Arizona's sole run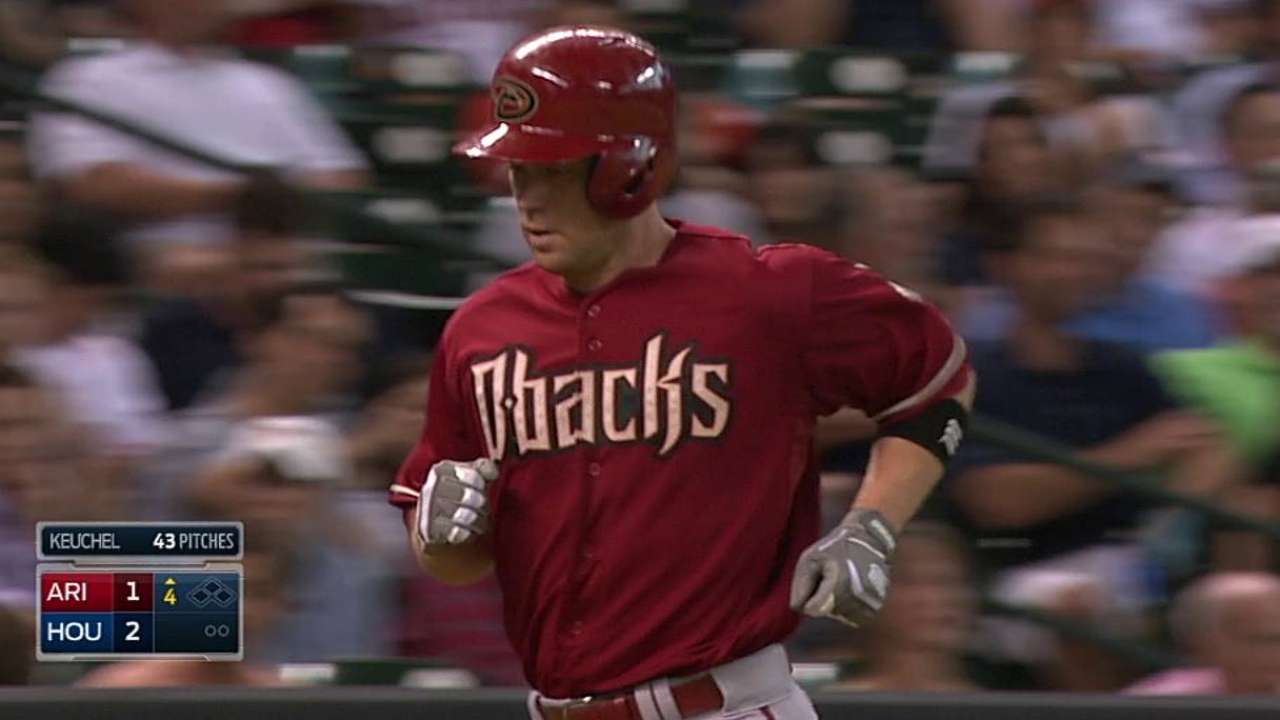 HOUSTON -- The questions kept coming to the D-backs and the answers all sounded the same: This was the Dallas Keuchel they expected.
That answer, in case you were wondering, is a compliment. Keuchel has been one of the American League's best all season, and he kept form against the D-backs, defeating Arizona, 5-1, Wednesday night at Minute Maid Park.
What the D-backs saw from film highlighting Keuchel was the equivalent of what he brought against them in his eight innings of one-run, four-hit baseball.
"It was what we saw on tape," manager Kirk Gibson said. "He didn't give us many pitches to hit."
There was about one pitch to hit, Gibson said, and that came in the fourth inning. The D-backs were hitless until Aaron Hill connected on a shot to left field that landed in Houston's Crawford Boxes. The hit brought Arizona within one run of the Astros at the time.
The praise came in multiple forms from D-backs players. Keuchel was commanding his stuff, working the plate inside and outside. His changeup was almost a guaranteed strike. And if you made contact with the ball, chances are it was going to be a grounder.
"He pretty much did what we saw on video," Nick Evans said. "You've just got to look for something you can handle and try not to miss it."
Houston's Chris Carter followed Hill's home run with a solo shot of his own in the fourth inning, extending the Astros' lead to 3-1. The blast was Carter's first of two off Brandon McCarthy.
McCarthy struggled early, giving up a single to George Springer in the first inning and then walking Jon Singleton, putting Springer at second. Jason Castro knocked a single to center field to score Springer. Singleton was thrown out at third on the play, and McCarthy got out of the inning by striking out Matt Dominguez.
The Astros struck again in the third inning, starting with a Jonathan Villar single to center field. Springer hit a one-out single to left field, moving Villar to second, before both batters advanced on a wild pitch. Singleton followed with a groundout to first base that allowed Villar to score.
"I wasn't sharp, really, from the get-go," McCarthy said. "I thought I did a good job of trying to get as deep as I could."
Struggling in early innings is something no pitcher wants, especially when going against someone like Keuchel, who has been on a season-long tear. His ERA in May was a miniscule 2.14. Wednesday was no different, as he has now given up just one run in his two June outings.
"He's throwing lights out," McCarthy said. "You realize early that once we're in a deficit, it's going to be hard to climb out of it."
McCarthy made it through six innings, giving up eight hits and five runs, moving his record to 1-9 and ERA to 5.29.
McCarthy gave up his final two runs in the seventh inning, when Carter hit a leadoff homer, this time to right field.. McCarthy followed by giving up a single to Alex Presley and walked Marwin Gonzalez before coming out of the game. Springer hit a sacrifice fly later in the inning to score Presley, and Houston's final run of the game.
The D-backs got their third hit off Keuchel in the sixth inning when Chris Owings hit a one-out single. But even Houston-native Paul Goldschmidt couldn't help out, as he came up to bat with two outs and Owings still on third. The result was a strike out.
Keuchel's one walk came in the second inning to Martin Prado. He followed it by forcing Cody Ross into a double play.
"A bunch of their guys were pretty patient 0-0 and just the gameplan was to go in and try to attack the zone," Keuchel said. "Except for the Prado at-bat, his first at-bat, I think I did a pretty good job."
Yes, Keuchel was what the D-backs saw on film, and like many others this season, they still couldn't hit him. The D-backs will go for the two-game split Thursday in Houston, sending (4-3, 4.57) Wade Miley to the mound against (3-4, 4.12) Scott Feldman. Miley is going for his first win since May 10.
Coming into Wednesday's game, the D-backs had crept up on the San Diego Padres in the National League West. With the loss, they remain the last place team in the division, half a game behind the fourth-place Padres, who lost 3-0 to Philadelphia.
"A guy threw a really good game against us," Gibson said. "Maybe we weren't as sharp as we could've been but nevertheless we lost the game. We've got to come back tomorrow. Got a big game tomorrow."
Mike Vernon is an associate reporter for MLB.com. This story was not subject to the approval of Major League Baseball or its clubs.