Keuchel dazzles, pads All-Star resume as Astros cruise
Carter goes deep twice, propels lefty to sixth win in last seven starts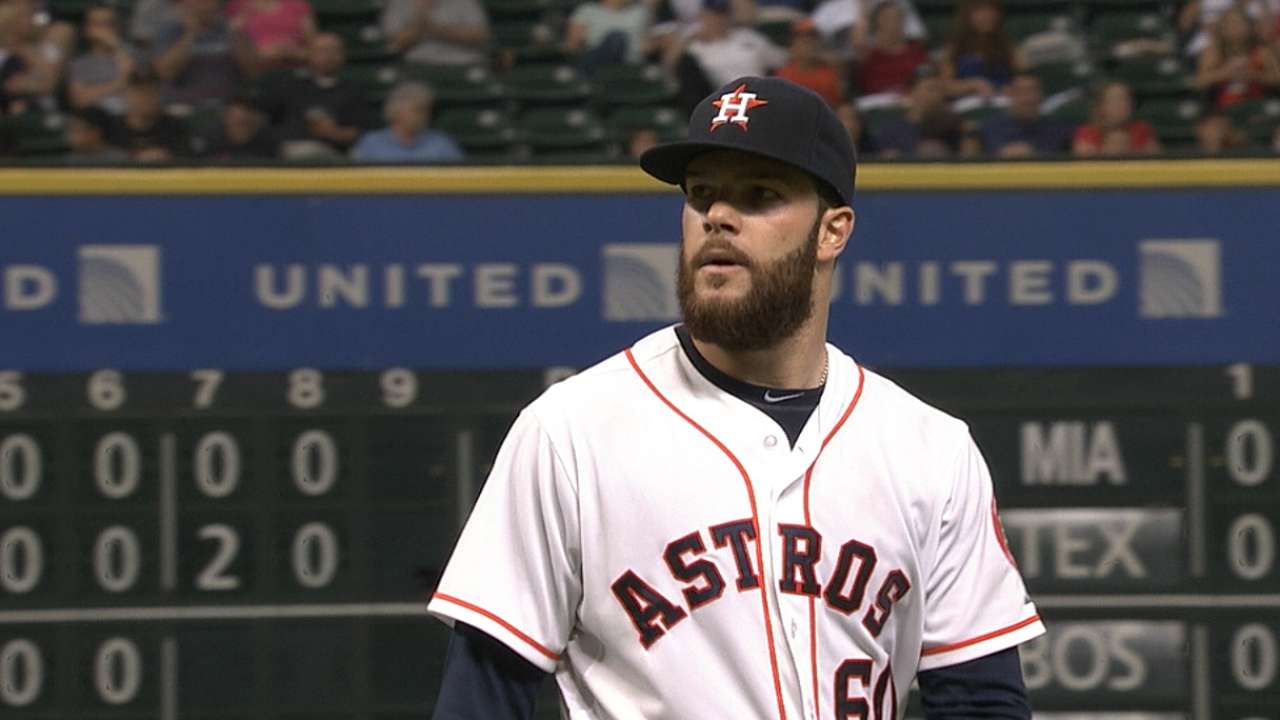 HOUSTON -- Astros manager Bo Porter began his postgame press conference Wednesday by stumping for left-hander Dallas Keuchel to make his first career All-Star team.
"If he's not an All-Star, what is?" he said.
Keuchel, to his credit, isn't worrying about any such accolades despite another terrific performance in which he held the D-backs to one run and four hits in eight innings and rode a pair of Chris Carter homers to his eighth win of the season, 5-1, at Minute Maid Park.
After winning the fifth spot in the starting rotation late in camp, Keuchel (8-3) became the first Astros pitcher to win eight games before the All-Stark break since Wandy Rodriguez in 2009. He is 6-1 with a 1.33 ERA in his last seven starts, allowing 37 hits in 54 1/3 innings.
"It means a lot," Keuchel said of Porter's comment. "That's not something I think about. I just think about going out and helping the team, and the defense was tremendous tonight."
The Astros have won five of seven games and are 19-11 since May 11 as they continue to inch closer towards the .500 mark at 30-37. The starting pitching, led by Keuchel, has been terrific, and the bullpen has come together now that everyone has a set role.
As far as the offense is concerned, the arrival of rookies George Springer and Jon Singleton has been a shot in the arm, but look out for Carter.
The slugger, who has been hitting under .200 for all of the season, hit two more homers Wednesday, giving him 12 for the season. He has six homers and 12 RBIs in his last 13 games and is slugging .743 over that span.
"We all know he has tremendous pull power, but when he's staying on the ball and driving the ball out of the ballpark the other way, that lets you know he's really getting on track," Porter said. "This guy can clip them off in a hurry. He can get on one of those streaks and he can carry a ball team for two, three weeks."
Carter hit a grand slam to right field Sunday in Minnesota, and on Wednesday homered to left field in the fourth inning and to right field -- on an 0-2 pitch -- in the seventh to put the Astros ahead, 4-1. Springer (2-for-3) added a sac fly later in the inning.
"He's been up and down this year, but the power numbers are there," Porter said. "The batting average [.199] is not there, but at the same time he has some big hits, and tonight is a huge step in getting him going."
Carter was benched for the first two games of the Astros' series in Kansas City in late May, but came back in the May 28 series finale and hit a pair of homers. He was working with hitting coaches John Mallee and Ralph Dickinson on shortening his swing.
"Ever since then, I've been going with it," he said. "It keeps me shorter. It's worked with some pitches and some pitches it hasn't. It's like making adjustments every at-bat and trying to find where it needs to be and kind of fine-tuning it every at-bat."
The only run the D-backs managed against Keuchel came in the fourth inning when Aaron Hill hit a leadoff homer to left field, cutting the lead to 2-1. He had allowed only one home run in his previous nine starts, covering 64 2/3 innings.
"I knew I was on a pretty good run without giving up a home run, so I knew it was coming sometime," Keuchel said. "He's a professional hitter and he's been in this league for a while. He knows what he likes, and I put it right in his wheelhouse."
D-backs designated hitter Nick Evans said Keuchel didn't do anything they weren't expecting, though they still had no answer.
"He got the best of us today," he said. "He's good at not leaving anything over the middle. You just got to hope he makes a mistake when you're up there. You just got to look for something you can handle and try not to miss it."
Keuchel finished the eighth inning at 101 pitches, but Porter didn't want to run him back out there to try for his third complete game.
"It's not like he's protecting a shutout or no-hitter," Porter said. "He goes back out and it turns into a 15- and 20-pitch inning, and now you're looking at 120 pitches. Chad Qualls is well-rested. There's no sense in allowing an inning to development. Any time you start looking at that fourth time around the lineup, it's something that I look at carefully."
Qualls made quick work of his former team in the ninth, running his scoreless streak up to 10 outings covering 17 2/3 innings. It's the longest scoreless outing by an Astros reliever since Wilton Lopez went 20 consecutive scoreless innings in 2010.
"In April, guys were coming out of spring and maybe they didn't go deep into games," Qualls said. "Once we started stretching guys out and they started going deeper, our bullpen got rest and found a few roles over there. It's just been good. We started winning and guys are getting more comfortable."
Brian McTaggart is reporter for MLB.com and writes an MLBlog, Tag's Lines. Follow @brianmctaggart on Twitter. This story was not subject to the approval of Major League Baseball or its clubs.