Wacha can't hold early lead as Cards fall
St. Louis' scoreless-innings streak ends at 30 with four-run fourth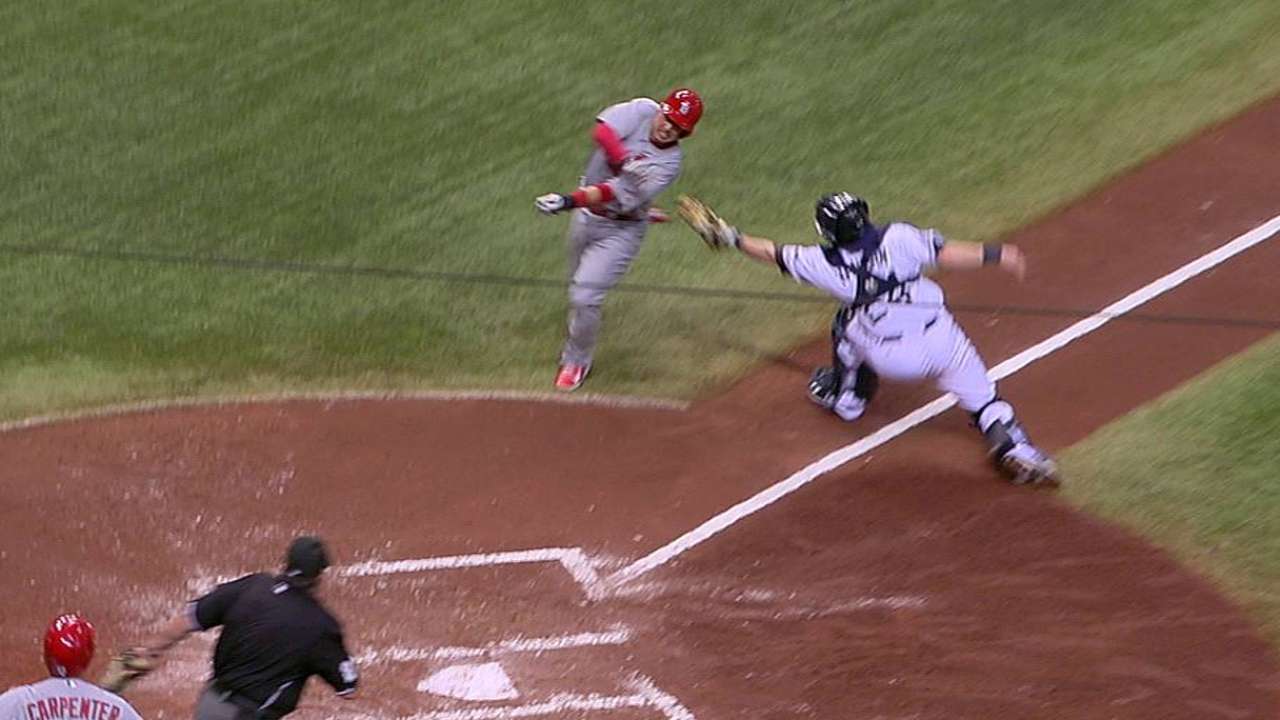 ST. PETERSBURG -- Michael Wacha had made 13 starts this season, none of which had he ended with more than three runs allowed. And so it was with an early three-run cushion against a team that hadn't scored since Saturday that Wacha looked to be sitting pretty in the Cardinals' attempt at a fourth consecutive road win.
But then the Rays snuck a few balls through for hits and drew a couple of fourth-inning walks, all of which compounded a frame in which Tampa Bay did all the necessary scoring to steal a 6-3 win from the Cardinals on Wednesday.
"It's very frustrating," Wacha later said. "Just too many mistakes. It was either a ball or right down the middle tonight."
The Rays, who hadn't scored in 31 consecutive innings, had more success in one inning against Wacha than any other team had this year. Their four-run fourth also snapped the Cardinals' own scoreless pitching streak at 30 innings. The Cardinals, playing in front of 15,930 at Tropicana Field, finished this three-city Interleague swing with a 4-3 record.
Some of the team's best played baseball of the season came over the weekend in Toronto, though those shutout wins were bookended also by some ragged play. The Cardinals labored to get through Kansas City with a split and just narrowly escaped with a win in the first game of this abbreviated series.
The Cardinals, who have now checked off three of their four scheduled three-city road trips, have a 10-game homestand awaiting.
"Today was just one of those days -- it's not going to happen very often -- Michael has been very consistent, regardless of what his record shows, he's done a nice job keeping us in games," manager Mike Matheny said. "Tonight was one of the blips on the screen that you just have to get past."
Tampa Bay didn't exactly batter Wacha, but the Rays had fortuitous placement on a few balls put in play. It began with James Loney's excuse-me swing that resulted in a squibbler single down the third-base line. Ben Zobrist then dropped a ball just over the head of shortstop Jhonny Peralta, who also came up just inches short of nabbing Matt Joyce's hit to center.
Joyce's two-out single brought home the Rays' first run in four days. The Cardinals aided in allowing Yunel Escobar to score from first on the hit, too, as center fielder Peter Bourjos bobbled on the pickup and Allen Craig dropped the cutoff throw.
"I'm trying to get it in to get the guy going first-to-third there," Bourjos said, "and it clanked off the glove a little bit."
Of the next 10 pitches Wacha threw, only two were strikes, indicative of the trouble he had all night with his fastball command. Those consecutive walks loaded the bases for Desmond Jennings, who delivered the go-ahead two-run single. Wacha, who threw 48 pitches in the other four innings of his five-inning outing, needed 34 to get through that nine-hitter frame.
"Those hits can be frustrating, but they're in every single game so you can't let them get to you," Wacha said. "That's whenever you have to bear down as a pitcher and start making pitches. I just wasn't able to do that."
He never did establish much of a rhythm and was described as "jumpy" by his manager. He had trouble locating the fastball, which in turn reduced the effectiveness of his changeup. Wacha had a decent curveball to work with, but couldn't survive without his two best pitches.
Wednesday ended up being the first of Wacha's 29 career Major League appearances in which he didn't record a strikeout. He threw just 44 of his 82 pitches for strikes, and the Rays nagged him for four walks.
"Those walks, those are usually a sign that something is not quite right," Matheny said. "It's just one of those days where it just didn't click. Those happen."
Wacha's vulnerability cost the Cardinals the three-run advantage built up early against Rays starter Erik Bedard. A two-out double by Yadier Molina in the third plated two runs. Matt Carpenter's single an inning later added another.
They could not, however, add to that total in five innings against the bullpen. The Cardinals' best chance for more came as they loaded the bases in the fifth. But Bourjos, the nine-hole hitter, lined Brad Boxberger's two-strike fastball to right-center, only to watch outfielder Kevin Kiermaier make a sprawling catch in the air to rob him of at least a game-tying hit and end the threat.
Kiermaier had more ground than usual to cover, as he had just scooted a few steps over toward the right-field line so he wouldn't get beat to that side.
"I lost it for a split second, and I knew I was going to have to lay out for it," Kiermaier said. "I saw it just in time to know where it was going to be and made a dive."
"Pretty spectacular," Bourjos said of the highlight grab. Matheny called it a "Superman play."
In the box score, however, it looks like just another missed chance by Bourjos. It marked the fifth straight at-bat Bourjos took with a runner on base, going back to Tuesday. He didn't record a hit in any of them.
"It's tough not to be able to come through," said Bourjos, now batting .213 on the season. "I'm trying not to put too much pressure on myself and instead stay within myself in those spots."
Tampa Bay padded its lead with two seventh-inning runs off reliever Carlos Martinez, who allowed three straight to reach with one out. The Rays got to him, too, in part thanks to a free pass.
The Cardinals, in turn, left 11 runners on base, including at least one in each of the first seven innings.
"We had some balls hit hard," Matheny said, "but just couldn't put anything together on a good run."
Jenifer Langosch is a reporter for MLB.com. Read her blog, By Gosh, It's Langosch, and follow her on Twitter @LangoschMLB. This story was not subject to the approval of Major League Baseball or its clubs.