Rays end offensive drought, earn series split
Jennings sparks four-run fourth to end 31-inning scoreless stretch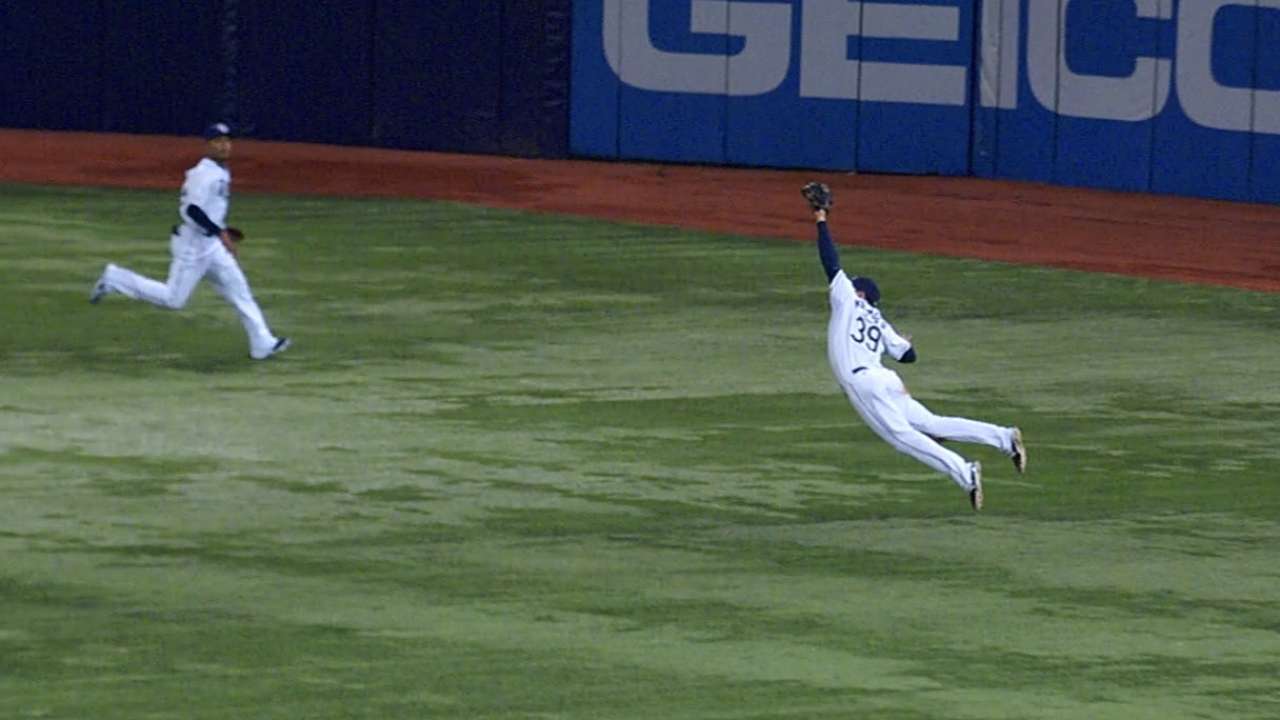 ST. PETERSBURG -- The Rays ended a 31-innings scoring drought by scoring four runs in the fourth inning and they went on to beat the Cardinals, 6-3, Wednesday night at Tropicana Field.
Matt Joyce slashed a single up the middle in the fourth inning, plating a pair and breaking the Tampa Bay scoring hex.
On a night when things finally broke the Rays' way, right fielder Kevin Kiermaier made the defensive play of the night with two outs and the bases full of Cardinals (34-32) in the fifth inning that helped Tampa Bay (25-42) hold on to the win.
"Spectacular defense with Kiermaier flying in the air in right-center field. That's the play of the game. That pretty much permitted us to win that game," manager Joe Maddon said.
It was Kiermaier, sprinting out and to his right as the ball left Peter Bourjos' bat, leaving his feet at the last instant, and, fully extended at the peak of his dive, somehow coming down with the ball.
"It's one of those things where, 0-2 count, I actually moved over a little bit toward the right-field line because Bourjos was having some late swings," Kiermaier said. "So I was like, 'I'm not getting beat on the right-field line.'
"He made good contact and I got a good jump on it toward the right-center gap. Those lights up there are tricky, and I lost it for a split-second. I knew I was going to have to lay out for it, and then I see it just in time to know where it was going to be. I made a dive and I was just happy to see the ball, get it in the glove and be able to secure it, even on the way down, I knew I had it. It was a crazy play."
It was Kiermaier committing highway robbery on the Cardinals' center fielder and delivering the profit to Rays reliever Brad Boxberger, who could only stand near the mound, stone-faced, right fist raised in the air.
"I just missed my spot, and off the bat, I was like, 'Oh, man, here we go,' but he came out of nowhere and made a pretty spectacular catch, something you don't see every day," Boxberger said.
And it was Kiermaier leaving Bourjos wondering where that play even came from.
"Initially, I thought if they were playing straight up that he would have it pretty easily ... I'm not sure if maybe he's shading me down the line a little bit, but he came out of nowhere to make that play. It was pretty spectacular," Bourjos said.
Just prior to the catch, in the bottom of the fourth inning, the Rays had just put up a four spot -- their first runs after being shut out in three straight games. They had gotten those four runs off Michael Wacha, who hadn't given up more than three in any of his 13 previous starts in 2014, and against a St. Louis team that had shut out three straight opponents, including the Rays on Tuesday.
Joyce had prompted the ovation with his single, which ended the franchise-record scoreless stretch, then Desmond Jennings added a two-run single to complete the four-run uprising. A team that had gone 10-for-101 with runners in scoring position over its past 15 games -- an .099 average in a 1-14 stretch -- finally got some timely hits.
It was a big hit for Joyce, who has been slumping for as long as the Rays have. "We've just got to get Matty right," Maddon had said after Tampa Bay's loss on Tuesday, in which Joyce popped out to short with the bases loaded to end the eighth inning. "Matty's been working really hard to get it right. It just wasn't working."
"Obviously it's a great feeling to really come through and kick-start the party," Joyce said after Wednesday's win.
And once they had a lead, the Rays, weren't taking any chances with it. Starter Erik Bedard, who had struggled through four innings, giving up three runs, got a quick hook, and Maddon went to his bullpen pipeline -- Boxberger to Juan Carlos Oviedo to Cesar Ramos to Grant Balfour.
Balfour entered the game with two outs in the seventh but went the rest of the way, closing things out in the first save situation for the Rays since Maddon announced the team would be going closer-by-committee.
Tampa Bay tacked on two more runs in the seventh, when Evan Longoria grounded an RBI single through the right side and James Loney followed with a sacrifice fly to left.
Of course, it was Kiermaier who made sure it was a lead to be extended and not a deficit to be made up. And so it was Kiermaier who was greeted by a swarm of reporters at his locker after the game, displacing his neighbor, Jerry Sands, who expressed some mock irritation to his teammate.
"Stop playing good -- get my locker back," Sands said.
David Adler is an associate reporter for MLB.com. This story was not subject to the approval of Major League Baseball or its clubs.