Ryu outdueled by Cueto for first road loss
Left-hander allows four runs over six innings; Dodgers held to five hits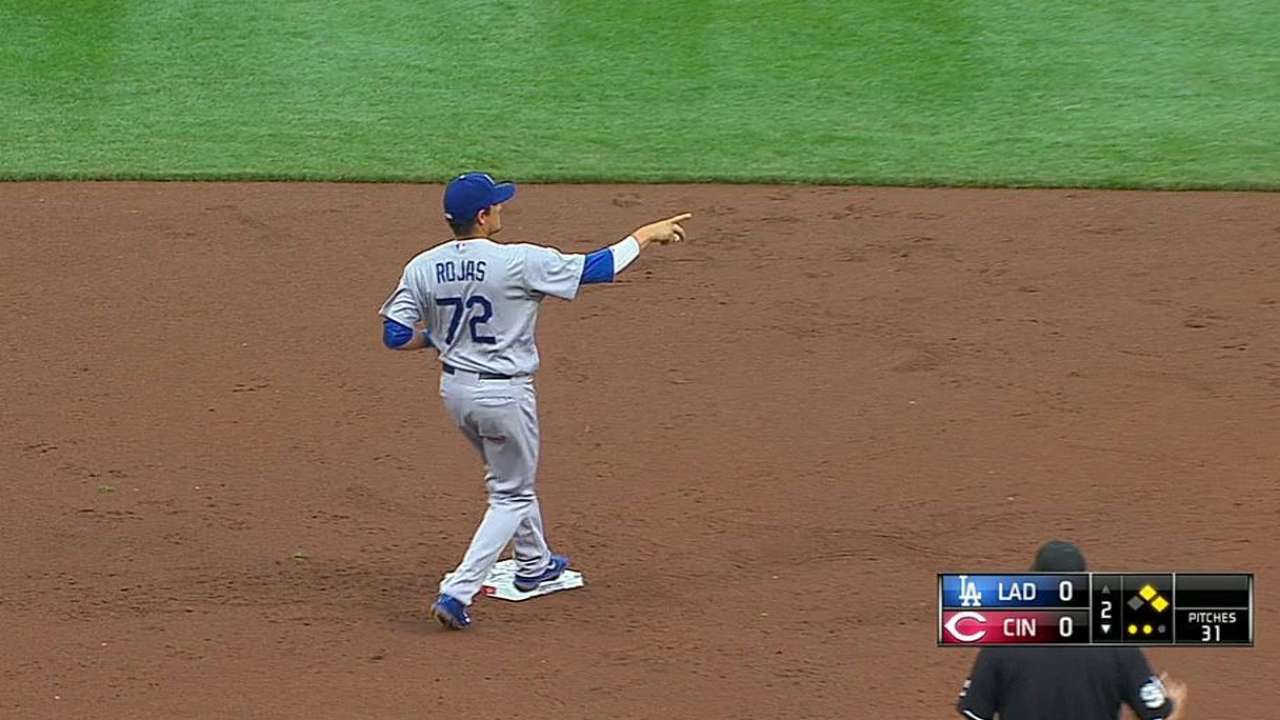 CINCINNATI -- The last time Hyun-Jin Ryu faced the Reds, he threw seven perfect innings at Dodger Stadium before giving up three runs in the eighth, en route to his fifth win of the season. The left-hander displayed no such mastery of Cincinnati's lineup on Wednesday night at Great American Ball Park.
Ryu suffered his first road loss of the season, allowing four runs on six hits over six innings as the Dodgers fell, 5-0.
Ryu allowed three runs after two were out in the third. He issued back-to-back walks to Billy Hamilton and Todd Frazier before Joey Votto doubled them both home with a line drive into the left-field corner. Brandon Phillips followed with a bloop single to right that knocked in Votto for a 3-0 Reds lead.
In the sixth, Ryu surrendered a 428-foot home run to right field by Jay Bruce.
"The outing today, it was pretty much summed up in [those two walks] I gave up with two outs," Ryu said through interpreter Martin Kim. "That was pretty much the entire game right there."
Ryu went into the contest with a Major League-best 0.95 ERA (four earned runs in 38 innings pitched) on the road, and a 12-4 career road record. He doubled the number of earned runs he had allowed away from Dodger Stadium this season on Wednesday alone.
"I really can't pinpoint any particular fault," Ryu said. "Today was just one of those days and, again, the walks in that [third] inning was very crucial."
"I thought he was pretty good early on," Dodgers manager Don Mattingly said of Ryu. "I thought it was going to be one of those nights where it was going to be one of those battles between him and [Reds starter Johnny Cueto]. We had two outs, nobody on, Hamilton gets away, Frazier gets away, and then you get Joey up there, he pretty much hits everybody, and it kind of got us in trouble."
Cincinnati scored a fifth run on a Hamilton RBI single in the seventh against reliever Paul Maholm.
Los Angeles had an inauspicious start to the contest, as Matt Kemp was ejected in the second inning for arguing balls and strikes with home plate-umpire Seth Buckminster. That occurred after Hanley Ramirez was a late scratch before the game for irritation in his right shoulder.
With two of their stars out of the lineup, the task for the Dodgers was made all the more difficult against Cueto. Los Angeles managed three hits against the right-hander, who struck out a career-high-tying 12 over his six innings.
The Dodgers had scoring chances in both the sixth and seventh, but came away empty-handed. Miguel Rojas and Drew Butera hit back-to-back singles to put two on with nobody out in the sixth, but Cueto struck out Ryu, got Dee Gordon to pop to short, and struck out Chone Figgins.
In the seventh, Los Angeles loaded the bases with one out. But Ramirez came on as a pinch-hitter and grounded into a 4-6-3 double play.
"We kept battling [Cueto], we ran his pitch count up, we were able to get into the bullpen and had a couple of shots there in the sixth and seventh and just didn't get that key hit we needed," Mattingly said.
For the fourth time this season, Los Angeles was unable to extend its longest winning streak to four games. But despite the shutout loss, Mattingly was pleased to see the type of emotion from his club that was shown with Kemp's ejection and a visibly upset Yasiel Puig on a first-inning strikeout.
"I like that we're emotional, honestly," Mattingly said. "There's nothing wrong with it at all. I think Matt was just a little frustrated from last night (0-for-4, four strikeouts), honestly, and it kind of spilled over to this game. But I want our guys to feel that passion."
"I love to play, I love to win," Kemp said after the game. "And when I feel like things get in the way of that, it makes me be mad, so I'm not ever gonna think it's OK if I feel like somebody's in the way of helping my team win a ballgame. We're playing pretty good at the moment, and it's just, what happened happened. We've got to turn the page and get ready for tomorrow."
Manny Randhawa is an associate reporter for MLB.com. This story was not subject to the approval of Major League Baseball or its clubs.