Verlander roughed up by White Sox in sixth inning
Right-hander allows six runs in decisive seven-run frame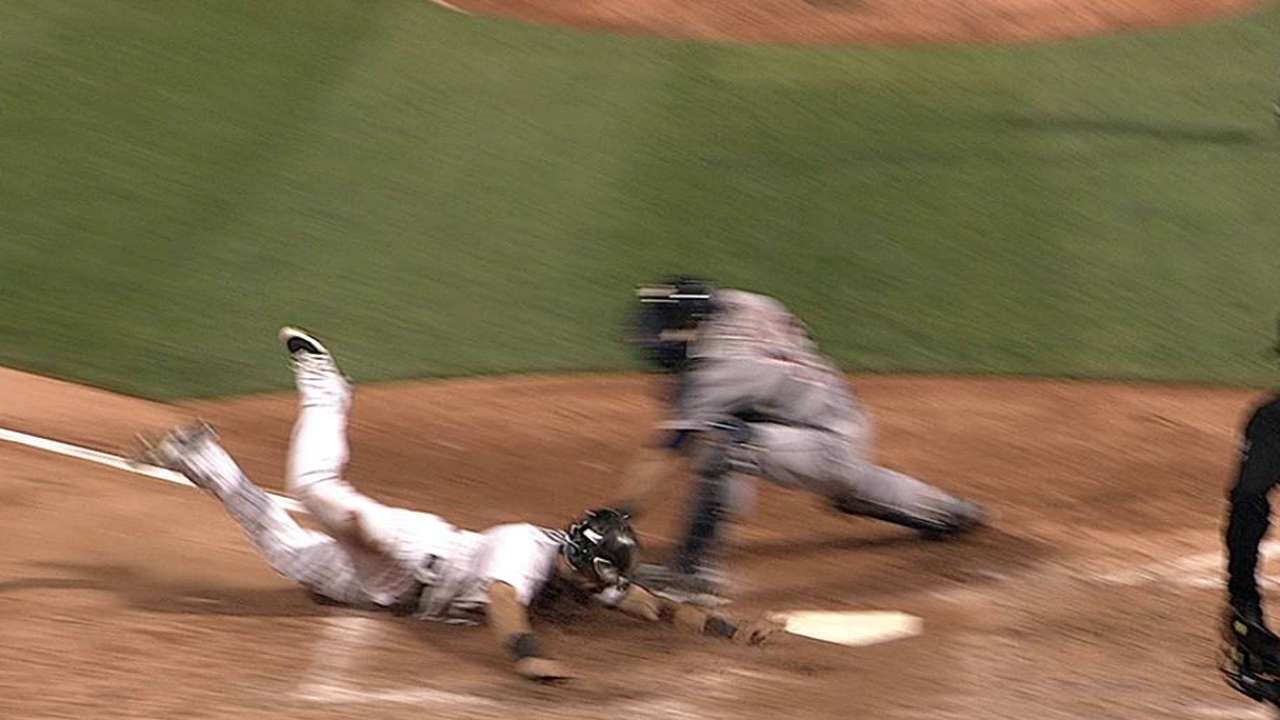 CHICAGO -- Justin Verlander said before Wednesday night's game he felt like he was turning the corner on his mediocre 2014 season. He had found his missing velocity over his last two starts, and danced out of mild danger while allowing just three hits through the first five innings.
Then came the sixth inning. Chicago sent 12 men to the plate and scored seven times -- six with two outs -- to pummel the Tigers, 8-2, at U.S. Cellular Field. Detroit has dropped the first two games of the series, reducing its lead in the American League Central to two games over the Royals.
With the bases loaded and nobody out in the sixth, Dayan Viciedo gave the White Sox a 2-1 lead by grounding into a 4-6-3 double play. The third out proved elusive, as a bloop single by Alejandro De Aza extended Chicago's lead to two runs. Verlander was unlucky after making a good pitch on De Aza, but took the blame for letting things spiral out of control from there by issuing a pair of free passes.
"I mean, really I felt good, just the walks. I need to limit the walks," Verlander said. "That one huge inning, I walked a few guys and gave up a couple weak hits and turned it in to a big inning myself when it shouldn't have been. But, like I said, overall stuff felt good, those big innings I need to limit those walks.
"I start trying to go a little harder and I end up losing control a little bit and that's what allowed those guys to have that extended inning."
Verlander walked the No. 9 hitter, Adrian Nieto, on five pitches, bringing Tigers manager Brad Ausmus out from the dugout. The two chatted briefly, and Ausmus elected to leave in Verlander, already at 115 pitches, to face the left-handed-hitting Adam Eaton with lefty Ian Krol ready in the bullpen. Verlander walked Eaton on six pitches to load the bases for Gordon Bekcham, who knocked a two-run single up the middle that chased Verlander from the game.
"He's our horse. I wanted him to get Eaton," Ausmus said. "And then once Eaton gets on, he's pitched well against Beckham in the past and I felt like he still had a good chance to get Beckham. But obviously not tonight.
"I definitely wanted him out there. I know he would always tell me he's good, but he looked good from the side. He didn't look like he was losing any of his stuff. I mean, he's our guy. He really is."
That's exactly what is so maddening for Verlander -- his stuff has looked goood by both his own standards and Ausmus' since he allowed three runs in 7 2/3 innings on May 30 at Seattle -- but the numbers haven't been there the last two outings. Verlander allowed seven earned runs on eight hits in 5 2/3 innings, raising his ERA to 4.61. He's surrendered 12 earned runs over his last two starts covering 12 2/3 innings.
"I know I sound like a repeating record saying I'm knocking on the door, I'm right there, but I know I am," Verlander said. "I look at the swings guys are taking and the hits that they had, and they're not squaring up a lot of the stuff, it's just I'm putting them in situations to be able to have success with the walks. And I will get better at that."
A two-run double by Conor Gillaspie and an RBI single by Adam Dunn off Krol accounted for the final two runs of the inning. Al Alburquerque, the third pitcher of the inning, came in and recorded the final out.
Other than Jose Abreu's solo homer to left-center leading off the second, Verlander looked fairly good through the first five innings. He loaded the bases with one out in third on a hit batter and two walks, but wiggled out of the jam by retiring Gillaspie and Abreu. A nice play by Nick Castellanos in the fifth saved a run, and in all, Verlander allowed just three hits in that span.
"His stuff was great," catcher Alex Avila said. "You've got to give the White Sox credit for putting good at-bats and grinding through some at-bats there."
Verlander has worked diligently between starts to fix any mechanical flaws or quirks that were suppressing his velocity, which has returned his last three starts. Then, for whatever reason, he'll lose control just enough to let the game slip away. The trend continued Wednesday.
"I'm not happy. And, I mean, that's been the name of the game for me these past few weeks or couple weeks: consistency," Verlander said. "God, it's really frustrating. I feel like I'm right there and there's been a bunch of games where I feel like it's been right there and then a couple walks and turns in to a big inning. But the stuff is there, just execute a little bit better and repeat."
As Verlander put it, in the same way nothing seems to be going right for him, little is breaking the Tigers' way. He's allowed five earned runs in five of his last six starts and no fewer than three runs in any of those outings. Detroit, meanwhile, is 6-16 in its last 22 games.
Verlander is certainly not the sole cause of his team's overall slide, but it would certainly help if the veteran right-hander returned to some semblance of the pitcher who won the MVP and Cy Young in 2011.
"No, there's nothing in particular that concerns me with Justin that I could tell you," Ausmus said. "We've got to find a way to fix him."
Joe Popely is a an associate reporter for MLB.com. This story was not subject to the approval of Major League Baseball or its clubs.