White Sox get to Verlander in sixth in rout
Seven-run frame breaks open 1-1 contest; Abreu hits 19th homer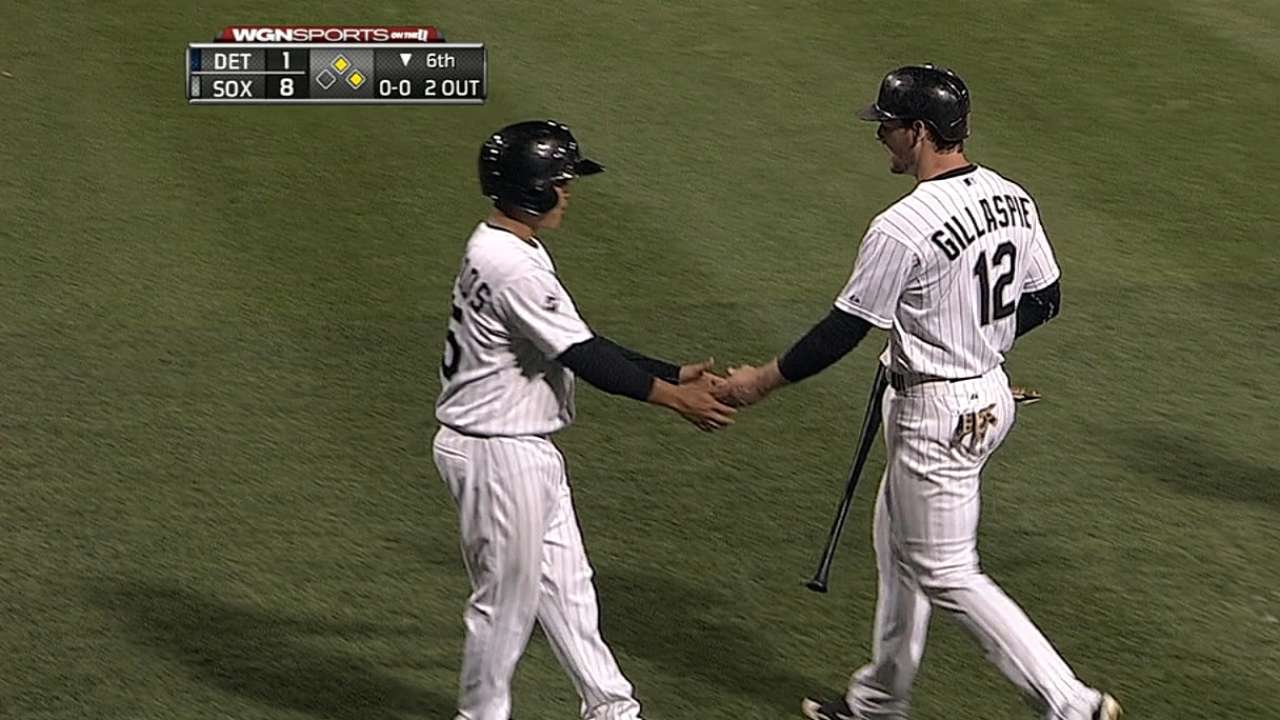 CHICAGO -- If the White Sox are using this rain-abbreviated three-game set against the Tigers at U.S. Cellular Field as an American League Central barometer, then they have to like where they stand.
Even without Avisail Garcia. Even without Matt Lindstrom. Even without Nate Jones. Even with a team not expected to contend, and to be perfectly honest, designed to be more of a contender in 2015 and 2016.
But with staff ace Chris Sale waiting to take the mound Thursday night in the finale of the series, cut by one game because of Tuesday's rainout, the White Sox claimed their second straight victory by a comfortable 8-2 margin on Wednesday night. The White Sox (33-33) moved to within 2 1/2 games of the division frontrunners from Detroit (33-28), in a division that has only 3 1/2 games separating the last-place Twins from first place.
These wins illustrate the resiliency shown by the White Sox all season, following up a tough three-game sweep in Anaheim. At the very least, they enhance the positive energy surrounding this team since the start of Spring Training.
"From the get-go, we've had a good feeling," said starting and winning pitcher John Danks, who allowed two runs on six hits over seven innings. "We're not looking at the scoreboard just yet or the standings. We're just trying to win every game we can. Nothing's changed."
"I don't think it's been one of those things where we're just now thinking we can do this," second baseman Gordon Beckham said. "We show up to play. We don't expect everything, to win the division today or tomorrow. We just kind of figured if you keep coming to the park, you keep doing the right things, good things will happen."
Good things happened for the White Sox in the sixth inning of a game tied at 1, with the South Siders jumping all over Justin Verlander (6-6) and Ian Krol for seven runs. Twelve hitters came to the plate and six of the seven runs scored after two were out.
Verlander was charged with six of those seven runs and seven runs overall, being left in to throw 122 pitches during his 5 2/3 innings. He threw fewer than six innings against the White Sox for the first time since July 26, 2008, and has allowed 20 earned runs on 44 hits over his last 32 2/3 innings against the White Sox.
Jose Abreu, Adam Dunn and Alexei Ramirez started the sixth with consecutive singles, loading the bases for Dayan Viciedo, who hit into a double play to score the go-ahead run. But the White Sox weren't finished.
Alejandro De Aza mustered a run-scoring single into right despite getting jammed, and Verlander walked Adrian Nieto and Adam Eaton to load the bases. With Verlander still in the game, Beckham singled to center to score two more.
"You look back at the game and there's the Abreu hard-hit ball and maybe one or two others really, the whole game," Verlander said. "The difference was that sixth inning, walking a few guys and allowing them to get into a rhythm."
Krol replaced Verlander and allowed Conor Gillaspie's two-run double, an intentional walk to Abreu and Dunn's run-scoring single to complete the rally. It was a long inning on the bench for Danks (5-5), but he didn't seem to be bothered.
Danks struck out four and walked two in picking up his first win since May 7. The southpaw has given up five earned runs on 19 hits over his last 29 1/3 innings, while striking out 17. Most important, Danks has walked just six and yielded one home run in that time span.
There's more life and better command on Danks' fastball, according to Ventura, and Danks is making exceptional use of his changeup fading away.
"I'm in a good rhythm. I'm trying to ride the highs as long as I can," said Danks, who has made four straight quality starts and has held opponents to a .178 average in his last four games. "I owe a lot of credit to both of the catchers and the work [pitching coach Don Cooper] put in with me. I'm not going to rest on my laurels. I've been humbled in this game before, so I'm going to try to keep from doing that again."
Abreu homered, his 19th of the season, leading off the second to give the White Sox an early lead. The Tigers tied the score in the fourth, when Ventura elected to play the infield back with one out and Miguel Cabrera on third, and both teams missed on additional scoring opportunities.
Eaton was thrown out at the plate in the fifth on a grounder to Nick Castellanos at third, and the White Sox loaded the bases with one out in the third and couldn't score. The Tigers had runners on second and third with one out in the fifth, but also came away empty.
Ultimately, the White Sox prevailed. They belong in the talk for the AL Central's best at the present time, but never seemed to doubt they would be in this position.
"We're in a good spot," Beckham said. "And we're getting some wins against a good team."
"We've been a pretty confident bunch from the start of it and fully expect to be in the thick of it when the time comes," Danks said.
"Any time you look too far ahead you can make mistakes," Ventura said. "Just play day to day. The focus today was great, the approaches in the at-bats. Continue to do that and good things will happen to you."
Scott Merkin is a reporter for MLB.com. Read his blog, Merk's Works, and follow him on Twitter @scottmerkin. This story was not subject to the approval of Major League Baseball or its clubs.