MLB.com Columnist
Richard Justice
Hall of Fame celebrates the game in all manner of ways
Everyone from players and managers to scouts and broadcasters honored at museum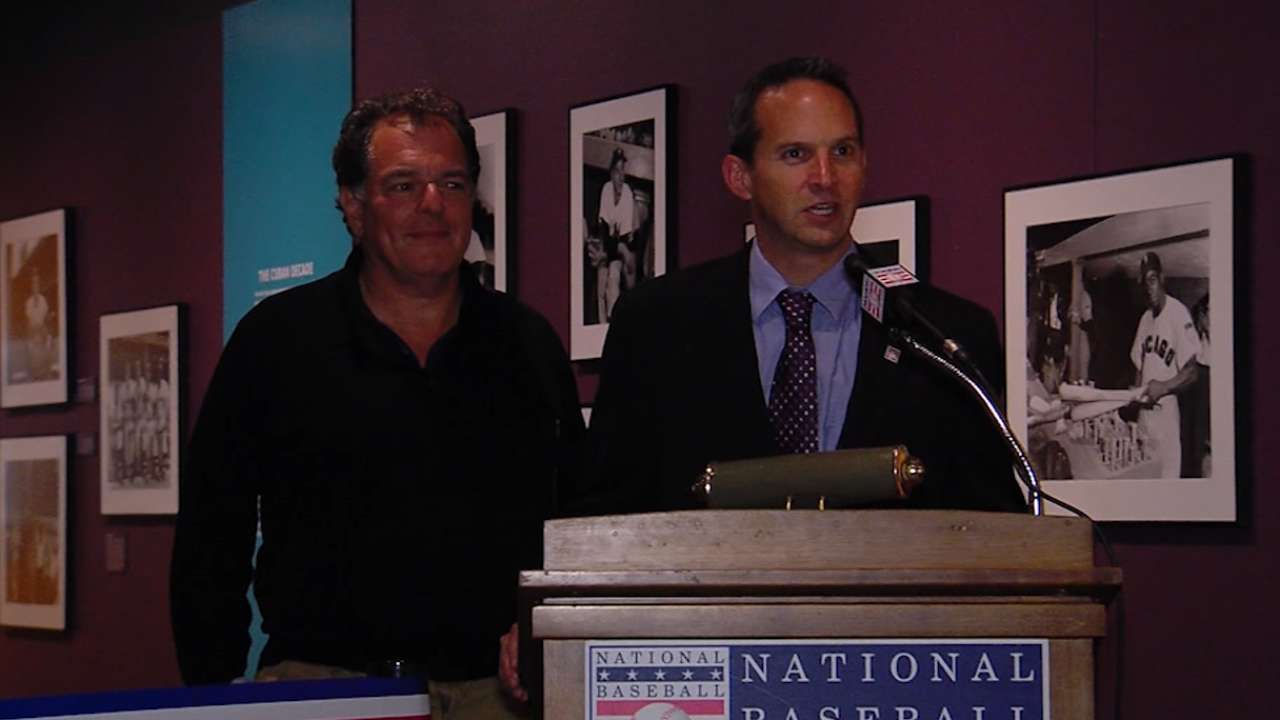 COOPERSTOWN, N.Y. -- It's a magical place. In the end, it's really that simple. It soothes the soul, restores the spirit.
If you've been here, you understand. Something changes when you walk through the doors of the National Baseball Hall of Fame and Museum.
Sure, some of it is the idyllic setting, a stone-and-brick structure at the end of Main Street in a village so lovely that it looks a lot like it did when the Hall of Fame first opened its doors 75 years ago today.
There is no such thing as a bad day here. Here the story of baseball is told through its people and teams and ballparks and eras.
It's told with artifacts and photographs, with uniforms and hats and lockers. It's where you walk slowly, allowing the memories to wash over you.
No matter how many hours you've spent here, there's something restorative about the experience. You can never see it all, at least not in one visit, probably not in a dozen visits.
Other than the stately hall where the 306 plaques are aligned along the wall, the Hall of Fame is constantly changing.
This year's additions are a Babe Ruth gallery, right around the corner from one honoring Henry Aaron.
There's also a series of photos taken by Osvaldo Salas in the 1950s. He had his run of New York's four ballparks and focused his work on African-American and Latin American players before returning to his native Cuba and becoming Fidel Castro's personal photographer.
Salas' collection hasn't been widely seen until now, and there are stunning images. For instance, a young Henry Aaron, smiling and innocent.
Frank Robinson is here, too, very young with an expression that exudes both strength and defiance. To see the young Frank is to grasp how he played and to understand the demands he placed on himself and his teammates.
Jackie Robinson, younger than you've probably ever seen him in a Dodgers uniform, lingers at a batting cage holding a home movie camera. Graceful as always. Forever strong.
There's a shot of three young New York Giants -- Willie Mays, Monte Irvin and Hank Thompson, Major League Baseball's first all-black outfield -- posed together in the dugout.
There's another of Roberto Clemente, pensive and serious, looking over his left shoulder. To look at that photo is to understand some of the determination and perseverance that got him here.
Along the walls, there are quotes from those who have passed through these doors.
"I gave my life to the game, and the game gave me everything." -- Minnie Minoso.
The Hall of Fame tells baseball's story from every angle. Another recent addition pays tribute to scouts, the unheralded heroes of every great organization. They spend their lives traveling thousands and thousands of miles to watch games in heat and snow, to see high school games, college games, you name it.
One scout told me that he'd once held his son and a baby bottle in one hand while balancing a radar gun in the other. The Hall is paying its respect to these men with a display of their notebooks and stopwatches and the rest.
There are also 13,000 scouting reports, including one from someone who watched a 16-year-old Bob Feller for the first time and declared that he was watching maybe the greatest arm in baseball history.
Sometimes, scouts oversell their prized finds. Sometimes, though, as with Feller, they get it just right.
Mel Didier's advance report on the 1988 World Series is on display, too. His work was so nuanced that he alerted left-handed hitters that Oakland's Dennis Eckersley liked to throw them a backdoor slider on full counts.
Kirk Gibson had that information in his mind when he went to bat in the bottom of the ninth of Game 1, and you know the rest.
Tommy Lasorda's report on Tom Seaver notes that the young guy has "plenty of desire to pitch and wants to beat you."
"Baseball is a ballet without music." -- Ernie Harwell, 1955.
There's the glove Harry Brecheen wore to win three World Series games in 1946. There's the jersey Roy Halladay wore when he threw a postseason no-hitter against the Reds in 2010 and the bat Aaron Boone used to hit the home run that won the 2003 American League Championship Series for the Yankees.
Lou Brock's record-setting shoes are here. And Ozzie Smith's glove. And Rod Carew's bat. And Brooks Robinson's helmet. And Nolan Ryan's caps from each of his seven no-hitters.
There's the uniform Aaron wore when he hit No. 755. His Presidential Medal of Freedom is also on display. There are turnstiles and seats and ticket stubs. Ted Williams' shoes and baseballs and bats on display.
President Roosevelt's confidential 1942 letter to Commissioner Kenesaw Mountain Landis is on display. In it, Roosevelt urges the owners to keep the game going despite the war, having determined that it would be good for the country's spirit to have a diversion.
Ebbets Field's 1912 cornerstone is displayed, and so is a section of Bill Veeck's exploding scoreboard. There's a Phillie Phanatic costume and small replicas of the Brewers' racing sausages.
Hilda Chester even has a statue. Haven't heard of her? She was the woman who cheered for and occasionally taunted the Brooklyn Dodgers. Hilda surely would be pleased that the Hall of Fame has an entire section devoted to women in baseball, not just the women's professional leagues, but the women who have held an assortment of jobs up and down the mastheads.
Public-address announcers get their due, too, from Bob Shepherd of the Bronx to Bob Casey of the Twin Cities to Rex Barney of Baltimore. They all contributed to the richness of the ballpark experience, and the Hall hasn't forgotten them.
Harry Caray's voice echoes through the Hall, and so does that of Russ Hodges and Red Barber and Vin Scully. They're all part of why we love baseball, too.
John Fogerty loaned the Hall the bat that was fashioned into a guitar for his iconic song "Centerfield." He, too, contributed something lasting to the game.
Cooperstown comes alive each July when the sidewalks are packed and dozens of Hall of Famers return to help induct a new class. The Hall of Fame is a living, breathing museum every single day of the year, a joyous experience.
Richard Justice is a columnist for MLB.com. Read his blog, Justice4U. This story was not subject to the approval of Major League Baseball or its clubs.