Gattis shows no signs of letting up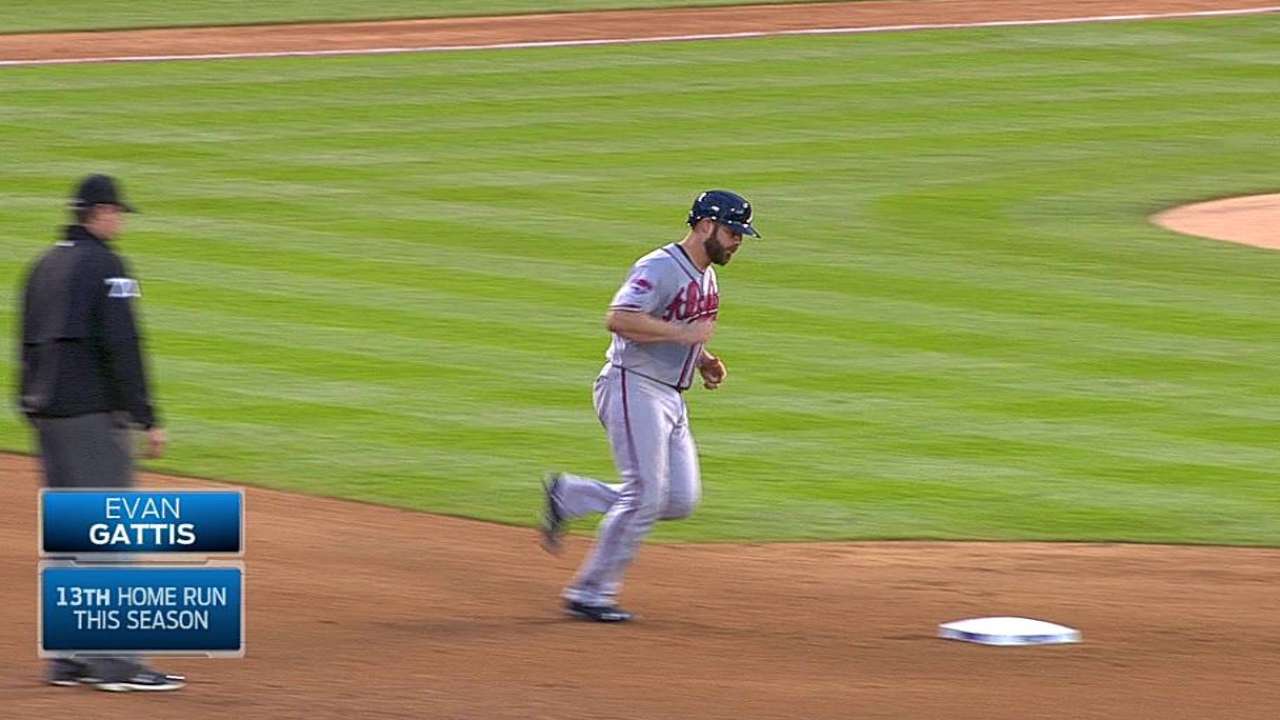 DENVER -- As Brian McCann has spent the past couple of months adjusting to life as a Yankee, Evan Gattis has allowed the Braves to continue benefiting from the presence of one of the game's top offensive catchers.
Most of the value Gattis provided during the season's first two months came courtesy of his tremendous power. But while hitting .383 with five home runs during his current 12-game hitting streak, he has shown he can also provide some consistency at the plate. His batting average has risen, from .240 to .279, during this streak.
"He's a joke," third baseman Chris Johnson said. "He's good. He's awesome. He's so strong. His approach is getting better and better. When he swings at strikes, the ball rarely stays in the ballpark, no matter where we're at."
Gattis lined his 13th home run of the season through the thin Rocky Mountain air during Tuesday night's 13-10 win at Coors Field. He has hit four more homers than any other Major League catcher, and the only catcher to better his .886 OPS has been Milwaukee's Jonathan Lucroy (.912).
In an attempt to keep the 6-foot-4, 250-pound Gattis fresh throughout this season, the Braves are keeping him on a pace to play somewhere between 100 and 110 games.
"He's a big boy, with a big body," manager Fredi Gonzalez said. "You can see the difference when you give him a day off, that the next day he's a different guy behind the plate. He moves around more. You can see the rest does him good."
Mark Bowman is a reporter for MLB.com. This story was not subject to the approval of Major League Baseball or its clubs.