Matzek masterful in Major League debut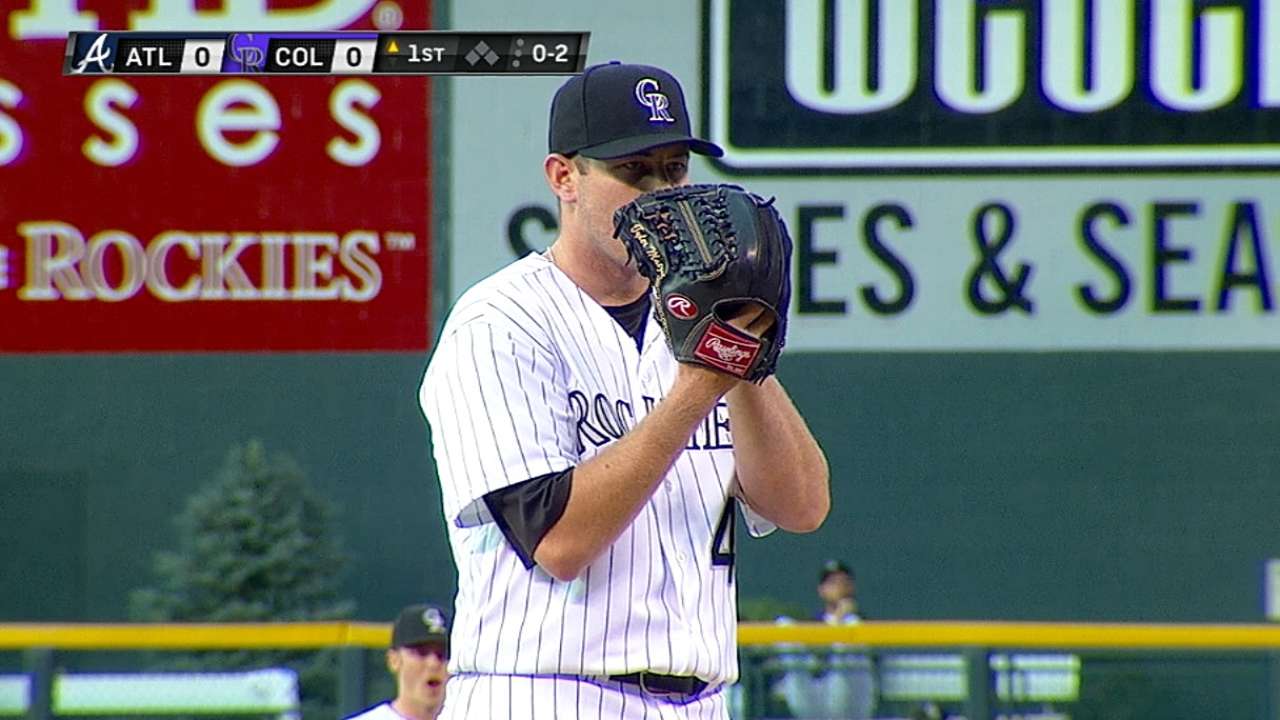 DENVER -- Although he didn't show the slightest sign, left-hander Tyler Matzek admitted that he was nearly overwhelmed by his nerves on Wednesday in the first inning of his Major League debut.
But by the time he departed in the seventh, he could barely hear manager Walt Weiss' wisecrack over the roar of the Coors Field crowd.
"I said, 'Are they cheering for me or you?'" said Weiss.
All that was left for Matzek to do was chuckle at the end of a day in which he began his career with an 8-2 victory over the visiting Braves.
"It was a masterful performance by Tyler," said Weiss. "[He had an] explosive fastball, and his slider looked like it disappeared."
Matzek's coming-out party began with 4 1/3 perfect innings, but he was too busy trying to tame his emotions to notice.
"I was embracing [the nerves]," he said. "I just let it be a positive thing, not a negative thing. If you start trying to fight it, it turns into a negative thing. So I was embracing it and trying to stay in the moment."
Matzek, who went seven-plus innings, tossed 60 of his 81 pitches for strikes. He struck out seven and was perfect in five of the seven frames he pitched. He also didn't issue a walk, a feat he couldn't accomplish in any of his 12 Triple-A starts this season.
"The whole day you're talking to the guys saying, 'This guy sprays it around a little bit, be patient, be patient,'" said Braves manager Fredi Gonzalez. "But I'm not sure how many three-ball counts he got into, if any. You can see he has a good fastball, and he had his secondary pitches working today."
Only two baserunners had reached before Matzek ran into trouble in the eighth, and Weiss elected to pull him after an RBI single from Andrelton Simmons, the third hit of the inning.
Although he was able to break through, Simmons admitted being stumped in his previous appearances against Matzek.
"His fastball was a little sneaky," said Simmons. "Sometimes you're more comfortable facing some guys, knowing how they approach you already. Sometimes you don't see somebody, and you hit them well. But sometimes it goes the other way, where you can't pick his stuff up."
Left-hander Franklin Morales took over for Matzek with no outs and runners on the corners and escaped with just one run.
Matzek's memorable debut came on a day when everything finally clicked for the Rockies. Colorado struck first for only the second time in its last 14 games, plating one run on Drew Stubbs' double and two more off Corey Dickerson's triple.
The Rockies cruised from there, scoring off right-hander Julio Teheran -- who entered leading the Majors in ERA -- in all but two of his 6 1/3 innings.
"We just knew that we couldn't go up there and try to catch the ball out front and try to use the pull side of the field," said Weiss. "It's about hitting the ball to the big part of the field on a guy like that, who is very deceptive."
Teheran, who had been undefeated in his three career starts against the Rockies (18 innings, two earned runs), gave up a season-high seven earned runs and tied a season high by allowing 10 hits.
Five Rockies finished with multihit games, with three from both shortstop Troy Tulowitzki and first baseman Justin Morneau. Matzek even got in on the scoring action after hustling down the line to earn a single for his first career hit.
"[Third-base coach] Stu [Cole] got me going around, scoring from second," said Matzek. "It kind of surprised me a little bit. He gave me a late sign. But it was a great experience."
LaTroy Hawkins pitched in the ninth, his first appearance in five days, to close out the Rockies' second win of their 10-game homestand.
"Our offense went out there and scored a bunch of runs," said Matzek. "We had great defense behind me. Tulo made a great play. Morneau, a great snag. Outfielders were flying around. It was a team win."
Right-handers Eddie Butler and Christian Bergman also made their Major League debuts during this home stretch, but neither walked away with a victory. The third time proved to be the charm for a rookie Rockies pitcher, and what a shiny charm Matzek was.
"He was locked in," said Weiss. "He [has] the ability to drive a ball in on righties and then throw the slider to the back foot off that."
Cody Ulm is an associate reporter for MLB.com. This story was not subject to the approval of Major League Baseball or its clubs.