Teheran surrenders rare runs in loss to Rockies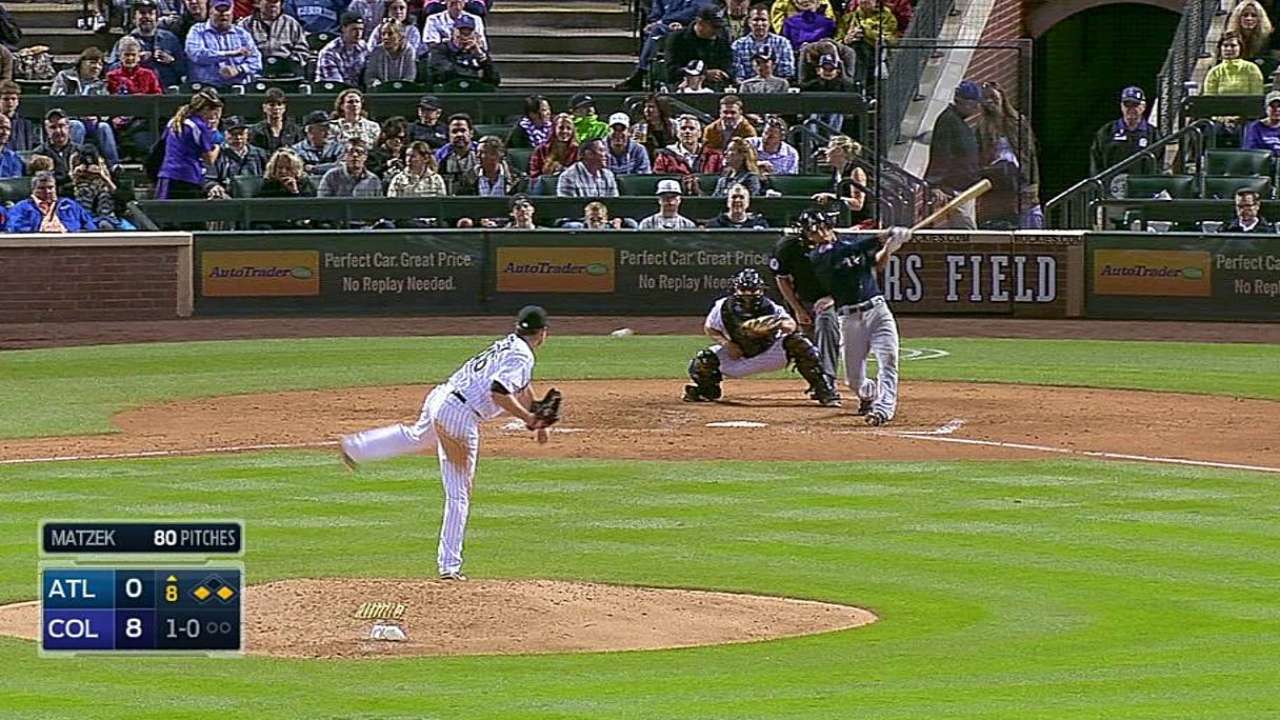 DENVER -- One night after tallying a season high in runs, the Braves felt good about sending Major League Baseball's ERA leader to the mound to oppose a pitcher who had been anything but dominant against Pacific Coast League opponents this year.
But their optimism quickly faded as Julio Teheran endured the worst start of his career and Tyler Matzek flirted with going through his Major League debut in perfect fashion. In summation, this was just another night when unpredictability reigned at Coors Field.
Whereas Matzek carried a bid for a perfect game into the fifth inning on Wednesday night, Teheran struggled through a three-run first inning that proved to be decisive in an 8-2 loss.
"It just wasn't my day," Teheran said after allowing a career-high seven earned runs in 6 1/3 frustration-filled innings.
Instead of extending the momentum created by Tuesday night's 13-10 win, the Braves proved lifeless against Matzek, who was perfect in six of his first seven innings and maintained a shutout bid until surrendering three consecutive hits to begin the eighth. Andrelton Simmons' RBI single accounted for the only run that scored while Matzek was on the mound.
B.J. Upton's two-out infield single plated the second of the two runs charged to Matzek, who surrendered five hits and recorded seven strikeouts in his seven-plus innings. The consecutive one-out singles Justin Upton and Chris Johnson produced in the fifth accounted for the Braves' only baserunners before the eighth inning.
"We didn't do a good job of hitting the strikes," Simmons said. "He didn't do much. He threw a fastball and a slider the whole game pretty much. We didn't hit. You've got to give him some credit, but we've got to take some blame, too."
Matzek also recorded his first hit -- an infield single in the seventh. This was obviously quite a debut for a player who had a 4.05 ERA in 12 starts for Triple-A Colorado Springs this year.
It was also a night to forget for Teheran, who carried an MLB-best 1.89 ERA into the contest and exited at 2.41. He had allowed more than four earned runs in just three of his previous 47 career starts.
"He didn't get hit really hard," manager Fredi Gonzalez said. "Yesterday, balls were flying. Today, balls were just in front of our outfielders. They had a couple of bloop singles and kept putting the pressure on and kept running the bases well."
Teheran's rise into baseball's elite pitching class began on April 23, 2013, when he allowed one earned run in seven innings while pitching in freezing temperatures at Coors Field. Clayton Kershaw stood as the only pitcher who had produced a better ERA than Teheran (2.39) while making at least 35 starts since that date.
This outing was more reminiscent of the ones he experienced in Game 3 of the 2013 National League Division Series and on May 14, when he lasted just 3 1/3 innings against the Giants. He struggled to gain a grip of the baseball while making both of these starts in low humidity.
Teheran did not blame this outing on the thin Rocky Mountain air or the inability to get a feel for his pitches.
"I didn't have a problem with my grip or my pitches," he said. "I think I had my good stuff. Just a couple bloopers that got me."
Teheran's bid to allow three runs or fewer for the 12th time in a span of 14 starts ended when the Rockies constructed their three-run first inning. Justin Morneau fueled the early eruption when he concluded a seven-pitch at-bat by reaching across the plate to hit an elevated changeup to left-center for a two-out single, advancing Josh Rutledge to third. Drew Stubbs followed by sending an RBI double into that B.J. Upton corralled in front of the warning track in the cavernous right-center field gap.
Corey Dickerson then added to Teheran's frustration by slicing a two-run triple that landed in left-center field and rolled to the wall.
"You never know where you're going to play in the outfield here, it's so big and spacious," Gonzalez said. "Sometimes you play too deep and the ball falls in front of you. Sometimes you play normal and the ball gets in the gap or over your head."
After Troy Tulowitzki notched his first hit of the series with a one-out single in the third, Stubbs sent him home with a sacrifice fly. Rutledge experienced a scare when Teheran's 92-mph fastball deflected off his left shoulder and batting helmet in the fifth inning. Rutledge remained in the game and scored when the Braves botched a rundown after Tulowitzki made a wide turn around first base following a single.
Rockies manager Walt Weiss credited his team's performance to what it learned as Teheran found success on the outer part of the plate while tossing six scoreless innings against Colorado on May 25.
"We just knew that we couldn't go up there and try to catch the ball out front and try to use the pull side of the field," said Weiss. "It's about hitting the ball to the big part of the field on a guy like that, who is very deceptive. I thought our approach was real good."
Mark Bowman is a reporter for MLB.com. This story was not subject to the approval of Major League Baseball or its clubs.