Brewers move toward deal with first-round Draft pick
Despite not yet being signed, Kodi Medeiros and Milwaukee are making progress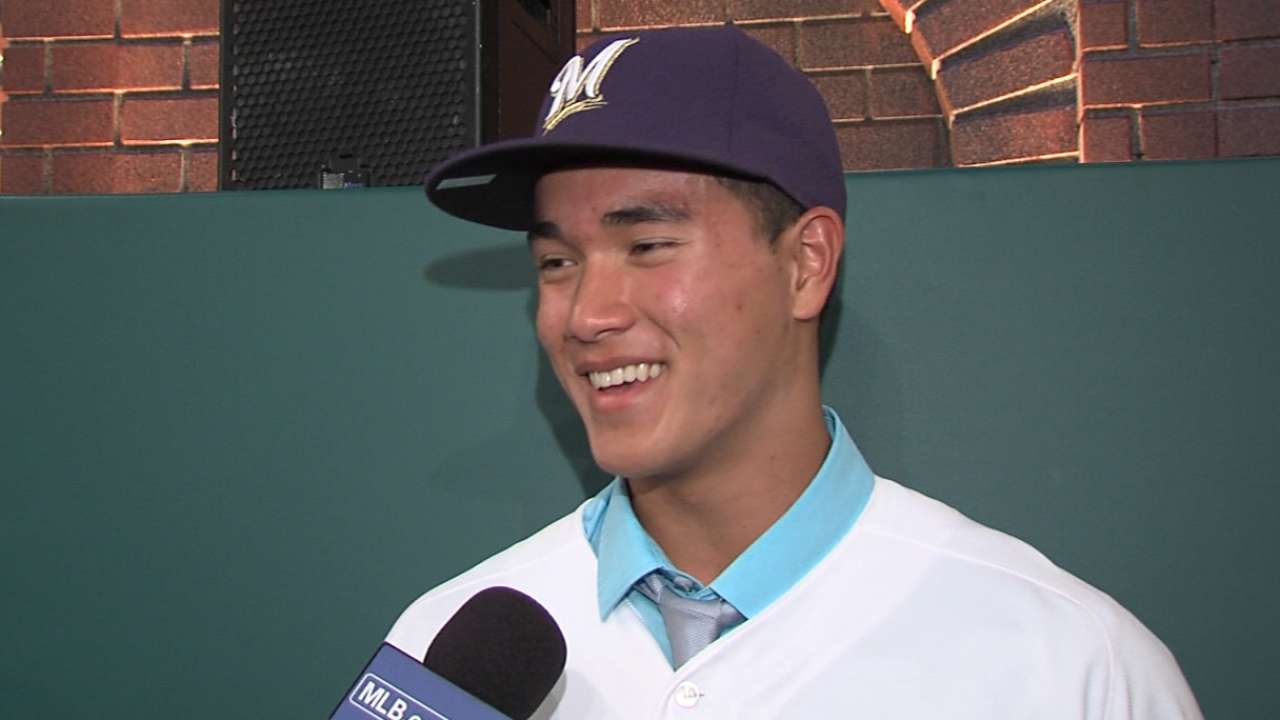 MILWAUKEE -- Both sides confirmed Wednesday morning that the Brewers and first-round Draft pick Kodi Medeiros were making progress toward a deal, but said they had yet to reach an agreement on terms.
That conflicted with newspaper reports out of Hawaii, Medeiros' home state, saying the sides had already agreed to a bonus. One source characterized those reports as a "misunderstanding." A second source said there was momentum toward an agreement, but they did not expect Medeiros to be introduced at Miller Park until Saturday at the earliest.
Brewers amateur scouting director Bruce Seid said this in a text message: "As our protocol, until announced and confirmed I can't say [anything] definite, but we have motivated players and an organization that is motivated to have them all be part of it."
The Brewers are typically slow to announce agreements with First-Year Player Draft selections, opting to wait until they can release a group of names at once. They did so Wednesday evening, announcing the signings of 10 draftees, including third-round righty Cy Sneed, fourth-round outfielder Troy Stokes Jr. and ninth-round catcher Greg McCall.
According to MLB.com's own reporting, the club's release, other news sources, and players' own social media accounts, all of the Brewers' picks through Round 9 had either formally signed, agreed to terms or were nearing agreement as of Wednesday morning. That group includes the Brewers' two other Day 1 picks, supplemental first-round pick Jacob Gatewood, a prep shortstop who agreed to a $1.83 million bonus, and second-round pick Monte Harrison, a prep outfielder who agreed to sign for $1.8 million.
Both of those bonuses exceeded the amount allotted by Major League Baseball for those slots, but Medeiros' bonus is expected to come in under the recommended $2,805,700.
Other signings made official by the team include college righties Kaleb Earls (13th round) and Luke Curtis (18th round), as well as college left-hander Zach Hirsch (19th round).
Fifth-rounder Dustin DeMuth, seventh-rounder Mitch Meyer, 11th-rounder Brandon Woodruff and McCall will all begin their pro careers with the Helena Brewers, according to a preview of that team published in Wednesday's Helena Independent Record.
Four late-round arms rounded out the group of official signings: righty Donnie Hissa (21st round), righty Bubba Blau (24th round), righty Brock Hudgens (31st round) and lefty David Carver (35th round).
Adam McCalvy is a reporter for MLB.com. Read his blog, Brew Beat, and follow him on Twitter at @AdamMcCalvy. Tim Healey is an associate reporter for MLB.com. This story was not subject to the approval of Major League Baseball or its clubs.