Dozier ready for Tigers despite exiting with tight back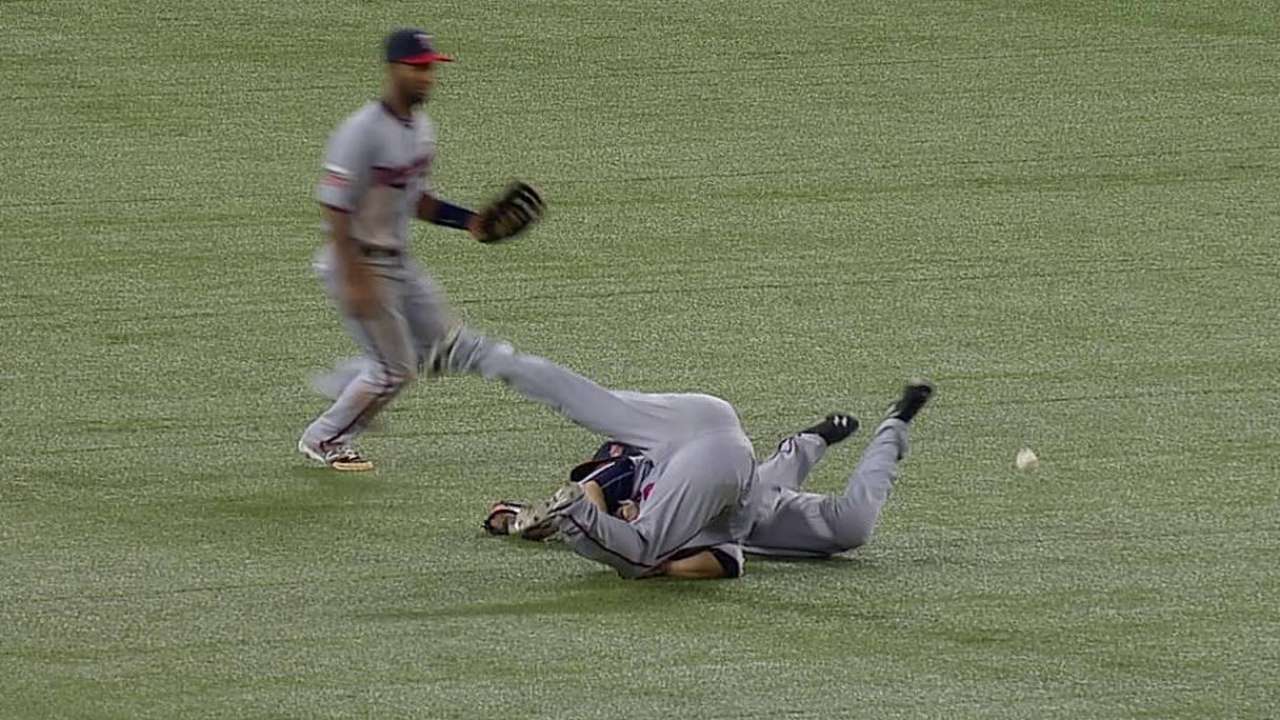 TORONTO -- Twins second baseman Brian Dozier left Wednesday's 7-2 win over the Blue Jays in the fourth inning with lower back tightness but said he expects to return to the lineup against the Tigers on Friday.
Dozier was involved in a collision in shallow center field during the second inning with shortstop Eduardo Nunez while trying to catch a pop fly from Erik Kratz that hit off Nunez's glove for a bloop double. Dozier told the training staff that he took a knee to the back on the play, and it worsened a stiff lower back that was also plaguing him on Tuesday after playing on the artificial surface at Rogers Centre.
"It kind of started yesterday and gradually got worse this morning but was tolerable to play," Dozier said. "But the second inning, I fell awkwardly, and that didn't help it."
Dozier remained in the game after the play and batted in the third inning with a groundout to shortstop. But he was removed for Eduardo Escobar at second base in the bottom of the fourth inning.
Prior to the injury, Dozier had played every inning of every game for the Twins this year, leading the club with 14 homers and 14 stolen bases. He said he'll continue to get treatment on his back on the off-day on Thursday. He dealt with a similar issue last year against the Mariners.
"I already got some treatment during the game, and I'll have some more tonight, so it already feels better," Dozier said. "It's one of those things where I'm not coming out of the game until I can't physically play, and I couldn't. But it happened last year in Seattle. It's good we have a day off."
Rhett Bollinger is a reporter for MLB.com. Read his blog, Bollinger Beat, and follow him on Twitter @RhettBollinger. This story was not subject to the approval of Major League Baseball or its clubs.