Kansas City road woes continue for Tribe
Loss marks sixth in last seven for Indians at Kauffman Stadium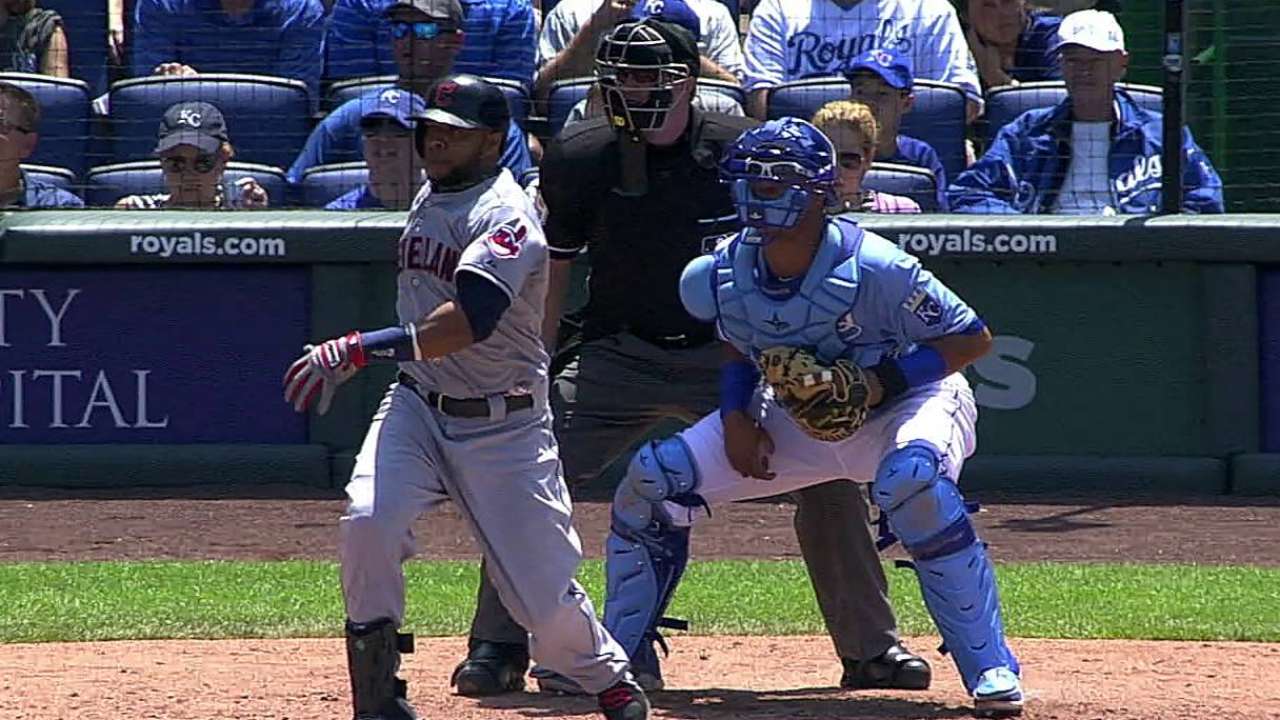 KANSAS CITY -- The card promised a scintillating pitching matchup between two of the premier, young power arms in the American League.
But only one side lived up to the lofty expectations as the Royals' Yordano Ventura outclassed the Indians' Trevor Bauer in Kansas City's 4-1 win on Wednesday.
The Royals rode Ventura's pitching -- seven innings of one-run ball -- and tied a franchise record for sacrifice flies in a game with four.
"He's got a pretty special arm, and he can mix in offspeed that you have to respect that makes it really difficult," Indians manager Terry Francona said. "We got some hits, we weren't really able to string anything together."
Ventura overwhelmed the Indians, with his upper-90s heat and complementary offspeed pitches. He allowed six hits and one run while striking out three, and departed after the seventh despite throwing just 85 pitches. Of the 21 outs he recorded, 13 of them came on the ground.
"It's tough to square up 98 [mph], you know, it's not easy…You've got to be perfect to do it," designated hitter Jason Giambi said.
Conversely, Bauer pitched adequately, but not nearly as effectively as Ventura. He lasted 5 1/3 innings and let three runs cross on his watch. The Royals rapped out seven hits against Bauer, who only managed one strikeout.
"It doesn't matter how I felt, I didn't do my job," Bauer said. "I threw the ball well sometimes, and we scored enough to win and I didn't do my job."
The Indians dropped both games at Kauffman Stadium and have now lost six of their last seven at the K. Cleveland fell to 3-3 on the current 10-game road trip, with the loss sinking their record on the road to 12-22 this season, the second worst in the American League.
The first three innings unfolded similarly to the first three frames in Tuesday's 9-5 Royals win.
Bauer, like Tuesday's starter Corey Kluber, made quick work of the first two innings, needing 26 pitches to retire the first six batters. But Bauer, also similar to Kluber, hit a snag in the third.
He fell behind the first batter, Mike Moustakas, who deposited a 2-0 double off the right-field wall. Alcides Escobar put runners on the corners when he served a flat slider into right-center for a single. Then Jarrod Dyson forced the game's first run in with a sacrifice fly to left. After Nori Aoki slapped a single to left, Omar Infante collected a rare sac fly that never left the infield.
Infante popped up, and as shortstop Mike Aviles camped under it, the ball got lost in the sun.
"I had glasses on, but everybody knows if the ball's in the middle of the sun, it doesn't matter what glasses you have," Aviles said.
Aviles made the catch just a few feet onto the outfield grass, but the effort it took to shield the sun forced him to the ground.
Escobar, seeing Aviles' awkward position, darted for the plate.
"I saw Aviles was struggling for a moment with the sun, and when he caught the ball and went down to the grass, I said 'I'm going because he needs to get up again and make a perfect throw.' That's a hard play," Escobar said.
Aviles tried to throw him out from his backside, but Bauer cut off the throw and sailed the relay over catcher Yan Gomes' head.
"I thought it was a heads-up play on their part to take off," Aviles said. "I just threw it in the direction of home plate and hopefully it would get there, and it just didn't pan out right."
Kansas City collected a third sac fly in the following inning, as Escobar plated Salvador Perez, who had doubled, on a fly ball to left to make it 3-0 Royals.
Bauer worked around a Billy Butler double in the fifth, then departed after recording one out in the sixth. The night before, Kluber allowed four runs in the third.
Bauer recorded at least five strikeouts in his first five starts, but he notched just one Wednesday.
"I thought he got to two strikes a lot, he just had a hard time putting hitters away," Francona said. "But I thought his stuff was really good."
In the last three games, Cleveland starters have a 7.24 ERA, and they have not pitched more than 5 1/3 innings.
Cleveland scored its lone run in the sixth inning when Carlos Santana smacked an RBI single that scored Michael Bourn, who singled to start the frame.
Kansas City's fourth sacrifice fly came from Billy Butler in the seventh.
The Indians posed a rally in the eighth, loading the bases with no one out down 4-1 versus dynamite setup man Wade Davis. But Davis escaped the jam with two strikeouts and a groundout.
"I liked where we were, and who we had up, but there's a reason that guy's given up 11 hits and has got about 47 strikeouts," Francona said of Davis, who after Wednesday had allowed 13 hits and struck out 48 batters.
Lonnie Chisenhall upped his average to .393 and extended his hitting streak to a career-high nine games with a 2-for-3 performance.
Jackson Alexander is an associate reporter for MLB.com. This story was not subject to the approval of Major League Baseball or its clubs.