Red Sox blanked by O's for second time in series
Boston scores just one run in three-game set to end 2-7 road trp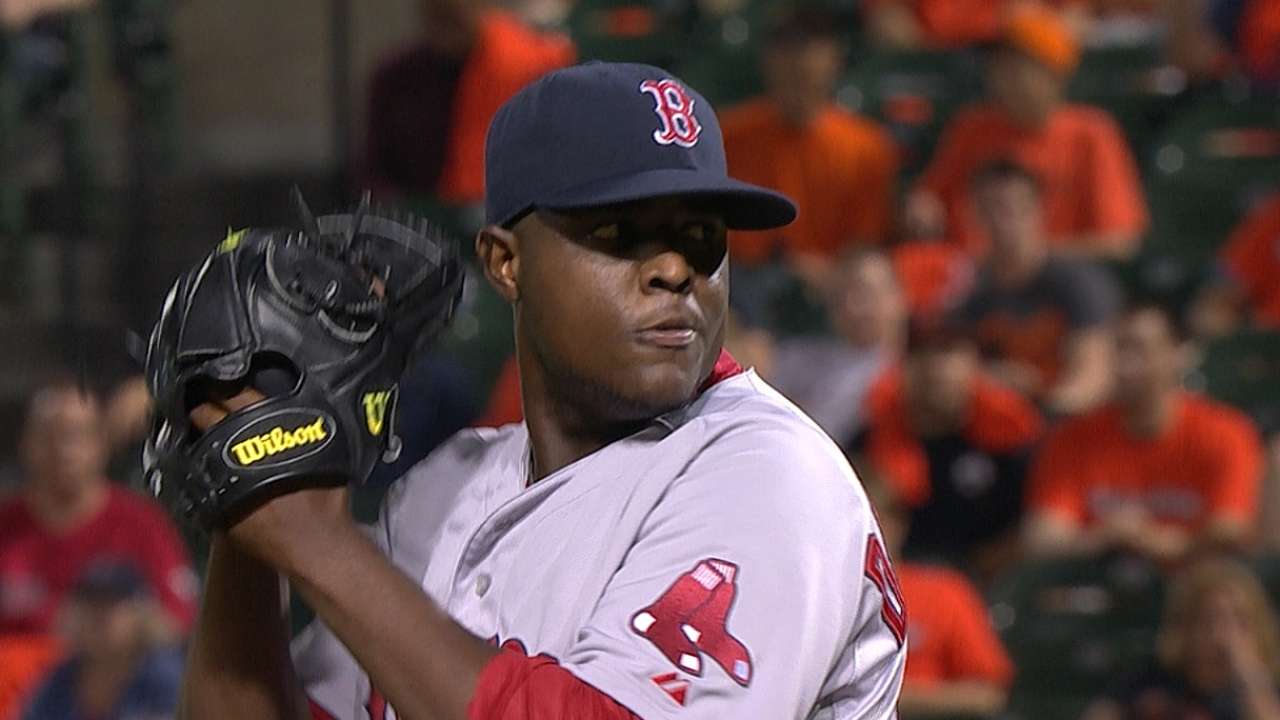 BALTIMORE -- For much of the season, the Red Sox have gone mysteriously quiet at the plate, unable to deliver key hits with men on base. But something entirely different happened during this three-game series at Camden Yards.
Over three games and 27 innings, the Boston bats went stone-cold silent.
It culminated with a 6-0 loss to the Orioles in the rubber match of a three-game series, as the Red Sox scored one run in three days.
The last time the Red Sox scored one run or fewer in a three-game series was on April 27-29, 1981, in Texas, when Carl Yastrzemski was the designated hitter, Jim Rice played left, Dwight Evans patrolled right and Carney Lansford, en route to a batting title that season, was at the hot corner.
"Well, one run in 27 innings is extremely difficult," said manager John Farrell. "You credit their pitching. You credit inning-ending double plays three times tonight. We had big opportunities [Tuesday] that we left a number of men on base, particularly in the early innings. We've got to do a better job offensively all the way around."
This was the first time the Sox scored one run or fewer in any three-game span since April 21-23, 1993, when they were shut out twice in Seattle and mustered one run in Anaheim.
When the Red Sox set out on this three-city road trip, they were flying high after winning seven in a row.
The flight home was presumably much more downcast, as Boston went 2-7 on the frustration-filled journey.
"Slump? What slump? Who's slumping? The team? We're just not scoring runs," said Xander Bogaerts, who went 0-for-16 in Baltimore. "It's just hits, opportunity hits. [Tuesday] night I think I had a few opportunities that I just didn't cash in. It's tough. It's tough to be going through something like this."
The Sox are 29-36 as they had home to start a four-game series with the Indians on Thursday. The defending World Series champs are nine games back in the American League East.
The latest loss was prolonged by a rain delay of one hour and 38 minutes in the bottom of the seventh.
"We haven't been swinging the bats good," said Dustin Pedroia. "When we do hit the ball well, it's right at somebody, or we get a rally going and we find a way to stop it quick. But you've got to keep fighting through it. That's all we can do."
Rubby De La Rosa had a rocky first inning, but minimized the damage after that, giving up seven hits and four runs over 5 2/3 innings.
"I thought tonight was an important learning experience for him, the way in which he needs to use his fastball," said Farrell. "Quickly the word spreads around this league on what an individual pitcher will go to. I thought once he started to use his fastball more from the third inning on, he forced some swings and made his changeup and his breaking pitches that much more effective. But like I said, I think it's more a very good learning lesson tonight."
However, the way Boston is hitting of late, the pitching staff doesn't have much margin for error.
De La Rosa's outing got off on the wrong foot in the first. It started on a one-out walk by Steve Pearce. Adam Jones ripped an RBI double to left. With two outs, Chris Davis ripped a two-run homer to right to make it 3-0.
While De La Rosa settled down nicely, the Orioles did get one more in the fourth on an RBI single by Nick Hundley.
"I think it was better from the second inning through the last inning," said De La Rosa. "I feel my command was better and my fastball was location was better."
Baltimore nearly increased the lead to 5-0 when Nick Markakis slapped a grounder that third baseman Bogaerts made a diving stab on and shoveled to second for the force attempts. Initially, Hundley was ruled safe and Markakis was awarded with an RBI. But Farrell challenged the play, and it was overturned, erasing the run and ending the inning.
However, not even that could generate any momentum for Boston.
Wei-Yin Chen retired the first 11 batters he faced until Pedroia belted a liner to right with two outs in the fourth. Pedroia tried to stretch it into a double, but was thrown out by Markakis.
"There's two outs," said Pedroia. "That's why I went. Obviously get in scoring position with two outs. He made a perfect throw. Those are the type of aggressive plays we like. He just made a perfect throw."
When the Red Sox finally had a promising rally in the sixth, putting two on with one out, Brock Holt hit into a 4-6-3 double play.
"I'd be the first to day I think we kind of caught Boston not swinging the bats as well as they're capable of," said Orioles manager Buck Showalter. "But I'm impressed with the way our guys pitched the last three days."
As for Farrell and the Red Sox, they will try to regroup at home.
"I'm not at the point of pulling something out of a hat for a lineup, I can tell you that," Farrell said. "But we've got to trust in the players that we have and continue to work through this."
Ian Browne is a reporter for MLB.com. Read his blog, Brownie Points, and follow him on Twitter @IanMBrowne. This story was not subject to the approval of Major League Baseball or its clubs.