Twins continue to best AL East with series win
Club 12-6 vs. tough division; Willingham, Morales back Hughes' gem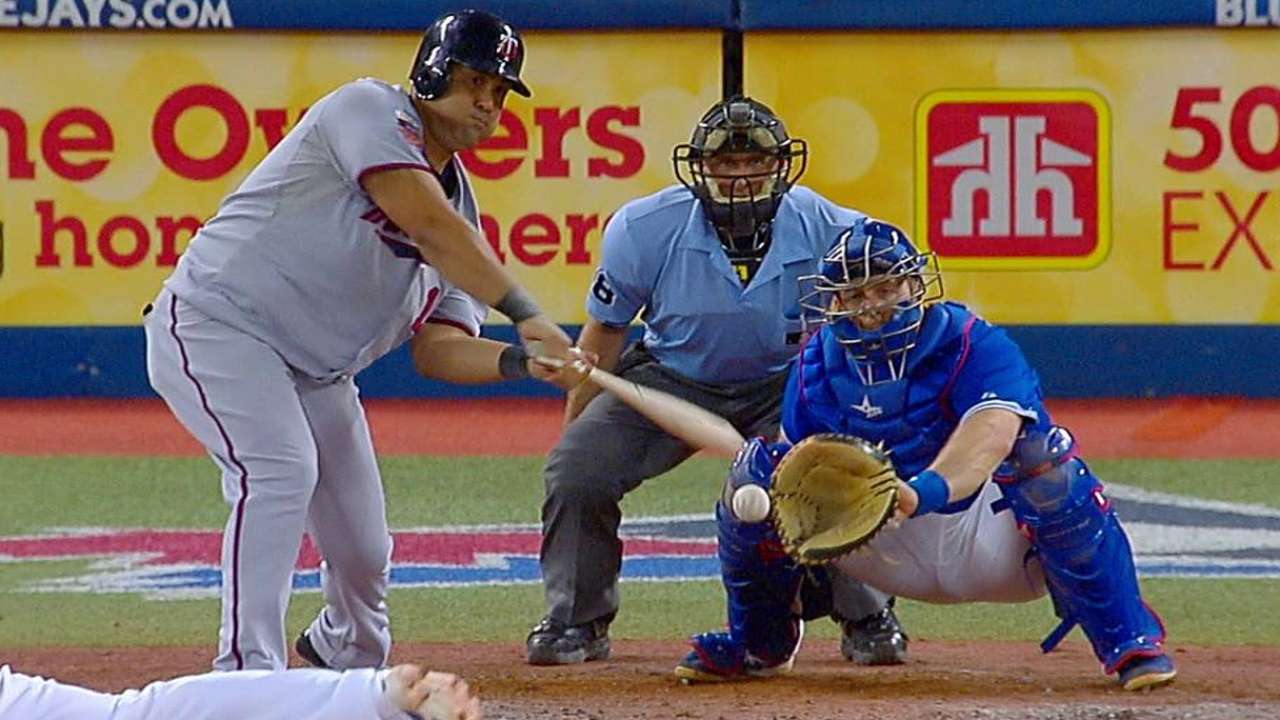 TORONTO -- The American League East hasn't been kind to the Twins in recent years.
The last time they finished with a record above .500 against AL East foes came all the way back in 2006, and they combined to go just 31-75 against that division over the last three years heading into this season.
But this year, the Twins have been on a roll against AL East teams, and it continued again at Rogers Centre, which has also been a tough place for the Twins to play historically. Phil Hughes threw seven scoreless innings, and Kendrys Morales and Josh Willingham added three RBIs each to carry Minnesota to a 7-2 win over the Blue Jays on Wednesday afternoon.
It handed the Twins a series victory -- their first in Toronto since 2005 -- in the first leg of their nine-game road trip through Toronto, Detroit and Boston. They also improved to 12-6 against the AL East this year, and have won all six series they've played against AL East teams.
"It says a lot," Hughes said. "This is a tough division to pitch in, especially on the road. These are some tough ballparks to pitch in. So to be able to come in here and win this series is huge, especially with their offensive ability."
Hughes rebounded from a rough outing against the Astros to turn in his ninth quality start over his last 10 outings. The right-hander scattered seven hits, and he didn't walk a batter for the eighth time over his last 10 starts while setting a season high with nine strikeouts. Hughes has a 2.27 ERA with 55 strikeouts and three walks over 67 1/3 innings in his last 10 starts, and he improved to 7-2 with a 3.17 ERA on the year.
He was handed an early lead, as Willingham crushed a two-run home run in the first inning off Blue Jays right-hander Marcus Stroman. The homer was the fifth of the season for Willingham, and it reached the second deck in left field.
"For us, it all starts with our starter, and it was a super job again from him," Twins manager Ron Gardenhire said. "He was changing speeds like we've been seeing and used his breaking ball a lot better today. And offensively, it started it off with Willy getting us on the board with a two-run homer. And Morales is unbelievable."
The Twins didn't score again until the sixth, when Morales opened the inning with a double to center field. He came around to score on a sacrifice fly from Trevor Plouffe after a single from Oswaldo Arcia.
Morales broke the game open with a three-run double in the seventh off reliever Bobby Korecky with one out, his first RBIs with the Twins. Danny Santana and Eduardo Escobar both reached on infield singles before Joe Mauer walked to set the stage for the bases-clearing double. Willingham added his third RBI on a single in the ninth.
"He's pretty amazing," Gardenhire said about Morales, who is 6-for-13 with three doubles since officially signing with the Twins on Sunday. "He's just going up there and whacking it. He's having great at-bats, and it doesn't look like he hasn't played in a long time."
The offensive output was more than enough for Hughes, who worked his way out of a couple of jams, including in the sixth, when he had runners at first and third with nobody out. Arcia made a sliding catch in foul ground on a fly ball from Jose Bautista before Hughes struck out Edwin Encarnacion and Adam Lind on curveballs to get out of the inning unscathed.
Hughes also got out of a jam in the seventh with runners on the corners and one out. He again used the strikeout to his advantage, getting Juan Francisco looking and Jose Reyes swinging to end the inning.
"It was good," Hughes said. "I ran into trouble a couple times, but I was able to make some good pitches to get out of some tight spots. This team is dangerous, so with a two-run or three-run lead, it can quickly turn around pretty easily."
Toronto didn't get on the board until the eighth inning on an RBI double from Bautista off reliever Jared Burton. Dioner Navarro added a two-out RBI single, but it was too little, too late for the Blue Jays, who went just 3-for-13 with runners in scoring position.
"There's no doubt we've cooled off with the bats," Blue Jays manager John Gibbons said. "Hughes was really good. He turned some corners since he moved to Minnesota. But it never helps to spot them runs early, especially when you're stuggling offensively and you're catching up."
Rhett Bollinger is a reporter for MLB.com. Read his blog, Bollinger Beat, and follow him on Twitter @RhettBollinger. This story was not subject to the approval of Major League Baseball or its clubs.