Pipeline preview: Tennessee's Bryant aims to stay hot
Cubs' No. 2 prospect ready to face Mississippi on Wednesday in Double-A action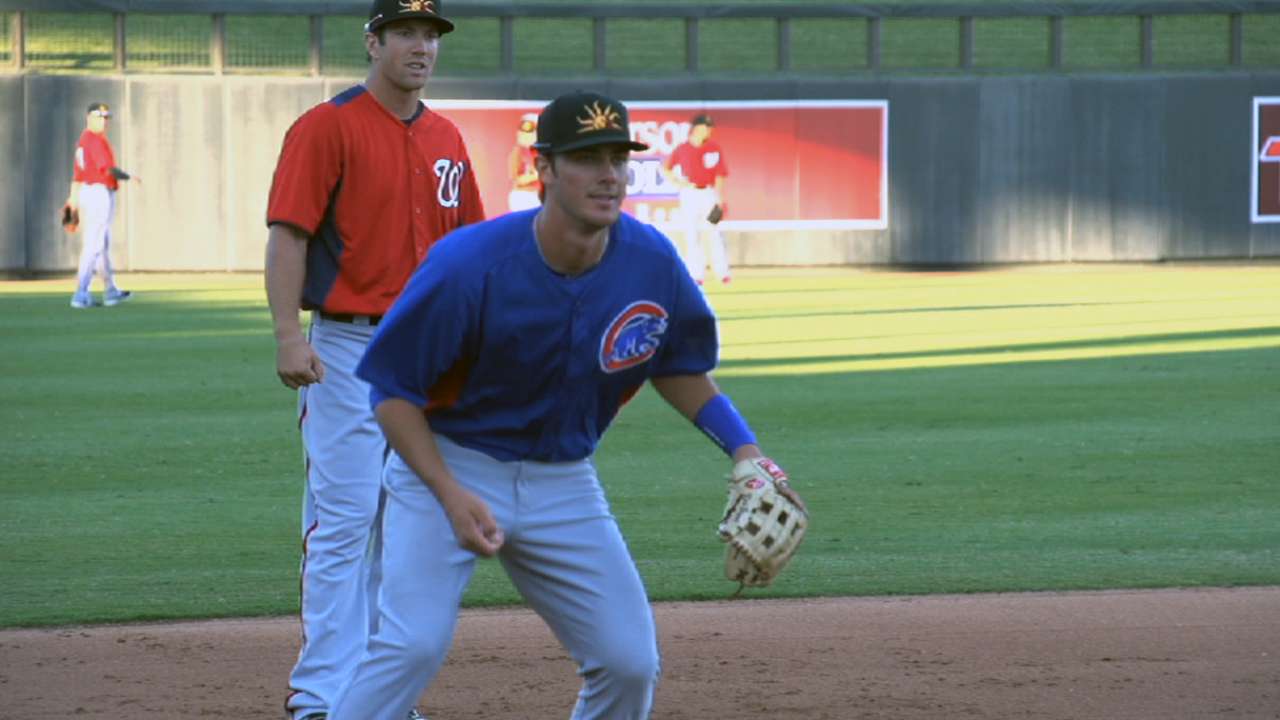 As the All-Star break approaches in the Southern League, Tennessee third baseman Kris Bryant's name appears at or near the top of nearly every meaningful offensive category. The Cubs' No. 2 prospect leads the circuit in all three Triple Crown categories (.357, 22 home runs, 55 RBIs), as well as hits, runs, on-base percentage and slugging percentage.
Bryant, the second overall pick in the 2013 First-Year Player Draft, will face a fellow 2013 first-rounder when Tennessee begins a five-game series at Mississippi on Wednesday. Right-hander Jason Hursh, the 31st overall pick last year, is scheduled to start for the Braves. Fans can watch the showdown on MiLB.TV at 7:15 p.m. ET.
Bryant, ranked No. 8 on MLBPipeline.com's Top 100 Prospects list, has been one of the best players in the Minor Leagues, not only this season, but since he signed with the Cubs last summer. In 99 games as a professional, he has hit .349/.436/.709 with 31 home runs, 79 runs and 87 RBIs.
Hursh, the Braves' No. 3 prospect, has bounced back after an uneven start to the season to win his last two starts. In those games, he has allowed just one run on 11 hits and two walks in 14 innings. Overall this season, Hursh is 5-4 with a 3.43 ERA. He has struck out 35 batters and walked 17 in 65 2/3 innings.
Tennessee will counter with right-hander Eduardo Figueroa. He began the season in the bullpen for Triple-A Iowa, before joining Tennessee's rotation last week. Between the two levels, Figueroa is 1-1 with a 2.76 ERA in 16 1/3 innings this season.
While Bryant was off Tuesday, his two chief competitors in the Minor League home run race were hard at work. He entered the day tied with Rangers' No. 4 prospect Joey Gallo for the Minor League lead with 22 home runs, one ahead of Yankees' No. 20 prospect Peter O'Brien. Both Gallo and O'Brien went deep, the latest salvos in what is shaping up to be a summer-long competition.
Wednesday's Minor League slate is also highlighted by a few pitchers scheduled to start who are ranked in the Top 100, including Jesse Biddle (No. 45), Julio Urias (No. 53), Jimmy Nelson (No. 69) and Jose Berrios (No. 76). Fans can watch Biddle and Nelson on MiLB.TV, beginning with Biddle and Double-A Reading hosting New Britain at 7:05 p.m.
Top prospect probables
Alec Asher (Rangers' No. 10), Frisco at Corpus Christi
Jose Berrios (Twins' No. 5), Fort Myers vs. Charlotte
Jesse Biddle (Phillies' No. 2), Reading vs. New Britain
Christian Binford (Royals' No. 11), Wilmington at Winston-Salem
Daniel Corcino (Reds' No. 10), Pensacola at Mobile
Jonathon Crawford (Tigers' No. 4), West Michigan at Great Lakes
Zach Davies (Orioles' No. 12), Bowie vs. New Hampshire
Chase De Jong (Blue Jays' No. 13), Lansing at Fort Wayne
Kendry Flores (Giants' No. 20), San Jose vs. Stockton
Brian Flynn (Marlins' No. 7), New Orleans at El Paso
Amir Garrett (Reds' No. 19), Dayton vs. Bowling Green
Grayson Garvin (Rays' No. 19), Montgomery at Birmingham
David Holmberg (Reds' No. 6), Louisville vs. Gwinnett
Lars Huijer (Mariners' No. 20), Clinton vs. Burlington
Jason Hursh (Braves' No. 3), Mississippi at Tennessee
Matthew Koch (Mets' No. 20), St. Lucie at Jupiter
Jimmy Nelson (Brewers' No. 1), Nashville vs. Reno
Victor Payano (Rangers' No. 16), Myrtle Beach vs. Lynchburg
Cody Reed (Royals' No. 14), Lexington vs. Asheville
Alex Reyes (Cardinals' No. 5), Peoria vs. Kane County
Jefry Rodriguez (Nationals' No. 9). Hagerstown at Lakewood
Enny Romero (Rays' No. 4), Durham at Indianapolis
Antonio Senzatela (Rockies' No. 20), Asheville at Lexington
Teddy Stankiewicz (Red Sox's No. 17), Greenville vs. Charleston
Nick Travieso (Reds' No. 7), Dayton vs. Bowling Green
Julio Urias (Dodgers' No. 3), Rancho Cucamonga at Lancaster
Teddy Cahill is a reporter for MLB.com. Follow him on Twitter at @tedcahill. This story was not subject to the approval of Major League Baseball or its clubs.