MLB.com Columnist
Phil Rogers
Some Hall of Fame speeches are in class of their own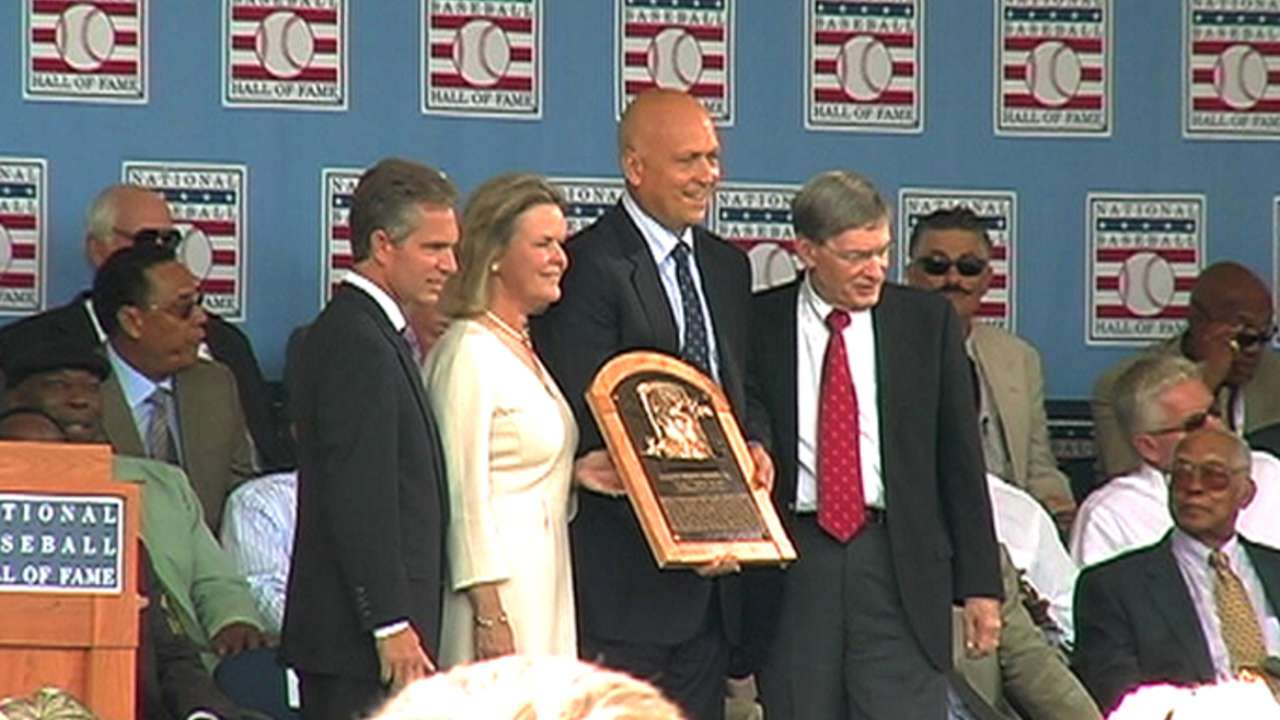 It's the chance of a lifetime at a podium, and it scares many of baseball's greatest players more than the toughest fastballs they ever faced.
When someone starts a Hall of Fame induction speech, they are greeted with an empty page, and we all know how exciting and daunting that can be. That's never more true than when you have a once-in-a-lifetime assignment, so we should stop to salute those who have done it well.
Induction speeches can be important. They can be emotional. They can be funny. But one way or another, they should be memorable.
Ted Williams' certainly was.
He showed an understanding for life as well as for hitting. His words don't seem remarkable when viewed under a modern prism, but in 1966, with America divided on civil rights issues, they echoed loudly from Cooperstown to the Pacific Ocean.
"The other day Willie Mays hit his 522nd home run,'' Williams said. "He has gone past me, and he's pushing, and I say to him, 'Go get 'em, Willie.' Baseball gives every American boy a chance to excel. Not just to be as good as someone else, but to be better. This is the nature of man and the name of the game. I hope that one day Satchel Paige and Josh Gibson will be voted into the Hall of Fame as symbols of the great Negro players who are not here only because they weren't given the chance."
No one heard Williams' words more clearly than men like Monte Irvin, who owed their baseball careers to the Negro Leagues.
"I was surprised. I hadn't known that's how he felt," Irvin told MLB.com's Tom Singer. "But I was so happy that he did. What Williams said, a lot of others were thinking. But he said it, and it paved the way and made it easier for a lot of Negro League players to get into the Hall of Fame."
Paige was inducted in 1971, followed by Gibson and Buck Leonard in 1972. There are 35 Negro Leaguers among the 306 Hall of Famers.
Among other memorable induction speeches:
• Cal Ripken, in 2007: Ripken thoughtfully spoke about why he so patiently signed autographs throughout his streak of 2,632 consecutive games played, and how he had been taught to set a good example for children.
"When I realized that I could use baseball to help make life better, especially for the kids, baseball became a platform," Ripken said. "By trying to set a good example, I could help influence young people in positive and productive ways. And some of this became apparent to me in my earliest playing days.
"So as my Major League career unfolded, I started paying a little more attention to my actions. I remember when Kenny Singleton showed me a tape of me throwing my helmet down after a strikeout and all he said was, 'How does that look?' I remember learning about a family who saved their money to come to Baltimore to see me play. I got thrown out in the first inning and their little boy cried the whole game. I remember how I reacted with anger when Dad was fired after an 0-6 start, and after each of those events and others, I vowed to act better the next time.Yes, these were only little things, but as Dad used to say, if you take care of all the little things, you'll never have a big thing to worry about."
• Ryne Sandberg, in 2005: Sandberg, quiet throughout his career, took a stand against selfish, stats-conscious players, especially those who used performance-enhancing drugs.
"A lot of people say this honor validates my career, but I didn't work hard for validation," Sandberg said. "I didn't play the game right because I saw a reward at the end of the tunnel. I played it right because that's what you're supposed to do -- play it right and with respect. If this validates anything, it's that learning how to bunt and hit and run and turning two is more important than knowing where to find the little red light [on] the dugout camera."
• Richie Ashburn, in 1995: Ashburn made it memorable by not just speaking about the Phillies teams he was on but also the expansion 1962 Mets, who claimed their own piece of history by losing 120 games. On the final day of the season, they were the victims on an eighth-inning triple play when the Cubs' Ken Hubbs made a diving, rolling catch of a soft liner into right field.
"As we walked into the visitors' clubhouse, Casey Stengel was standing there," Ashburn said. "And he said to us, he said, 'Fellers, I don't want anybody to feel bad about this. This has been a real team effort.' He said, 'No one or two people could have done all this.'"
• Tommy Lasorda, in 1997: He told how he had grown up dreaming of a life in baseball, like so many others.
"I used to go to bed and I used to actually dream that I was pitching for the Yankees," Lasorda said. "And I looked and Bill Dickey was giving me the signs, and I looked and DiMaggio and Gehrig were on the field. And then all of a sudden, I'd feel my mother shaking me, and saying, 'Wake up, Tommy, it's time to go to school.' I did not want to leave that dream. I wanted to stay there, because the dream was so real."
• Dennis Eckersley, in 2004: Eckersley used the moment to speak about how he almost short-circuited his career with drinking.
"I was spiraling out of control personally," Eckersley said. "I knew I had come to a crossroads in my life. With the grace of God, I got sober and I saved my life. I was a new man, a renewed man. It took a great deal of acceptance to come to terms with being an alcoholic, but acceptance was the key to my sobriety. If I had not gained acceptance at that time in my life, I would not be standing here today. My career would not have taken me this far."
• Kirby Puckett, in 2001: Puckett spoke about his journey from Chicago's Robert Taylor Homes to the top of the baseball world.
"There may be a few people out there who remember a time when the word on Kirby Puckett was that he was too short or didn't have enough power to make it to the big leagues," Puckett said. "Well despite the fact that I didn't get to play all the years I wanted to, I did it. And to any young person out there, if anyone tells you that you can't do what you want to do and be what you want to be -- I wanted to play baseball ever since I was 5 years old. And I want you to remember the guiding principles of my life: You can be what you want to be. If you believe in yourself, and you work hard because anything, and I'm telling you, anything is possible. It doesn't matter if you're 5-8 like Kirby Puckett or you're 6-6 like my man [Dave Winfield], you can do it. And don't feel sorry for yourself if obstacles get in your way. Our great Twins World Series teams faced odds and we beat 'em. Jackie Robinson faced odds and made this game truly the national game."
Phil Rogers is a columnist for MLB.com. This story was not subject to the approval of Major League Baseball or its clubs.