Bumgarner takes hard-luck loss as Giants stymied
San Francisco can't cash in on late scoring opportunities vs. Nats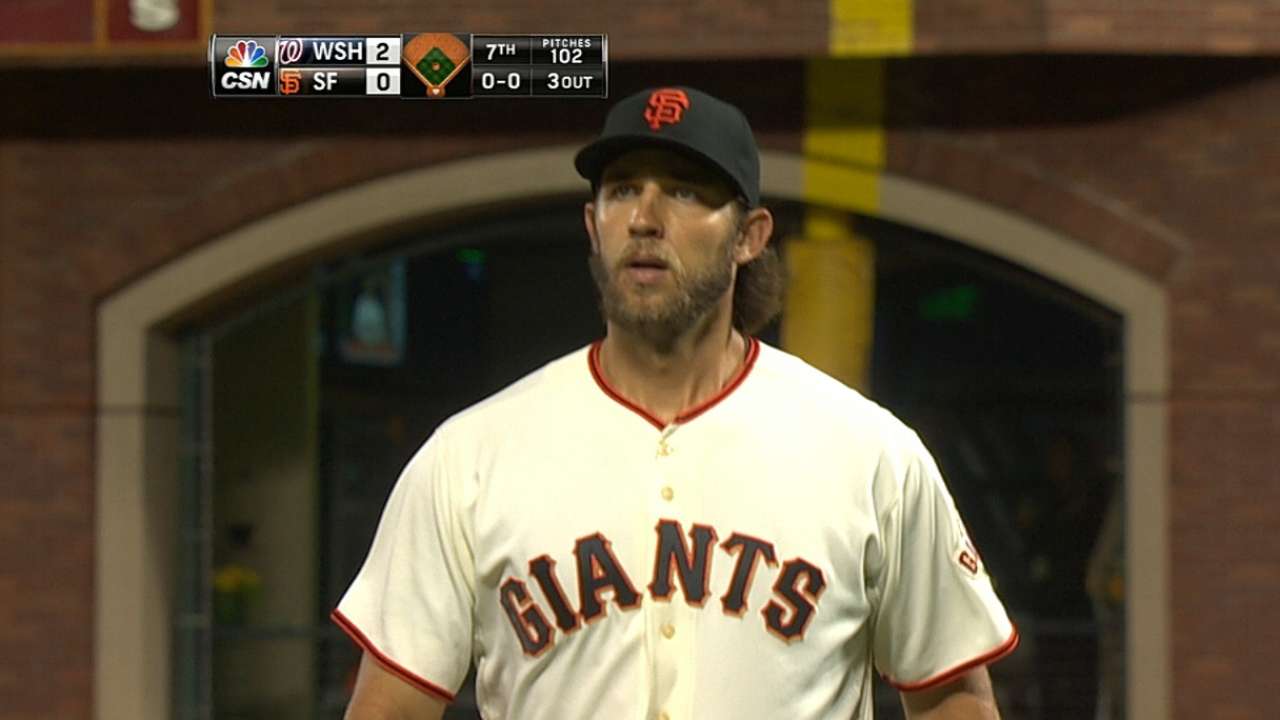 SAN FRANCISCO -- If this is as extreme as a slump gets for the Giants, they can tolerate it.
They lost a second straight game for the third time since claiming the National League West lead on April 25 and for the sixth occasion overall, falling, 2-1, Tuesday night to the Washington Nationals.
The Giants, who still own the Major Leagues' best record (42-23), were outdone by the hottest team in the bigs. Washington, which has won nine of its last 11 games, received production from the bottom of its batting order, a key two-out run, airtight pitching and precise defense -- the same skill set that San Francisco has displayed all season.
Giants left-hander Madison Bumgarner (8-4) pitched capably but received an unusual lack of offensive support as his six-decision winning streak dissolved. The Giants, who had averaged 6.36 runs per game for Bumgarner, finished with 10 hits but moved only three runners into scoring position against Washington starter Doug Fister (5-1), who worked seven shutout innings to win his fifth consecutive start.
"Looking back, we've been on a pretty good run," Bumgarner said. "You have to take the good with the bad. You can't expect perfection every time out. It's about how quickly you can bounce back from times like these."
The Giants put three runners on base and generated some drama in the final two innings against Washington relievers Tyler Clippard and Rafael Soriano, but lacked the game-changing hit that they've grown to expect during their charmed ascent.
"No matter how we're going or what the situation is, we're always thinking we're in the game until it's over," Bumgarner said.
Buster Posey singled and Pablo Sandoval walked with one out in the eighth against Clippard, which brought Michael Morse to the plate.
"I always feel good when he's up there," Bumgarner said.
Echoed Giants manager Bruce Bochy, "He's the guy you want up there in that situation."
Clippard concluded what Bochy called a "classic battle" by striking out the ex-Nats slugger on a 3-2 fastball, one pitch after pulling a changeup deep but foul. Gregor Blanco flied out to end the threat.
Brandon Crawford tripled to open the ninth against Soriano and scored on Brandon Hicks' groundout. Pinch-hitter Hector Sanchez, who came off the bench to deliver a game-winning, three-run homer off Soriano last Aug. 15, popped up after lining a couple of wicked fouls. Angel Pagan, back in the lineup after missing two starts with a sore right shin, ended matters by flying out.
The Giants tested Washington's defense in the sixth inning, when Crawford singled with two outs and Sandoval, who went 3-for-3, on second base via a double. Sandoval chugged home, but Nats right fielder Jayson Werth's strong throw beat him. Sandoval resorted to a tumbling, bouncing semblance of a slide as catcher Wilson Ramos tagged him out.
Modest as it was, the scoring bid that gnawed at Bochy afterward occurred in the seventh inning, which ended as Pagan lined into a double play. Hicks was trapped off first base, prompting Bochy to remark, "That one we'd like to have back."
The Giants avoided the indignity they endured Monday, when they absorbed their largest margin of defeat this year in a 9-2 decision. This rematch more closely resembled Game 2 of the 2012 World Series, when Bumgarner and Fister, then with Detroit, opposed each other in a 2-0 Giants victory.
Bumgarner, who entered the game with a confounding 4.94 home ERA, allowed eight hits in seven innings and yielded the Nats' lone runs in the fifth. Their rally began with a bloop single by Ian Desmond, batting seventh in the order, and a shattered-bat single by Danny Espinosa, the No. 8 hitter. Denard Span's sacrifice fly and Werth's two-out single accounted for the scoring.
Asked if the Nats, whom San Francisco nearly faced in the 2012 NL Championship Series, looked primed for the postseason, Bumgarner said, "They have a chance, I think. They have a pretty good lineup and some good pitchers. It's a well-rounded team. It comes down to whether they execute, but they definitely have the talent."
Chris Haft is a reporter for MLB.com. Read his blog, Haft-Baked Ideas, and follow him on Twitter at @sfgiantsbeat. This story was not subject to the approval of Major League Baseball or its clubs.