Marlins rally in Texas to tie Interleague record
Yelich's career night includes go-ahead single in 13th straight over AL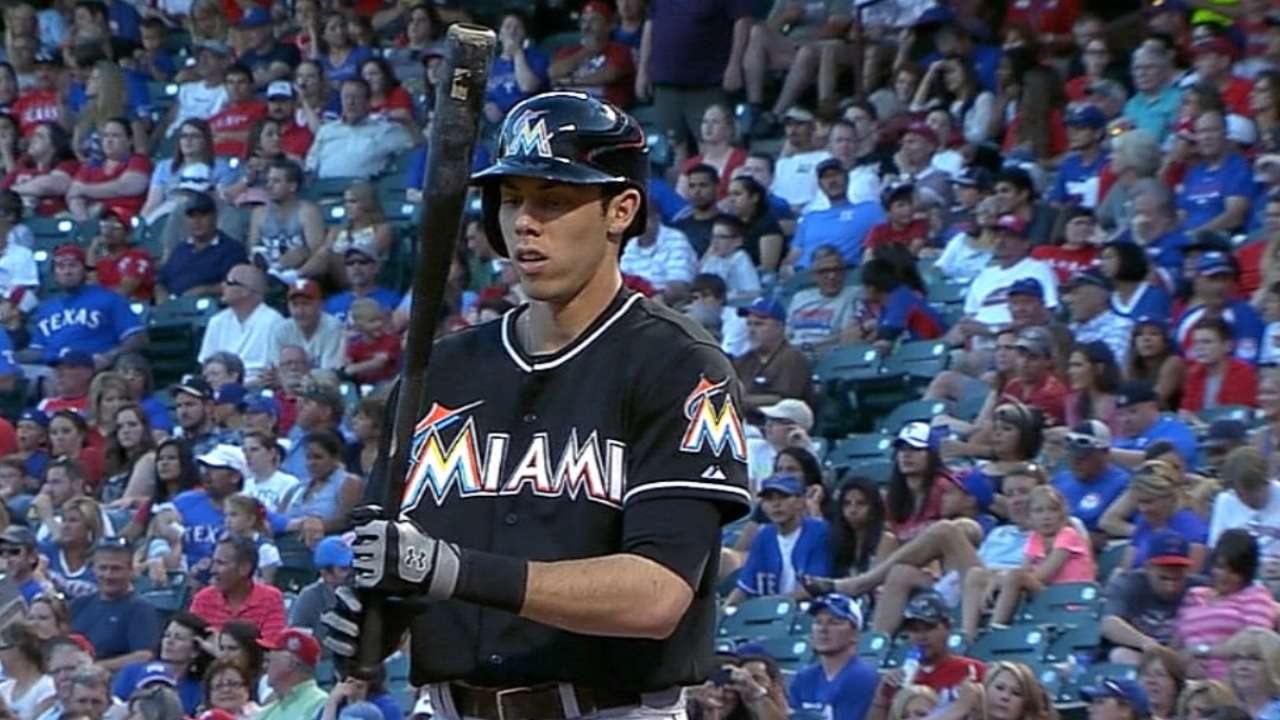 ARLINGTON -- The Marlins are not only making noise in the tightly contested National League East, they're also being Interleague beasts.
Backed by Christian Yelich's career-high four hits and four RBIs, Miami rallied to an 8-5 win over the Rangers on Tuesday night at Globe Life Park.
By rallying late, the Marlins kept pace in the NL East -- a half-game behind the first-place Braves -- and it also achieved a bit of Interleague Play history.
The Marlins are a perfect 8-0 this season against the American League. Dating back to last year, they've won 13 straight, which matches an MLB mark. The Yankees (2003-04) and the Rays ('04) also won as many as 13 straight.
"That's awesome, I guess," Yelich said. "We have to try and keep it rolling tomorrow. I don't know what that is or why we've beaten so many American League teams. I guess we like playing against them. Hopefully it continues tomorrow and we get a W."
The task gets tougher as the Rangers roll out Yu Darvish to wrap up the two-game set. Miami counters with Jacob Turner.
The Marlins capitalized on using the designated hitter Tuesday. Justin Bour took on the role, and he had three hits while scoring twice. Casey McGehee added three hits, an RBI and a run scored, and Garrett Jones had a pair of RBIs, including one on a double in the eighth.
It was a group effort that kept Miami perfect this season against the AL.
"That's one of those baseball things that you probably can't figure out," Miami manager Mike Redmond said of the club's Interleague success. "I'm sure somebody a lot smarter than me can figure it out. We just go out there and try to win a ballgame.
"Tonight was a battle. But that's kind of our style. That's the way we win ballgames, mix and match. Get some big hits, take advantage of some situations. We were able to do that tonight."
Before taking the field on Tuesday night, Redmond reminded that no lead is safe at Globe Life Park.
How true.
A late recovery enabled the Marlins to guarantee a winning seven-game road trip. They are now 4-2 with one game remaining.
Before beating the Cubs on Sunday at Wrigley Field, the Marlins had lost 33 straight road games when trailing in the seventh inning or beyond. On Tuesday, they rallied again in the late innings.
"The add-on runs are big," Redmond said. "But give them a little credit for making pitches when they needed to, and in the end, we got some hits and ran the bases aggressively and kind of put some pressure on them. They made a couple mistakes, which led to us getting a couple more runs at the end. All in all, it's a battle out there. You have to fight for nine innings and take advantage of the opportunities, and we were able to do that tonight."
After surrendering a three-run lead in the sixth inning, the Marlins regained the edge in the seventh on Yelich's two-out, two-run single off lefty Neal Cotts. The two runs were unearned, and the runners reached off reliever Jason Frasor. Bour singled and Jeff Mathis reached on Rougned Odor's error at second. With two outs, Cotts relieved Frasor, setting up a lefty-lefty matchup with Yelich, whose single went off the top of third baseman Adrian Beltre's glove into left field, putting Miami ahead 6-5.
"I was kind of leaning back, saying, 'Come on, get over his head,'" Yelich said. "It tipped the top of his glove. It was real close. That was big for us."
Miami was able to make Texas pay for its mistakes.
"In the end, we didn't play defense the way we are capable of playing," Rangers manager Ron Washington said. "That hurt us. We fought back to get into that game and then shot ourselves in the foot."
In the eighth inning, the Marlins added on two runs off Tanner Scheppers. Giancarlo Stanton walked and moved to third on McGehee's single to left. On the play, the Rangers committed two errors. Michael Choice's throw from left field to third was off the mark, allowing McGehee to take second. But Scheppers, attempting to throw out McGehee, had his throw go into the outfield. Stanton scored easily. Jones' RBI double gave Miami a three-run edge.
McGehee entered the game hitting .424 with runners in scoring position.
Tom Koehler was in command for five innings, striking out seven in that span, while allowing one run. But in the sixth inning, the Miami right-hander struggled with his command, and his line ended up being five earned runs on five hits with three walks and a hit batter.
Texas scored four runs in the sixth inning, capitalizing on the hit batter, two walks, a wild pitch and a throwing error. The Rangers managed two hits in the inning, with one being an infield single.
The inning started off a mess when Koehler plunked Shin-Soo Choo with a pitch and Beltre lined a single to left. Alex Rios walked to load the bases, and Brad Snyder's walk forced in a run. Robinson Chirinos lined sharply to right field for a sacrifice fly.
"I was throwing the ball really well early and kind of hit a little bit of a speed bump," Koehler said. "It was unfortunate with the way that I was throwing early on. But I've got to do a better job when innings start to snowball like that of taking a deep breath and getting back to executing quality pitches like I was early on."
Dan Jennings replaced Koehler, inheriting runners at the corners and one out in a 4-3 game. Jennings struck out Daniel Robertson. But with Odor at the plate, Jennings' wild pitch scored Rios. Texas claimed the led when Odor tapped a slow grounder to Ed Lucas at second and beat the throw to first for a single. Snyder scored from second, giving Texas the lead.
The Marlins got Texas starter Colby Lewis out of the game after five innings and 106 pitches. He allowed three runs on seven hits with four walks and three strikeouts.
"At the same time, it was great to see the team fight back and win a ballgame like this," Koehler said. "It was awesome."
Joe Frisaro is a reporter for MLB.com. He writes a blog, called The Fish Pond. Follow him on Twitter @JoeFrisaro. This story was not subject to the approval of Major League Baseball or its clubs.