Sloppy Rangers can't keep late lead vs. Fish
Errors, lapses in field cost Texas after club takes lead in four-run sixth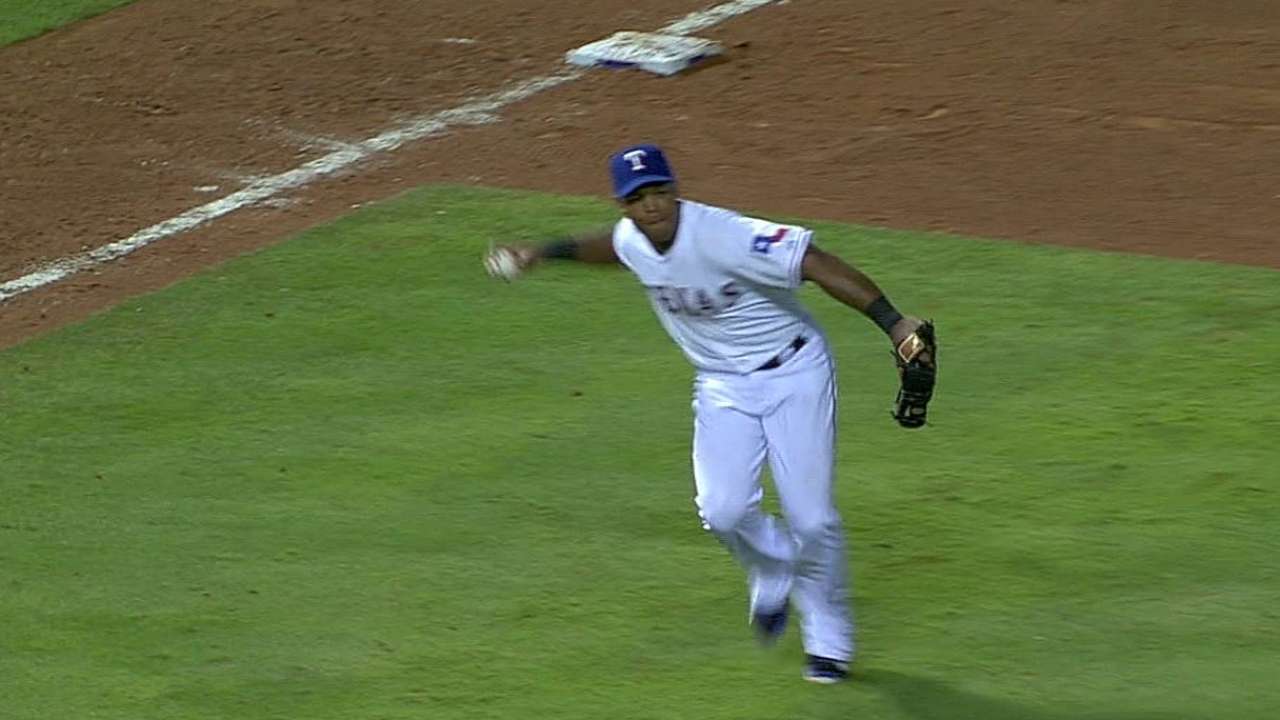 ARLINGTON -- The Rangers have enough wounded on the disabled list, they don't need any more self-inflicted wounds during the course of the game.
The Rangers have handicaps without adding to them. On Tuesday night, they were trying to hold a one-run lead with nine outs to go, and five of the nine players they had on the field had less than 100 games of Major League experience.
But the Rangers added to their travails with a litany of mental and physical mistakes, all adding up to a fourth straight loss as the Marlins rallied for an 8-5 victory. The loss, besides dropping the Rangers to three games under .500 for the season, was also their 16th in their last 22 games at home.
Manager Ron Washington admitted afterward there were certain aspects of his team's performance that disappointed him in this one.
"Yeah, in the end, we didn't play defense the way we are capable of playing," Washington said. "That hurt us. We fought back to get into that game and then shot ourselves in the foot. I get a little upset but I don't get frustrated. We've still got work to do."
The Rangers let their 5-4 lead disappear when the Marlins scored two in the seventh and two in the eighth. Three of the four runs were unearned on three errors. Two of the three errors were committed by rookies: left fielder Michael Choice and second baseman Rougned Odor. Pitcher Tanner Scheppers committed the third error.
"We all want to win," pitcher Colby Lewis said. "That's the bottom line. We're all trying to win. ... We're all trying to do what we need to do."
The physical errors were not the only issue. Lewis walked four in five innings, and two ended up scoring. Brad Snyder, playing first base for the first time in the Majors and only the third time as a professional, cut off a relay throw to the plate in the fourth inning that had the potential to be an out.
In the sixth, center fielder Leonys Martin was too slow getting to what should have been a one-out single by Christian Yelich. Hustling all the way, Yelich turned it into a double.
Ed Lucas followed with a grounder that Odor fielded next to second. He had a chance to tag Yelich for the second out, but tried to do it too quickly in an attempt to get a double play. Odor missed the tag and the Rangers didn't get any outs. Yelich scored on a two-out single by Casey McGehee.
"We've got to keep working, that's all we can do," Washington said. "They are certainly trying to play and trying to do their best. Some things just didn't go right. We've got to keep battling until we get it right."
Even with all that, the Rangers were able to take the lead after being down 4-1 going into the bottom of the sixth. The Rangers rallied with four runs after loading the bases against starter Tom Koehler. Shin-Soo Choo was hit with a pitch, Adrian Beltre singled and Alex Rios drew a walk. Another walk to Snyder forced in a run and a sacrifice fly by Robinson Chirinos made it 4-3.
Rios went to third on the play. Daniel Robertson then struck out, but with Odor at the plate, Rios scored on a wild pitch with Snyder advancing to second. Odor then beat out a slow ground ball to short and Snyder raced home from second with the go-ahead run.
But the Rangers couldn't keep the lead for long. Jason Frasor struck out the first hitter in the top of the seventh before Justin Bour smacked a hard grounder past Odor for a single.
Jeff Mathis followed with a potential double-play grounder up the middle. Odor had to go to his right to make a backhand play and appeared to be in position. But the ball went under his glove for an error, leaving runners at first and second. Adeiny Hechavarria then flied out to deep center, moving runners to second and third.
With Yelich at the plate, Washington went with Neal Cotts for a lefty vs. lefty matchup. Cotts got ahead 1-2 but hung a breaking ball, and Yelich lined it to left -- just off the tip of Beltre's glove for a two-run single.
"I had never faced him before," Yelich said. "I didn't really know what his pitches looked like, what he was going to go to for an out-pitch, things like that. So it was kind of a battle and one that I'm glad I won."
The Marlins added two more runs in the top of the eighth on three singles and two throwing errors by Choice and Scheppers.
Lewis, who threw 106 pitches in five innings, took a shot off the right biceps with two out in fifth when he was hit by Bour's line drive. Bour got an infield hit out of it and Lewis was left with a bruised right arm. But Lewis stayed in the game and struck out Mathis to end the inning. His night was over, but only because of his pitch count.
"To use a racing term, I rubbed the wall and got back at it," Lewis said. "Nothing is going to slow me down."
T.R. Sullivan is a reporter for MLB.com. Read his blog, Postcards from Elysian Fields, and follow him on Twitter @Sullivan_Ranger. This story was not subject to the approval of Major League Baseball or its clubs.