Welch's death takes toll on A's clubhouse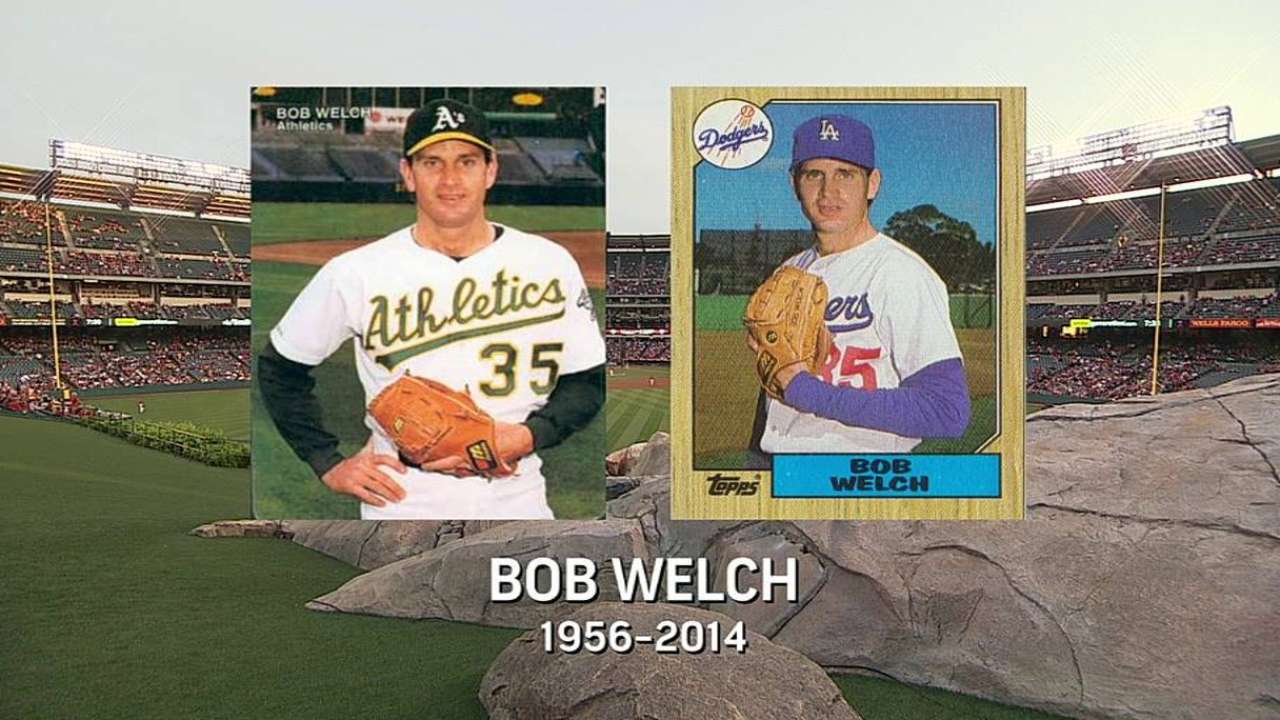 ANAHEIM -- The death of former A's right-hander Bob Welch, 57, hit the current Major League staff very hard.
A's third-base coach Mike Gallego and pitching coach Curt Young, former A's teammates of Welch, were so distraught, they declined to speak.
"There's a lot of guys having a tough day," manager Bob Melvin said on Tuesday, hours after the announcement of Welch's death on Monday night in Seal Beach, Calif. "Those guys are like brothers."
Melvin, who said he got to know Welch well when they were coaches on the 2001 D-backs, said the 1990 American League Cy Young winner was "one of the greatest guys that's ever been on any team. As genuine a guy as you'll ever meet. A class human being."
Welch won 27 games for the A's in 1990. No pitcher in Major League Baseball has won as many as 25 since.
"It hit me hard ... real hard," A's hitting coach Chili Davis said. "He was a special person. It reminds me of when Kirby [Puckett] passed away."
Davis and Welch were never teammates, but they competed against one another often. When Davis was with the Giants and the Angels, and Welch was with the Dodgers and A's, a friendship grew.
"I just got to see Bob in Spring Training," Davis said. "I think we golfed together the last time. I loved it when he was in the locker room, when he was on the bench with us. He was a fun guy, a great guy.
"When I was with the Giants and he was with the Dodgers, I got to know him, off the field. Even though our teams were rivals, I got to know him pretty well. As competitors, we had a lot of respect for one another. I'll tell you, though, he wasn't a bundle of joy to face."
Welch worked for the A's as a special instructor in recent years, visiting Minor League teams and attending Spring Training.
Left-handed reliever Sean Doolittle worked with Welch when Doolittle converted from first base to pitching late in the 2011 season.
"He was so positive and up-beat, even when he was working with players at Single-A," Doolittle said. "You could see the passion Bob Welch had for the game by the way he loved working with young pitchers. I was one of those, and I soaked it up."
Earl Bloom is a contributor to MLB.com. This story was not subject to the approval of Major League Baseball or its clubs.