Home runs again an issue for Estrada in loss
Righty allows two-run shot to Mets' Murphy, slam to Teagarden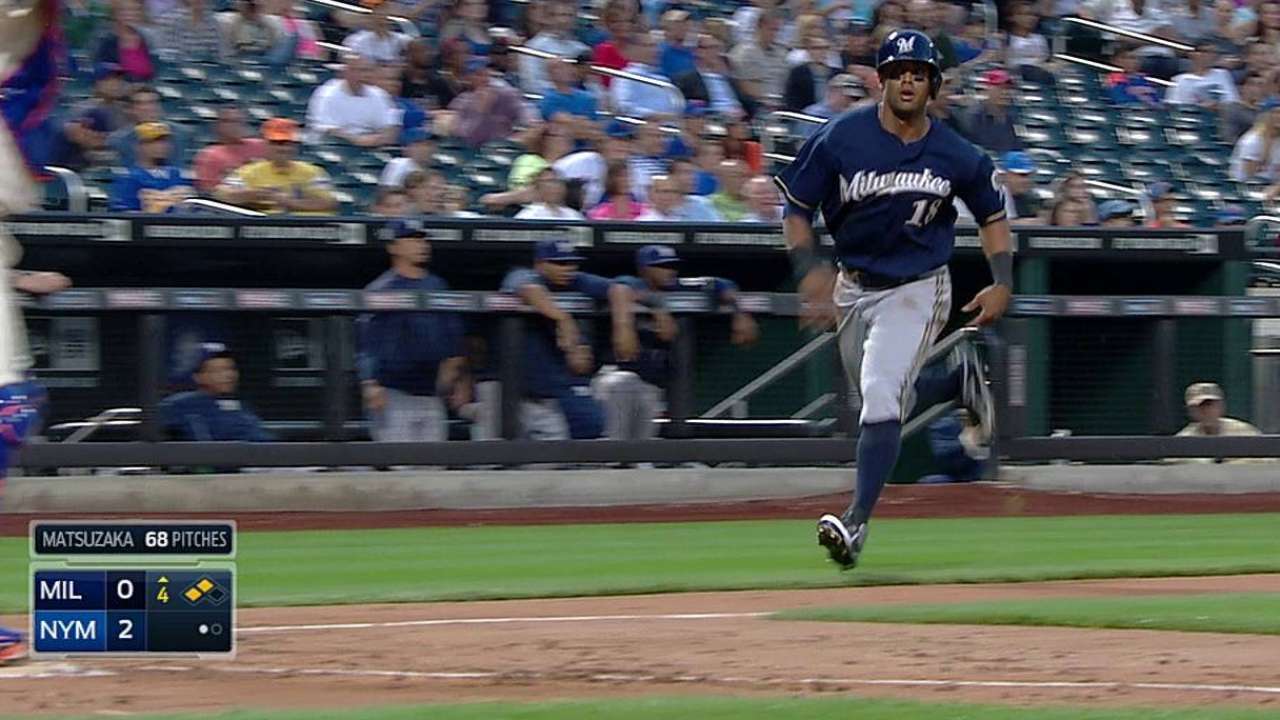 NEW YORK -- By the time David Wright's fly ball landed safely in the glove of right fielder Ryan Braun to end the third inning on Tuesday, Marco Estrada was already three steps off the mound with his back turned to the outfield. It was that kind of night for the Brewers right-hander.
Moments earlier, Estrada yielded a two-out, two-run home run to Daniel Murphy to give the Mets a lead they never relinquished, and one that was well-padded after Taylor Teagarden's sixth-inning grand slam. Milwaukee went on to lose, 6-2, in the opener of the three-game series at Citi Field.
Given that the entirety of New York's offense came on two swings, Estrada's start was a solid one most of the way, but it was also characteristic of what he has been of late. In six innings, Estrada gave up the six runs on four hits and four walks, all of which came around to score.
Three of those walks came in the sixth inning before Teagarden's grand slam.
"I have no idea [what happened]," Estrada said. "I threw a lot of close pitches, guys just laid off of them. They had good at-bats off of me. A few got away from me. I don't know. I don't understand why I'm walking so many guys right now. I have to figure this out now because it's getting out of hand."
Murphy's long ball -- which got out in a hurry -- was a shot that cleared the right-field wall 375 feet away from home. Teagarden's blast barely landed in the first row of seats in right.
It was the latter that had Estrada particularly distraught. He second-guessed himself on the sequence -- changeup, then three straight fastballs -- several times in one five-minute span.
The pitch Teagarden finally got a hold of was 91 mph, thigh-high and away.
"There was no reason for me to throw that many fastballs to him," Estrada said. "We knew he was a fastball hitter, I had a good changeup going. I don't know why we didn't go to it -- well, why I didn't go to it."
Added Teagarden: "I think that at-bat he was trying to sneak a fastball by me, something he hadn't really done yet. It just caught a little bit of the plate. I was trying to shorten up and just get a base hit, and it was just elevated enough to drive it out to right field."
Estrada has given up a Major League-leading 20 homers, including at least one in each of his last 10 starts.
But his problems aren't with homers alone. Since walking none in back-to-back starts at the end of April, Estrada has walked multiple batters in seven of his past eight outings. Three of those games, including Tuesday's, have featured four walks.
"Marco is not a guy that's going to walk three guys in an inning when he's right," Brewers manager Ron Roenicke said.
Early on, Estrada seemed poised to match Mets righty Daisuke Matsuzaka inning for inning. Matsuzaka's night was over after he gave up one run on three hits and three walks over six innings. He also struck out five.
What might've been the Brewers' hardest-hit ball all night caught Matsuzaka on the hamstring. On a 2-2 fastball during the sixth, Carlos Gomez sent a liner right back to the pitcher, who recovered to record the out at first before taking several moments to limp around and shake it off. Matsuzaka wound up staying in the game to retire his last two batters.
"We didn't do much off Daisuke, but we had a couple of opportunities," Roenicke said. "We don't string together a lot of things. Offensively, we've been doing a great job. We didn't do it [tonight]."
The Brewers got one back in the fourth inning when Lyle Overbay's double down the right-field line plated Khris Davis.
Milwaukee's best scoring chance ended when, with two on and two outs, Davis struck out swinging to end the eighth. Gomez's double earlier in the inning scored Scooter Gennett to make it 6-2.
Instead of improving to what would have matched a season-high 13 games over .500, Milwaukee saw its June record drop to 5-4.
All thanks to two mistakes.
"I'm not that far off," Estrada said. "I'm really not."
Tim Healey is an associate reporter for MLB.com. This story was not subject to the approval of Major League Baseball or its clubs.