Tillman weathers storm, but O's blanked by Sox
Right-hander pitches around two rain delays; offense held to two hits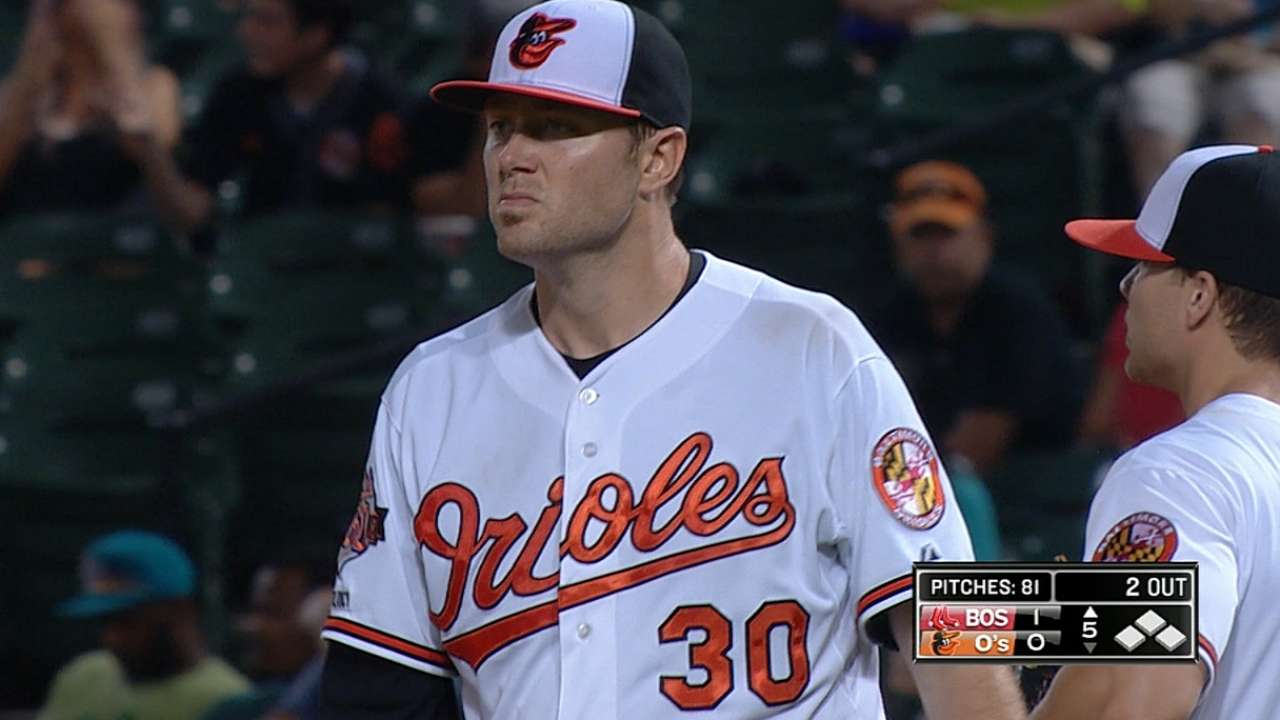 BALTIMORE -- An Orioles offense that has had no problem manufacturing runs this month had its "Work" cut out for it Tuesday night.
Red Sox starter Brandon Workman baffled a Baltimore lineup that was averaging 5.38 runs per game in June coming in, allowing only Ryan Flaherty's single with two outs in the sixth as the O's dropped a series-evening 1-0 contest in a twice rain-delayed contest at Camden Yards.
After the delays, the second of which halted play for 78 minutes, Workman showed why Boston had always planned to put the young right-hander -- who pitched out of the bullpen during last season's World Series run -- in the rotation. He pounded the strike zone early and often, keeping the O's bats in fits and saddling struggling starter Chris Tillman with the loss despite the righty's quality effort.
"He was able to throw [the curveball] any time he wanted to," Adam Jones said of Workman, who -- like Tillman -- lasted through both delays. "He had a good cutter. And whatever him and A.J. Pierzynski wanted to figure out tonight, they figured out. So tip your cap to the man. He allowed no runs, and the first hit wasn't until the sixth inning? He threw the hell out of the ball tonight."
Tillman, who failed to record an out in the second inning for the second time in four starts in his previous outing, was able to make some strides over six innings of one-run ball. The Orioles' Opening Day starter, Tillman stayed fresh on an indoor mound during the delays and twice worked his way out of bases-loaded jams, with the Red Sox scoring the decisive run on Mike Napoli's third-inning single.
"I wouldn't say difficult, just different," Tillman said of going through the pair of rain delays while still managing to go deep into the game. "You've got to learn and adjust, and that was the first time I've done that. … We're able to have that mound down there. If we didn't, that might not happen."
"I actually thought his stuff was a little better after the rain delays," said manager Buck Showalter of Tillman's 100-pitch outing. "I don't know if 'better' is the word, but command."
"But we didn't mount much [offensively], that's for sure."
The Orioles, held to a season-low two hits total, didn't get a baserunner off Workman (career-high 6 2/3 innings) until Nelson Cruz's one-out walk in the fifth, which was erased with Cruz getting doubled off first base on J.J. Hardy's popup to second.
"There's no excuse," Cruz said of the baserunning blunder, which saw him running full steam thinking there were two outs. "I should know better. It shouldn't happen."
Flaherty, who committed an error in the top of the sixth, gave Baltimore its first hit in the bottom of the frame, singling into center field with two outs. But Workman got Nick Markakis to ground out. The right-hander exited the dominant outing after retiring Jones for the second out of the seventh, with the O's not getting another baserunner until Steve Pearce's leadoff single in the ninth.
"He was able to stay loose underneath with a couple of simulated innings in a batting cage down below," Red Sox manager John Farrell said of Workman. "Seemingly, as he got into the middle innings, his stuff picked up, the life through the zone was better. He threw a lot of strikes, he had a very good curveball tonight and the guys that came in behind him -- just an outstanding night from the mound all the way around."
Pearce, who recorded a rare hit off Red Sox closer Koji Uehara, was cut down at second on Flaherty's sacrifice bunt attempt. Uehara struck out Markakis and Manny Machado -- marred in an 0-for-15 slump -- to give Boston its first win in 19 games this season in which its scored three or fewer runs.
That it was a only a one-run game was a testament to Markakis' fielding prowess, as the right fielder robbed Pierzynski of a two-run homer with a leaping grab at the right-field railing to end the top of the eighth. With lefty Brian Matusz on the mound, pinch-hitter Jonny Gomes singled, and one-out later, Pierzynski sent a ball deep -- only to watch Markakis come up with the grab.
"It was a challenging situation for Chris, as it was for [Workman], and they both handled it well," Showalter said. "To give up one run in 18 innings, I'm real pleased with the way our guys have pitched the last couple nights.
"Tough call for weather people. But I was real pleased with Chris, and we got a good job done out of the bullpen by everybody and gave us a chance there. But unfortunately, they pitched just a little bit better than we did."
Brittany Ghiroli is a reporter for MLB.com. Read her blog, Britt's Bird Watch, and follow her on Facebook and Twitter @britt_ghiroli. This story was not subject to the approval of Major League Baseball or its clubs.