Workman flirts with no-no as Red Sox edge Orioles
Pitching around two delays, righty allows only hit with two outs in sixth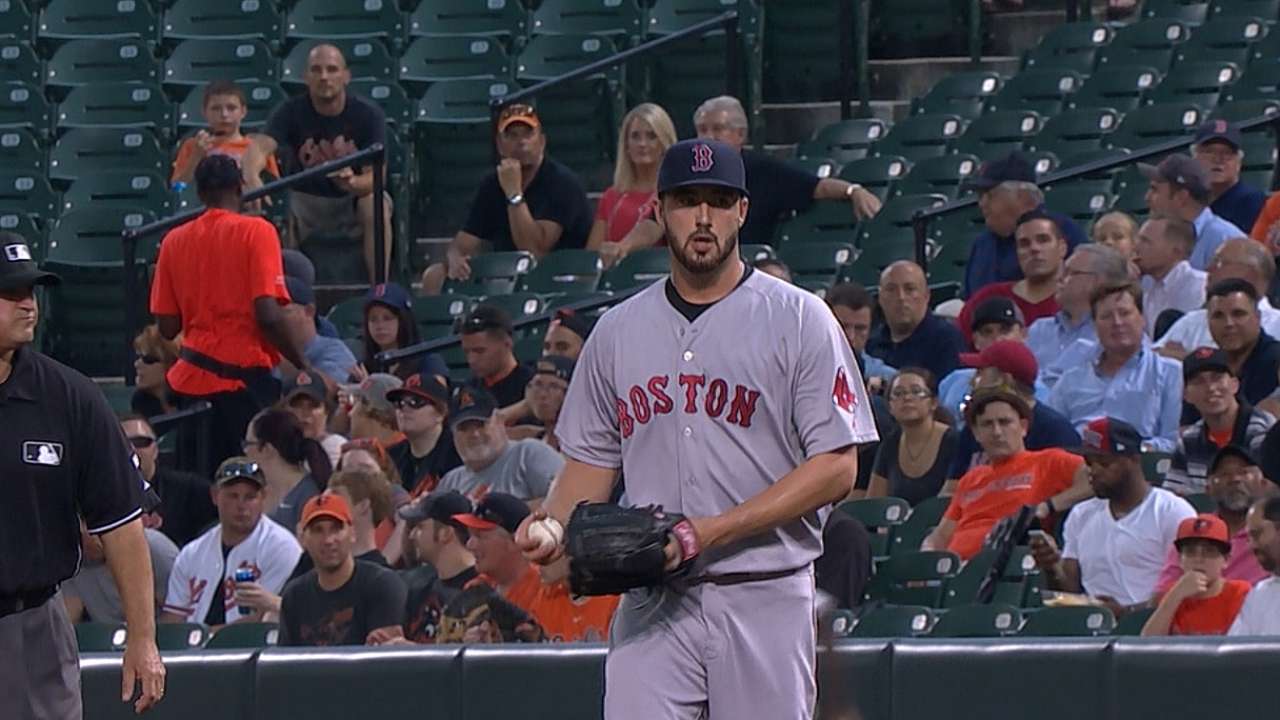 BALTIMORE -- Technically, Brandon Workman is just a fill-in in Boston's starting rotation, as Felix Doubront and Clay Buchholz recover from injuries and ineffectiveness. But if Workman continues to throw like he did on Tuesday night at Camden Yards, the Red Sox will find a way to keep him pitching every five days.
On a rainy night against the Orioles, the righty worked around two delays and turned in the finest start of his career. The performance couldn't have come at a better time, as only a vintage pitching effort allowed the Red Sox to pull out a 1-0 victory over the O's.
Workman, who had a perfect game for 4 1/3 innings and a no-hitter through 5 2/3, fired 6 2/3 shutout innings and threw a mere 67 pitches while walking one and striking out four.
"Yeah, I felt good tonight," said Workman. "I got in a rhythm a little bit later on. I was locating the fastball and throwing a curveball off it today."
Sitting through a 15-minute stoppage and then a 78-minute delay -- both in the second inning -- didn't faze Workman at all.
"I stayed locked in. It wasn't that bad," said Workman. "I went down and threw in the batting cage a little bit, stayed loose, stayed ready, so it wasn't bad."
In the ninth, nerveless closer Koji Uehara worked around a leadoff single by Steve Pearce to preserve Workman's gem.
After the hit by Pearce, Ryan Flaherty -- who had broken up Workman's no-hit bid with a two-out single in the sixth -- dropped down a sacrifice-bunt attempt. But Uehara pounced on it and fired to second, narrowly erasing Pearce. This, despite catcher A.J. Pierzynski suggesting Uehara take the sure out at first.
"I heard A.J. shouting, 'One, one, one,' but I assessed the situation and felt like I could get an out at second," said Uehara. "I knew how fast the runner was going to be able to run, so I was able to immediately go to second."
Though Red Sox fans might not know about Uehara's prowess on defense, it is something he takes pride in.
"I might be boasting a little bit, but I won two Gold Gloves back in Japan," said Uehara. "A 1-0 game is a situation that's most stressful, so I was glad we got the win.
If not for the two rain delays over the first couple of innings, Red Sox manager John Farrell likely would have allowed Workman to go deeper in the game.
"He was still plenty strong," said Farrell. "With 67 pitches thrown, typically he's not coming out of that game in a one-run game, but as effective as Andrew Miller has been against Chris Davis, the matchup felt like it was in our favor. And in light of the two rain delays, he had given us more than we anticipated when we came back and resumed play.
All the Red Sox had offensively was a two-out RBI single by Mike Napoli in the top of the third, but it proved to be enough.
"I got to two strikes and tried to stay short," said Napoli. "Runner in scoring position and two outs, just try and get a hit somewhere. Just got a pitch, stayed inside it and it fell in."
Brock Holt, who has a 10-game hitting streak, started that rally with a single up the middle. David Ortiz drew a two-out walk, setting up Napoli for his clutch hit against starter Chris Tillman.
The win enabled the Red Sox to improve to 2-6 on this nine-game road trip that concludes Wednesday at Camden Yards.
Boston seemed primed to extend the lead in the fourth, loading the bases with nobody out against Tillman. But Holt struck out and Xander Bogaerts hit into a double play, snuffing out that threat.
"We had opportunities against him," said Farrell. "He's been very good against us over the course of the last two or three years. He made a couple of big pitches to get out of situations, particularly in the second and the fourth, where we've got bases loaded and less than two outs and he makes some pitches to keep us just from scoring the one run. He kept them in the ballgame."
Workman's chance at a perfecto ended when he walked Nelson Cruz with one out in the fifth. The inning ended when Cruz ran on a popup by J.J. Hardy and was doubled off first.
The no-hitter ended with two outs in the sixth, when Flaherty hit a single to center.
"I wasn't really thinking about it," Workman said. "I was trying to stay in the moment and keep executing pitches and keep working each batter and not get ahead of myself."
Pierzynski narrowly missed a two-run homer to right in the eighth, when his drive was flagged down just in front of the wall by Nick Markakis.
As it turns out, the near miss didn't prove to be costly, as Workman got his first win of 2014.
"To get a win, get back in the win column, hopefully we string a bunch of them together right now," said Workman. "Any game is a big game. We're trying to win them all right now."
Ian Browne is a reporter for MLB.com. Read his blog, Brownie Points, and follow him on Twitter @IanMBrowne. This story was not subject to the approval of Major League Baseball or its clubs.