Ellsbury's clutch hit late helps Yanks top Mariners
After Seattle ties it in seventh, center fielder puts NY ahead in eighth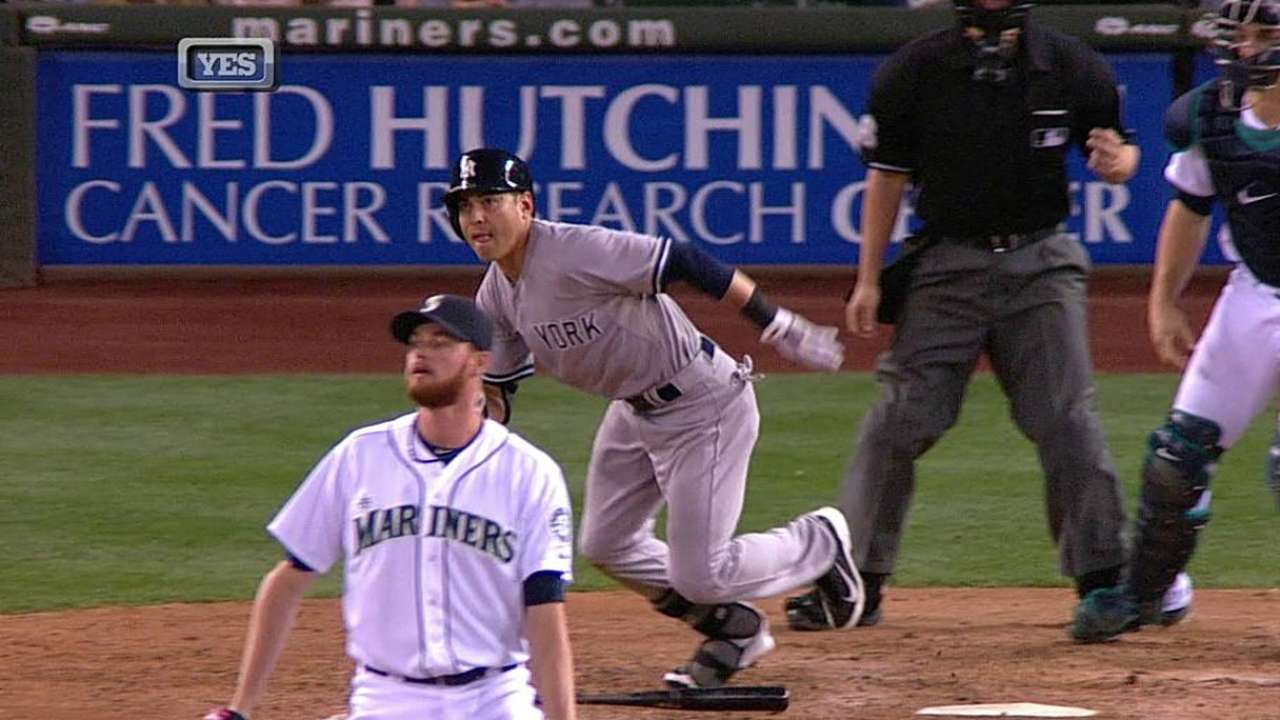 SEATTLE -- In Jacoby Ellsbury's view, it has been the tight victories that were slipping through the cracks for the Yankees of late, unable to come up with the big hit when absolutely necessary. He hopes this will mark the reversal of that trend.
Ellsbury laced a single to chase home Derek Jeter with the go-ahead run in the eighth inning on Tuesday, lifting the Yankees to a 3-2 victory over the Mariners in the opener of a three-game series at Safeco Field.
"I feel like this type of game has been eluding us a little bit," Ellsbury said. "If we can win these types of games, we're going to be in great shape. We have very good hitters, so it's just a matter of time before it really starts clicking."
Ellsbury's clutch hit came off reliever Charlie Furbush, picking up the Yanks after Dellin Betances coughed up a one-run lead in the seventh inning.
Jeter set up the rally with a well-struck ground-rule double, chasing Seattle starter Hisashi Iwakuma. Jeter had two hits and two runs scored, pulling out of a 3-for-26 skid after speaking about needing to contribute more to the team's sluggish lineup.
"I always feel as though anytime you're struggling, you've got to do a lot of the little things, and a lot of the little things are my job," Jeter said. "I've got to pick it up and we've got to pick it up."
Helped greatly by his outfield defense, Vidal Nuno held the Mariners to a run over 5 2/3 innings in a no-decision. The Yankees snapped their two-game losing streak and avoided falling below .500 for the first time since April 11, when they were 5-6.
New York's offense averaged just 2.5 runs per game over its previous 10 contests, but granted an unexpected off-day by Monday's rainout in Kansas City, the slumbering lineup appeared to be rejuvenated as it jumped on Iwakuma for two runs and four hits.
Carlos Beltran ripped an RBI double to left field, scoring Jeter, and Brian McCann beat out an infield single that allowed Mark Teixeira to come home. Iwakuma then held the Yankees to just two hits over the next six innings before tiring in the eighth.
"I think it meant a lot," manager Joe Girardi said. "It gave Nuno a lead and allowed him to go to work and do what he needs to do. Those are two big hits because we had an opportunity, and whenever you get two-out hits, it just picks up the spirit of the club."
Nuno limited the Mariners to four hits over 5 2/3 innings, a line that was much louder than it looks, as he needed plenty of help from his outfielders.
Patrolling the familiar turf where he earned 10 Gold Glove Awards, Ichiro Suzuki made a terrific catch to take an extra-base hit away from Kyle Seager in the second inning.
Ellsbury also made a leaping grab at the warning track to rob Michael Saunders in the fourth inning, stranding two men aboard.
"After I'd seen all that, it was just like, 'Woo, that's a lucky one right there,'" Nuno said. "But it's part of the game. That's why we have some fast outfielders and they track balls down."
Seattle's only run off Nuno came in the first inning, as Robinson Cano doubled and scored on Cole Gillespie's single up the middle. Nuno handed the ball over to Betances for the last out of the sixth, but Seattle got to the hard-throwing reliever in the seventh.
Betances plunked Mike Zunino in the back with a one-out breaking ball, and Zunino alertly raced to second base on a wild pitch in the dirt. After a strikeout, Dustin Ackley lined a run-scoring single just over a leaping stab by second baseman Brian Roberts, and Zunino slid home ahead of Ichiro's throw from right field.
"I never want to go in there and give up the lead," Betances said. "It was unfortunate. I hit the guy, then the wild pitch he gets to second. The guys definitely picked me up. That was huge."
"If Brian Roberts is six feet [tall], he probably catches that ball," Girardi said.
Adam Warren pitched a scoreless eighth inning, protecting a one-run lead, and David Robertson struck out three batters around a walk in the ninth to log his 15th save.
"Great team win," Ellsbury said. "I thought we pitched great. We got that run when we needed to, answered right away. Hopefully, we can take this momentum on this road trip and put it to good use."
Bryan Hoch is a reporter for MLB.com. Follow him on Twitter @bryanhoch and read his MLBlog, Bombers Beat. This story was not subject to the approval of Major League Baseball or its clubs.