Mariners unable to hold down Jeter, Yankees
Seattle drops opener after New York's captain, Ellsbury deliver in eighth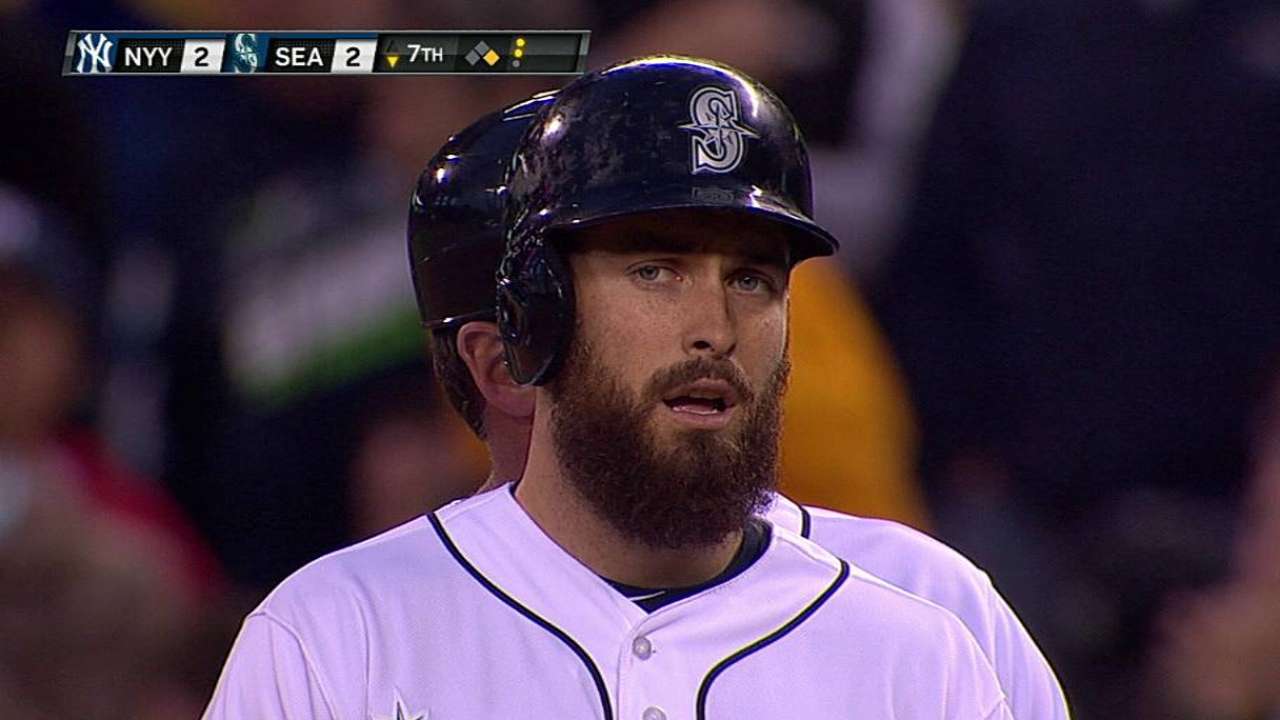 SEATTLE -- In a classy gesture, the Mariners honored Yankees shortstop Derek Jeter with a special ceremony before Tuesday night's series opener at Safeco Field.
In classic Jeter fashion, he came up clutch, sparking the Yankees with a one-out double in the top of the eighth inning before scoring the go-ahead run to send the Mariners to a 3-2 loss.
Granted, it was Jacoby Ellsbury who delivered the go-ahead single off Mariners reliever Charlie Furbush on an 0-2 pitch, scoring Jeter from second.
But the night belonged to the Yankees captain, who is making his last trip to Seattle -- barring a playoff matchup -- in his 20th and final season in the Major Leagues.
For most the night, the noise from a divided crowd of 28,405 went back and forth between cheering the Mariners and chanting "Derek Jeter!" All this after he was gifted a video tribute on the Safeco Field big screen, a watch from former teammate Robinson Cano, a base, a chair from the Kingdome and a $5,000 donation to his Turn 2 Foundation. Jeter responded by going 2-for-3 with two runs scored to lift his average to .259.
"He played a nice game," Mariners manager Lloyd McClendon said. "I wished he didn't, but he played a nice game."
The Mariners' contingent didn't have much to holler about until Dustin Ackley delivered a game-tying single with two outs in the seventh off Yankees reliever Dellin Betances. It came after Mike Zunino was hit by a pitch and then advanced to second on a wild pitch.
Prior to Ackley's single, Betances had been nearly unhittable this season. He leads MLB relievers with 63 strikeouts and has a 3-0 record (1.50 ERA) in 17 appearances since May 2, a span in which he's held hitters to a .157 batting average.
"He's one of those guys that throws so hard and so long that you just gotta see it and hit it," Ackley said.
That's what the Yankees did in the first off Seattle starter Hisashi Iwakuma, scoring two runs when Carlos Beltran lined a two-out RBI double, then Brian McCann reached on an RBI infield single back up the middle. Mariners shortstop Brad Miller laid out to stop McCann's grounder from reaching the outfield, but his throw pulled first baseman Willie Bloomquist off the bag as the second run came around to score.
"Early on, it seemed like they had a very good game plan of what I wanted to do," Iwakuma said through translator Antony Suzuki. "They had me by the book. I had to change my game plan from the second inning on, and I was able to get quick outs and use the inside of the plate more effectively. That kind of helped me out."
From there, Iwakuma was efficient and effective. He allowed three runs on seven hits and two walks while striking out five in 7 1/3 innings. He threw a season-high 108 pitches, 69 for strikes, but earned the loss when he couldn't close out New York in the eighth.
Brett Gardner led off the inning by launching a pitch that landed in the right-field seats -- barely foul. He followed by flying out to the center-field warning track before Jeter delivered a ground-rule double to left-center.
"He's my No. 2 starter, he had 102 pitches, he said he felt great," McClendon said when asked about the decision to leave in Iwakuma. "That's baseball."
Iwakuma's support came in the bottom of the first, when Cole Gillespie cut the deficit to 2-1 with a two-out RBI single after Cano (2-for-4) doubled down the left-field line. Since May 31, Gillespie is hitting .431 (10-for-23) with a home run, four RBIs and two runs.
However, the Mariners couldn't come through with another clutch hit against Yankees starter Vidal Nuno, who allowed one run on four hits and a walk in 5 2/3 innings.
"He mixed the fastball, curveball and slider to the lefties," said Ackley after finishing 1-for-3 with a walk. "He was kind of just mixing it up the best he could."
The left-hander entered with a 5.33 ERA, but he was able to work out of jams and allow minimal damage against a Mariners club coming off a 6-1 road trip. On Tuesday, the Mariners missed chances and ended the night with a .238 team batting average.
With one out in the second, Zunino doubled, but Nuno struck out Michael Saunders and induced Ackley to fly out.
In the fourth, the Mariners threatened again with a one-out walk by Gillespie and a Kyle Seager single, but Zunino flew out to shallow left and Gillespie didn't test the arm of Gardner by trying to score from third.
"He would've been out," McClendon said when asked if Gillespie should have tried to score.
Then Saunders sent a deep drive to the center-field wall, but Ellsbury made a leaping catch as he crashed into the fence, ending the inning and the Mariners' best chance to upend New York.
"I think the way we swung the bat today didn't really indicate the score," Ackley said. "I think a lot of guys squared some balls up, but we didn't really have any luck. I think that's just gonna happen. You're gonna have those nights. We're just going to continue with the same approach."
The loss snapped Seattle's three-game winning streak and dropped its record to 34-30. The Mariners finished with seven hits.
"It's OK, guys," McClendon said, perhaps noticing a quiet interview room. "We just lost the game. We're going to be OK tomorrow."
Adam Lewis is an associate reporter for MLB.com. This story was not subject to the approval of Major League Baseball or its clubs.