Cowgill's shot in 14th gives Halos fifth straight win
Walk-off heroics stun Athletics, close AL West deficit to 2 1/2 games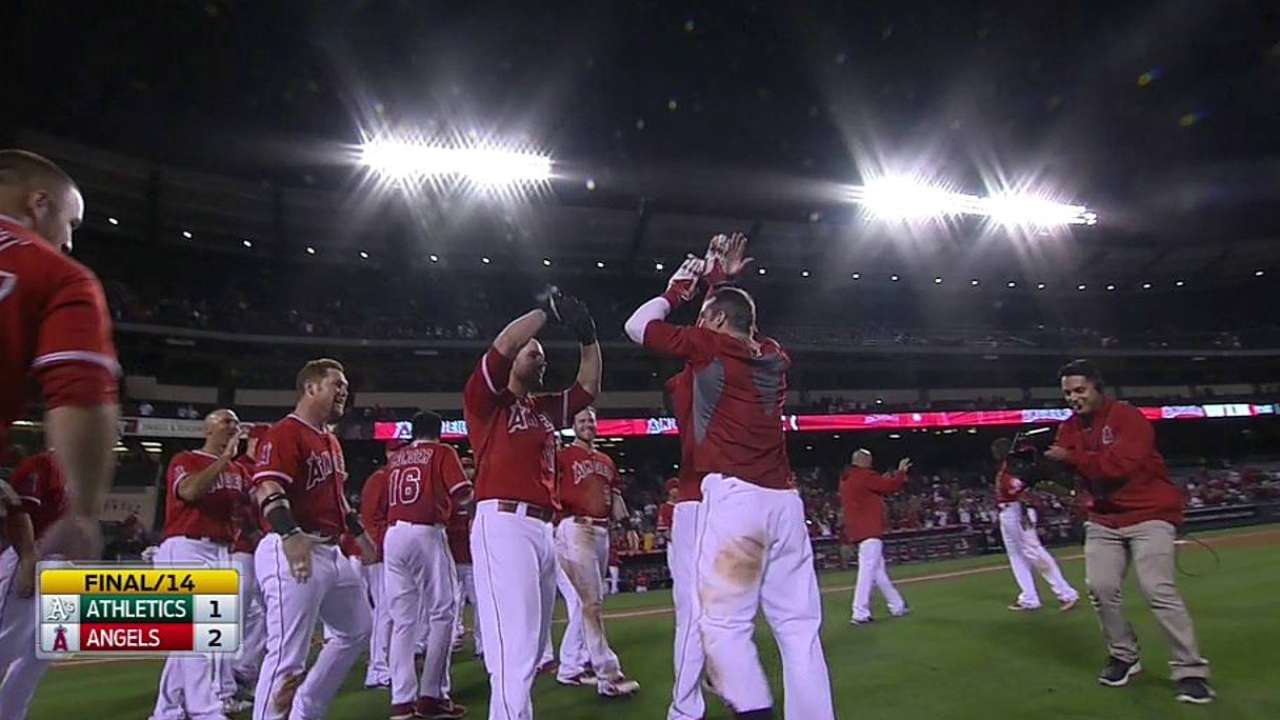 ANAHEIM -- In a game that featured 10 relievers, it was only fitting it ended in the bullpen.
Collin Cowgill hit a line-drive home run into the left-field bullpen in the 14th inning, lifting the Angels to a 2-1 walk-off win over the A's on Tuesday night at Angel Stadium, giving them five victories in a row and pulling them within 2 1/2 games of the American League West leaders.
With two outs in the bottom of the 14th, Cowgill stepped in to face Jeff Francis, the fifth Oakland pitcher of the night. After a curveball and two sinkers ran the count to 1-2, Cowgill launched an 81-mph changeup just past the outstretched arms of Yoenis Cespedes and over the wall.
"I knew I got a good piece of it," Cowgill said. "I was just hoping it would get over his head and [I could] get to second."
Cowgill's first career walk-off hit capped a stellar performance from Hector Santiago and the Angels bullpen, a group of seven pitchers that combined to strike out 14 A's and allow just one run.
Santiago threw six shutout innings in his first start since being recalled from Triple-A Salt Lake. He allowed only four men to reach base and faced just three batters over the minimum in his six innings, striking out eight.
"He looked like a different pitcher than what we saw a few weeks ago," manager Mike Scioscia said.
Santiago said he felt "smoother" Tuesday night after working on his mechanics during three starts for the Bees.
"You couldn't ask for a better pitched game from not only Hector Santiago but our whole bullpen," Scioscia said, "and that's encouraging."
Six relievers -- Kevin Jepsen, Mike Morin, Joe Smith, Cam Bedrosian, Fernando Salas and Cory Rasmus -- kept the Angels alive on a night when their closer, Ernesto Frieri, was unavailable. Frieri sat out Tuesday after pitching in each of the previous four games.
The Angels were facing a pitching staff that leads the Majors in ERA without their closer. How did Scioscia feel?
"I like our chances," he said. "I think our guys in the bullpen pitched to their capabilities. Oakland has a terrific bullpen, and our guys matched them pitch for pitch. Hopefully, they'll take a little confidence from this."
Smith assumed the ninth-inning role with Frieri out and, for the second night in a row, threw a scoreless inning against the A's after his struggles with them early in the season.
In his first outing in five days, Bedrosian pitched two smooth innings, allowing just one hit. Against Houston on Thursday, the rookie was tagged for three runs after walking four in two-thirds of an inning.
Rasmus picked up his second win in four games since being called up by tossing perfect 13th and 14th innings.
"These guys all came in and put up zeros and gave us a chance to get our offense going. We had a lot of opportunities, and fortunately Collin got the big hit late," Scioscia said.
The Angels had plenty of opportunities.
First, there was Albert Pujols, who ran through a stop sign at third base before being thrown out at home by right fielder Brandon Moss. Pujols was trying to score from second on a Josh Hamilton RBI single but Moss turned in his third assist within the last week to cut the life from the rally.
"Albert got a little aggressive," Scioscia said. "When the ball was hit, I think he thought the ball was in the gap. I think he felt he could score."
Then, there was Howie Kendrick, the victim of Cespedes' rocket arm. On a Mike Trout double down the left field line, Kendrick rounded third and headed home after Cespedes bobbled the ball into foul territory. But then he came up firing.
Cespedes' threw a strike 300-plus-feet to Derek Norris at home to cut down the run and preserve a 1-1 tie.
"Cespedes just picked the ball up and threw a guided missile right on the money," Scioscia said.
Kole Calhoun was thrown out at third trying to advance on a ground ball to the left side of the infield in the 11th. The Angels wasted a leadoff walk by Trout in the 13th when David Freese grounded into an inning-ending double play.
The next opportunity the Angels had was their last one, when Cowgill finished the four-hour and 39-minute game with his homer to left.
"That's a tremendous hit he had tonight," Scioscia said. "It couldn't have come at a bigger time."
With an eight-strikeout, three-hit performance Tuesday, it seems Santiago likes pitching against Oakland, baseball's highest-scoring offense. Against the Athletics this season, Santiago is has a 0.69 ERA while he is 0-6 with a 5.64 ERA against everyone else.
"I have no idea," Santiago said. "I think I just rise to the occasion. They're a pretty good team, and for some reason, I throw well against them."
Jed Lowrie, who is mired in an 0-for-20 slump, said Santiago looked different this time around.
"I thought he was really good," Lowrie said. "He had better velocity than I remembered, 95."
Oakland starter Drew Pomeranz kept Oakland in the game, blanking the Angels through the first five innings. He exited after seven innings, yielding four hits and one unearned run. In four of his last six starts, Pomeranz has not allowed an earned run.
Matthew DeFranks is an associate reporter for MLB.com. This story was not subject to the approval of Major League Baseball or its clubs.