A's drop late-night duel in Anaheim
Francis gives up 14th-inning homer to Angels' Cowgill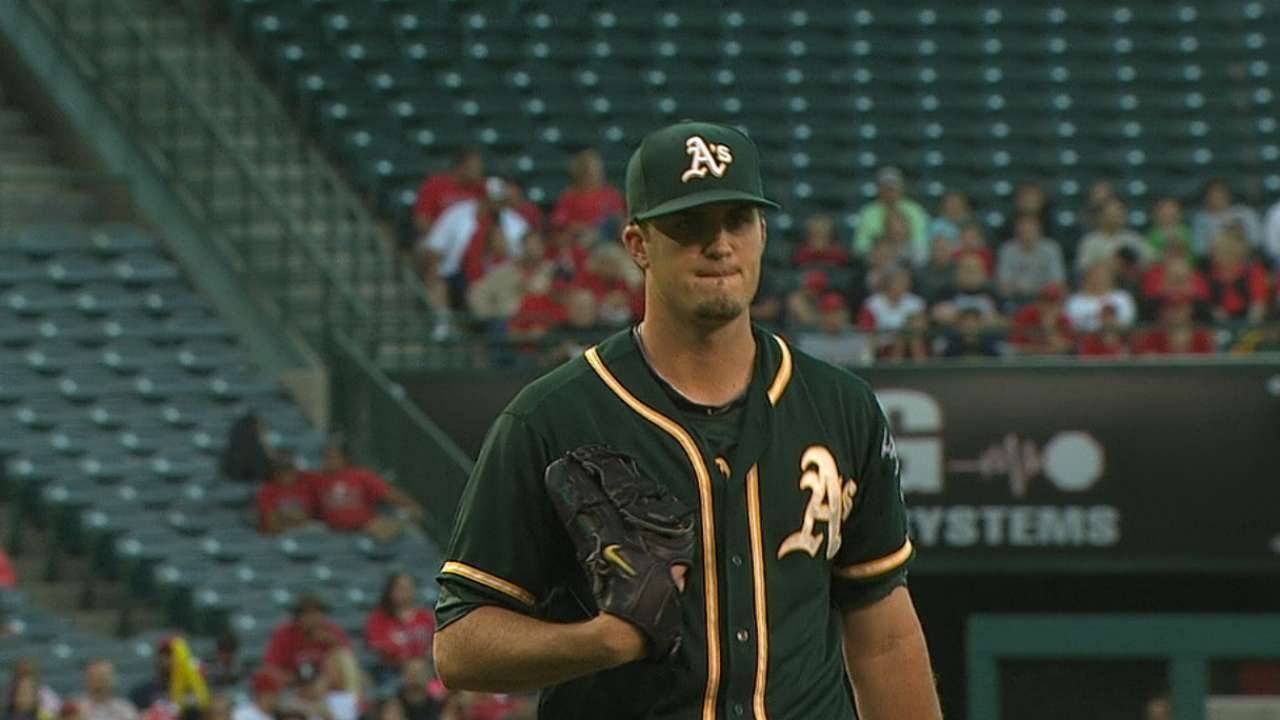 ANAHEIM -- The A's did so many things right Tuesday night, but because they didn't hit for the second consecutive game at Angel Stadium, the sum added up to a 14-inning, 2-1 loss to the fast-closing Angels.
It came down to one pitch, a 1-2 changeup by A's reliever Jeff Francis to Collin Cowgill, who ended the 4-hour, 39-minute affair with a home run that just cleared the left-field fence.
"I haven't looked at the video yet," Francis (0-2) said, "but he probably hit a pitch that I left up. What I was trying to do with it was go down in the zone."
With Cowgill's fifth homer, and first career walk-off hit, the Angels moved to 2 1/2 games behind the American League West-leading A's by holding them to one run for the second night in a row. The A's went 0-for-7 with runners in scoring position.
"What can you do?" A's manager Bob Melvin said. "They played as hard as they could. Both teams did.
"Unfortunately, offensively we were not at our best today. The pitching was terrific. It's just a tough loss."
The A's wasted an excellent effort by left-hander Drew Pomeranz, who went seven innings for the second consecutive start, and allowed just an unearned run in the sixth that was set up by third baseman Josh Donaldson's fourth throwing error in two nights.
"He's been terrific for us," Melvin said of Pomeranz, who began the season pitching in relief. "The progression to where he is now, giving us seven [innings] after starting at five, is a credit to him, to come out of the bullpen so strong and give us quality."
Pomeranz gave up four hits, all singles, walked three and struck out two with a tidy 89 pitches. The A's bullpen tacked on 6 2/3 shutout innings until Cowgill connected.
"I felt like I did pretty well," Pomeranz said, "staying in the game long again, and giving us a chance to win."
The A's also had a chance to win because right fielder Brandon Moss and left fielder Yoenis Cespedes each cut down an Angels runner with strong throws. Moss' outfield assist, getting Albert Pujols in the sixth, was his third in the past five games; Cespedes' assist, in the eighth, was one for the ages.
"We've been getting that from Brandon," Melvin said. "Cespedes' throw, you don't expect something like that. There aren't that many guys able to throw it that far on the fly."
Melvin was refering to a play-of-the-year nominee turned in by the left fielder in the eighth inning.
With one out and Howie Kendrick at first, Mike Trout doubled down the left-field line. Cespedes bobbled the ball into foul territory, then threw a strike on the fly to catcher Derek Norris in time to tag a sliding Kendrick, and preserve a 1-1 tie.
"He's capable of doing just about anything on the baseball field," A's shortstop Jed Lowrie said of Cespedes.
It was Lowrie who delivered the tying sacrifice fly in the top of the eighth, but he finished the night with his hitless streak at 20 at-bats. After an 0-for-5 Tuesday, Donaldson is in an 0-for-21 rut.
"I feel like I have been hitting the ball all right and not getting rewarded for it," Lowrie said. "It's tough when you're not producing like you expect."
Melvin said Lowrie and Donaldson, both of whom took extra hitting before the game, "are grinding right now. It's difficult to go through."
Donaldson's errant throw, on an attempted force of Trout at second base in the sixth, went past second baseman Nick Punto and into right field, putting Angels on second and third. Josh Hamilton's hit scored Trout for the first run of the game, but Moss threw out Pujols, and Pomeranz got an around-the-horn double play to get out of the jam.
"I kind of have to bear down and get out of it," Pomeranz said of his post-error mindset. "It was a tough play. I always give Josh a pretty good workout out there.
"He made a similar play to get out of it."
With one or two timely hits, the error and the run it allowed would've been a mere footnote. But the A's not only failed in their few RISP situations, they did not homer for the second game in a row, after hitting at least one (and 27 total) in 16 consecutive games.
Earl Bloom is a contributor to MLB.com. This story was not subject to the approval of Major League Baseball or its clubs.