Bautista leads Blue Jays regardless of spotlight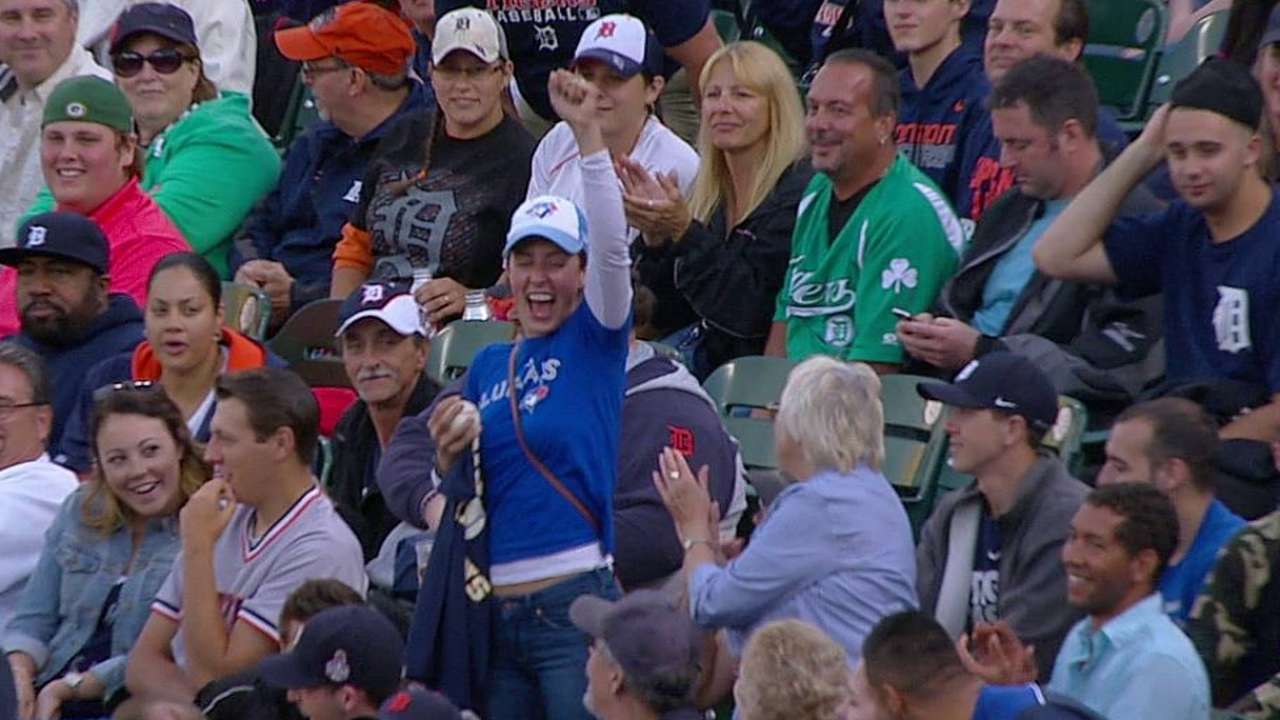 TORONTO -- The value of leadership inside a baseball clubhouse is extremely hard to measure, but that hasn't stopped Jose Bautista from getting a lot of attention for his guidance of the Blue Jays this season.
Toronto's veteran outfielder has received a lot of praise from various media outlets for the impact he's had on players such as Kevin Pillar, Brett Lawrie and Drew Hutchison. There seems to be an insinuation that the clubhouse finally has the type of positive chemistry that was lacking a year ago.
The thing is Bautista was part of the 2013 season that quickly went off the rails. There were criticisms about the lack of leadership then, but now there's praise because the club is winning. According to Bautista, if anything, he's taken less of a leadership role this year.
"I think I'm doing less," Bautista said when asked if there was a difference in his approach. "There's more veterans, there's less people here that need guidance. But there's a few nonetheless that do. But because of that, and other reasons, I think I've been doing less. I don't know why it's getting noticed more now."
After Pillar hit a walk-off single in a 5-4 victory over the Twins on Monday night, he singled out Bautista for lending a helping hand. The two players talked in the batting cage prior to the game and Bautista helped shed some light on Pillar's current role in the organization.
Pillar has been a part-time player since he was called up from Triple-A Buffalo earlier this year. He typically only starts against left-handed pitchers and comes into games late as a defensive replacement. It's a difficult job to fill because playing time can be sporadic, which makes it more difficult to stay sharp.
Bautista can relate because he went through a similar experience when he played with the Pirates from 2004-08. That prompted the talk in which Bautista stressed the need for Pillar to remain aggressive whenever he's presented with an opportunity. It was an approach Pillar took into his ninth-inning at-bat when he singled to right field to score pinch-runner Erik Kratz for the game-winning run.
It was just the latest in a series of conversations that Bautista has received credit for. There were previous talks with Hutchison and Lawrie that also garnered a lot of attention.
Bautista quickly dismissed any notion that these types of conversations might have been less frequent in the past and instead wanted to focus on everyone having a better understanding of each other's roles now that almost everyone has been together for more than a year.
"I don't think comfort level has changed, but I think each person is more knowledgeable of others' capabilities, more realistic with the expectations," Bautista said. "I think last year, people didn't know what to expect exactly with other players. Expectations might have been a little unrealistic, sometimes on the higher end and sometimes on the lower end.
"Sometimes you might have expected more out of somebody and that might have been not right. Sometimes you expected less and the guys surprise you. So now I think everybody is more in tune with each other's capabilities."
Gregor Chisholm is a reporter for MLB.com. Read his blog, North of the Border, and follow him on Twitter @gregorMLB. This story was not subject to the approval of Major League Baseball or its clubs.