Royals' hot bats back up strong outing by Vargas
Successful replay challenge leads to big third inning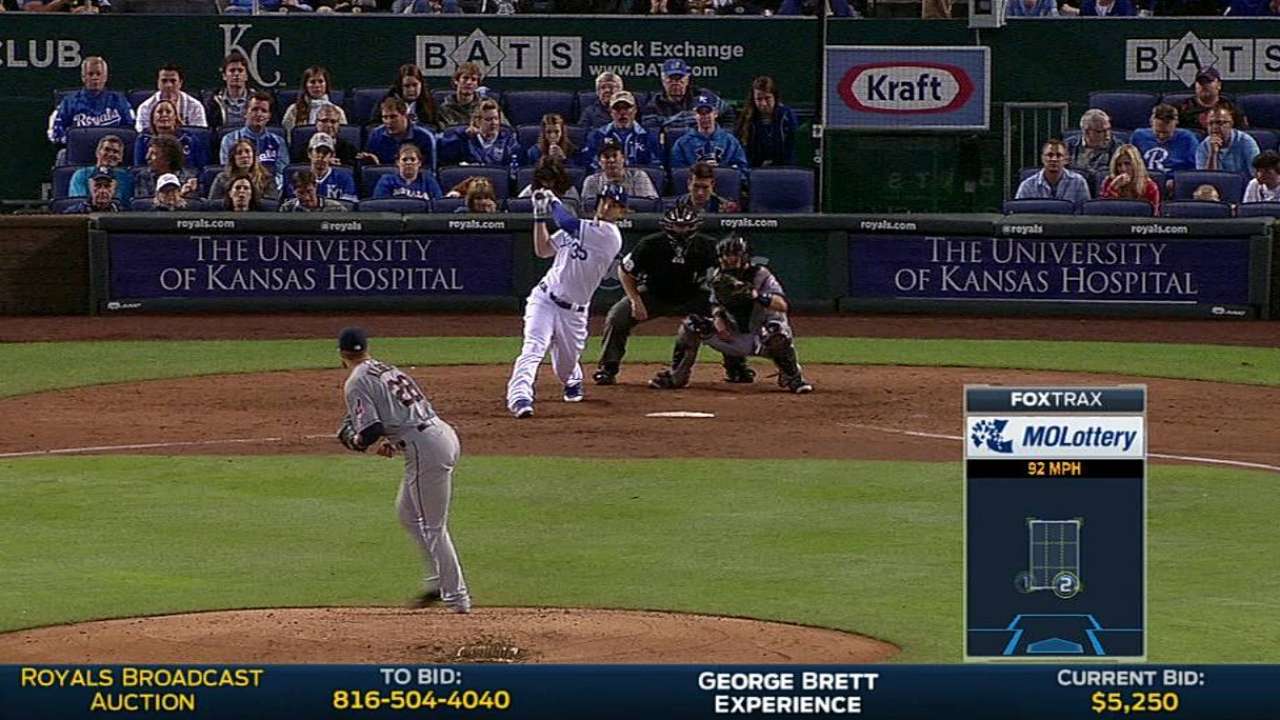 KANSAS CITY -- The Cleveland Indians had won nine of 10 games and 14 of 20. But, on Tuesday night, hot they were not.
The Royals, warming up themselves, slammed three home runs for the first time this season and dropped the Indians, 9-5, on a damp 67-degree evening with 25,540 fans at Kauffman Stadium.
Eric Hosmer, Alex Gordon and Mike Moustakas hit home runs to support left-hander Jason Vargas' strong pitching. Their efforts gave Kansas City eight wins in the last 12 games and put the Royals back at .500 (32-32) for the first time in 17 days.
"We've been playing some great baseball of late, it's great to be back to .500 but we're not content," Moustakas said. "We want to get back to the baseball we're capable of playing."
The Royals managed to gang up on right-hander Corey Kluber, who had been one of the American League's hottest pitchers with four straight wins.
"Kluber's been on a real roll. He's been really tough, and to put a four-spot on him in the third inning was huge," Royals manager Ned Yost said.
Hosmer made it 6-0 by crushing a two-run homer, his third this season, in the fifth inning. He was 2-for-20 against Kluber going into that at-bat.
"With a guy on first, I was basically just trying to get it out early and hit that hole with the guy holding him on and he just happened to throw a four-seamer and I put a good swing on it," Hosmer said. "It felt really good."
Vargas, 6-2, was purring along with seven shutout innings, utilizing a good changeup.
"Just kind of vintage Vargas," Yost said.
Vargas got good defensive support, including from himself. He coolly gloved a hot shot by Jason Kipnis in the sixth inning and started an inning-ending double play.
"The ball just hit my glove and I was able to turn around and make a good throw," Vargas said. "The defensive plays that were made tonight helped us keep the ballgame under control and keep the momentum moving in our favor. The boys did the rest and just put the runs on the board."
This hot Indians club was coming off a 17-7 victory at Texas, a fact of which Vargas was blissfully unaware.
"I guess I'm glad I didn't know they scored 17 runs last night," Vargas said. "They've got a tough offense, tough lineup, real balanced, they can do a lot of different things."
And they started to do things against him after he'd gotten two outs in the eighth. Asdrubal Cabrera singled, then Michael Brantley was hit by a pitch. Although Yost had Tim Collins heating up in the bullpen, he chose to have Vargas pitch to Kipnis.
"I had Timmy ready to come in but Kipnis has had some success against Timmy, he's like 5-for-11 off him, and Vargy had handled Kipnis all night long," Yost said. "With the luxury of a six-run lead, I gave him one more hitter."
Kipnis ripped a two-run double and Vargas' night was over. Collins came in, threw one pitch and Carlos Santana smacked an RBI single. Now it was 6-3. But Aaron Crow arrived to get the third out.
And the Royals swung back into action. Gordon opened the eighth with a home run off left-hander Nick Hagadone. Salvador Perez singled off right-hander Scott Atchison and, after an out, in came lefty Josh Outman to face Moustakas.
Moustakas sent a shot toward the right-field foul pole and the ball stayed fair for a two-run homer and a 9-3 lead.
"It was nice to get some runs and let Greg take a break," Gordon said.
That, of course, meant closer Greg Holland who had been up throwing in the eighth inning but now was resting comfortably in the bullpen. The thing was, he almost didn't get a break.
The Indians started chipping away at Crow with back-to-back singles and a double by David Murphy that right fielder Lorenzo Cain completely lost in the lights. Now Holland was up again.
"We were one hitter away from having to use Greg," Yost said.
But Crow got Michael Bourn to tap back to him. Cabrera got a fifth run home with a sacrifice fly to deep left field. Finally, Crow struck out Brantley to end the game.
The Royals now trail the first place Detroit Tigers by just three games in the American League Central.
"It's a good thing. We just keep pressing forward and playing our game," Yost said. "The bats have definitely heated up in the last 10 days, just keep it going."
Dick Kaegel is a reporter for MLB.com. This story was not subject to the approval of Major League Baseball or its clubs.