Rays' hitting woes continue with shutout
Scoreless streak reaches 28 innings; Odorizzi allows one run, three hits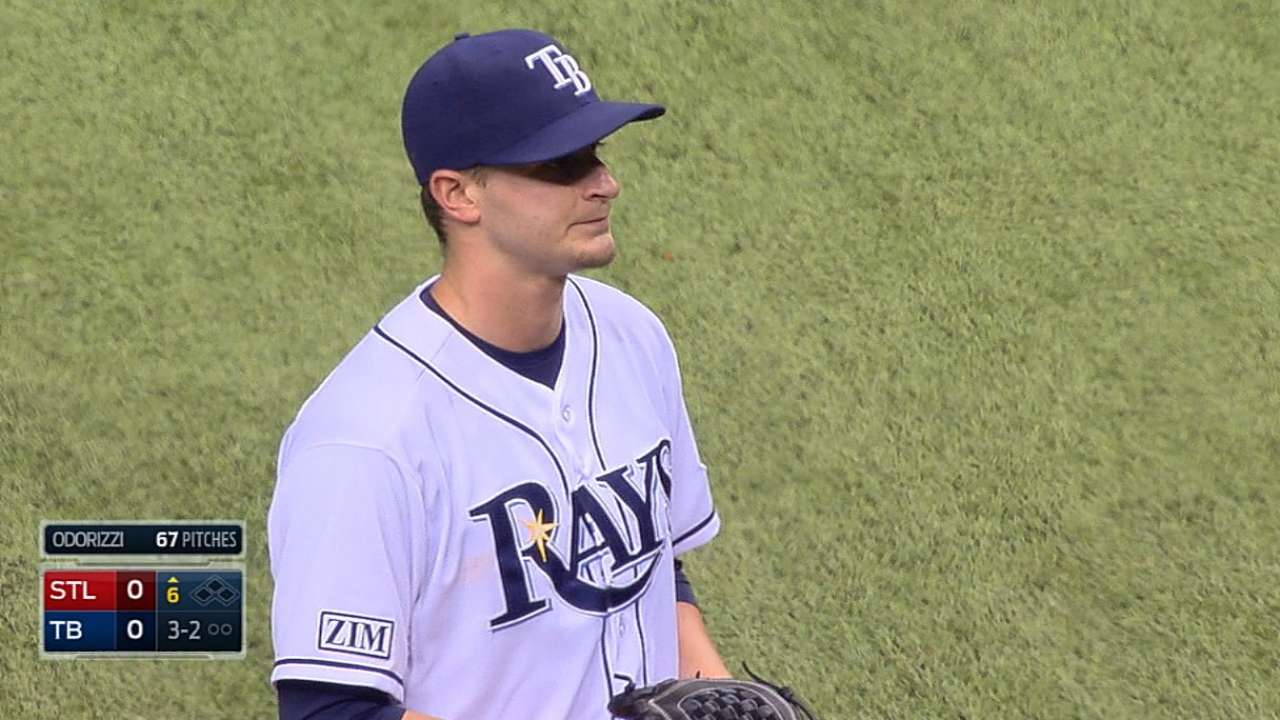 ST. PETERSBURG -- While a thunderstorm pelted the outside of Tropicana Field Tuesday night, base hits were not exactly raining inside of the building -- particularly with runners in scoring position -- as the Rays took a 1-0 loss to the Cardinals.
Still viewing through rose-colored glasses of his team's rough 2014 season, Rays manager Joe Maddon offered: "I was hoping that the rain would actually plow through the roof of the Trop tonight."
The Rays were shut out for the third consecutive game and for the 10th time, tying the Padres for the Major League lead. Not since the eighth inning of Saturday night's loss to the Mariners have the Rays scored a run, a stretch that covers 28 innings.
"We're just proverbially snakebit right now," Maddon said. "We can't find some grass when we need to under those circumstances. Extremely frustrating for everybody.
"...There's not a whole lot to talk about except we left too many guys on base, 0-for-6 with runners in scoring position. That's pretty much been the tale of the tape right there."
The Rays lost for the 14th time in 15 games and fell to 24-42 on the season to maintain their lock on the worst record in baseball.
While the offense slept, Jake Odorizzi started for the Rays and put forth the best effort of his young Major League career.
Unfortunately for the right-hander, he made one mistake on a night -- and during a period -- where there is no margin for error by Rays pitchers.
Matt Holliday homered with two outs in the sixth to give the Cardinals a 1-0 lead, and, given the way the Rays' offense is sputtering, put the game out of reach.
"I really don't know what to say about [the home run] honestly," Odorizzi said. "It was the right idea, just bad execution ... I think it was the right pitch, just left it up, that's all."
Holliday, who notched his National League-leading ninth game-winning RBI, said the pitch was "kind of middle in."
"Just caught it out front," Holliday said.
Odorizzi retired the first 11 batters he faced and allowed just one run on three hits and a walk while striking out five in a career-long 7 1/3 innings. He felt as though pitching inside more often keyed his effort.
"I think it had to do with a lot of the success tonight in being able to locate in and not having people being able to hang out over the plate looking for balls away," Odorizzi said. "Just another tough game for us in general, but from a personal pitching standpoint I couldn't be happier."
Odorizzi took his seventh loss of the season. He has only one victory in his last 12 starts since winning his season debut on April 4 against the Rangers.
The Rays' best chance to score came in the eighth when Kevin Kiermaier doubled off Pat Neshek to lead off the inning. After Neshek hit Evan Longoria with a pitch, Sam Freeman took over and struck out James Loney before retiring Ben Zobrist on a lineout. When Maddon sent Jerry Sands to the plate to pinch hit, the Cardinals countered with right-hander Trevor Rosenthal.
Rosenthal hit Sands with a pitch. Cardinals manager Mike Matheny challenged the call. When the ruling "call stands" came back, the Rays had runners on every base for Matt Joyce, but Rosenthal retired him on a pop to shortstop Jhonny Peralta to end the threat.
Joyce went 1-for-11 in the weekend series against the Mariners and finished Tuesday night 1-for-4.
"That was obviously big," said Maddon of Joyce's eighth-inning at-bat. "It just didn't play. It just didn't work out. I'm not going to denigrate -- Matty's been working really hard to get it right. It just wasn't working."
Rosenthal preserved the Cardinals' third consecutive shutout with a four-out save in the ninth. Cardinals starter Adam Wainwright was credited for the win after tossing seven-scoreless innings.
During the past 15 games, the Rays have hit .226 overall and .099 (10-for-101) with runners in scoring position, including an 0-for-19 stretch the last three games.
When asked if he could have fathomed going three games without scoring a run, Loney surmised: "I guess you can fathom anything if you want."
David Adler is an associate reporter for MLB.com. This story was not subject to the approval of Major League Baseball or its clubs.