Holliday's return, Wainwright's arm carry Cards
Outfielder homers in sixth; ace delivers seven shutout innings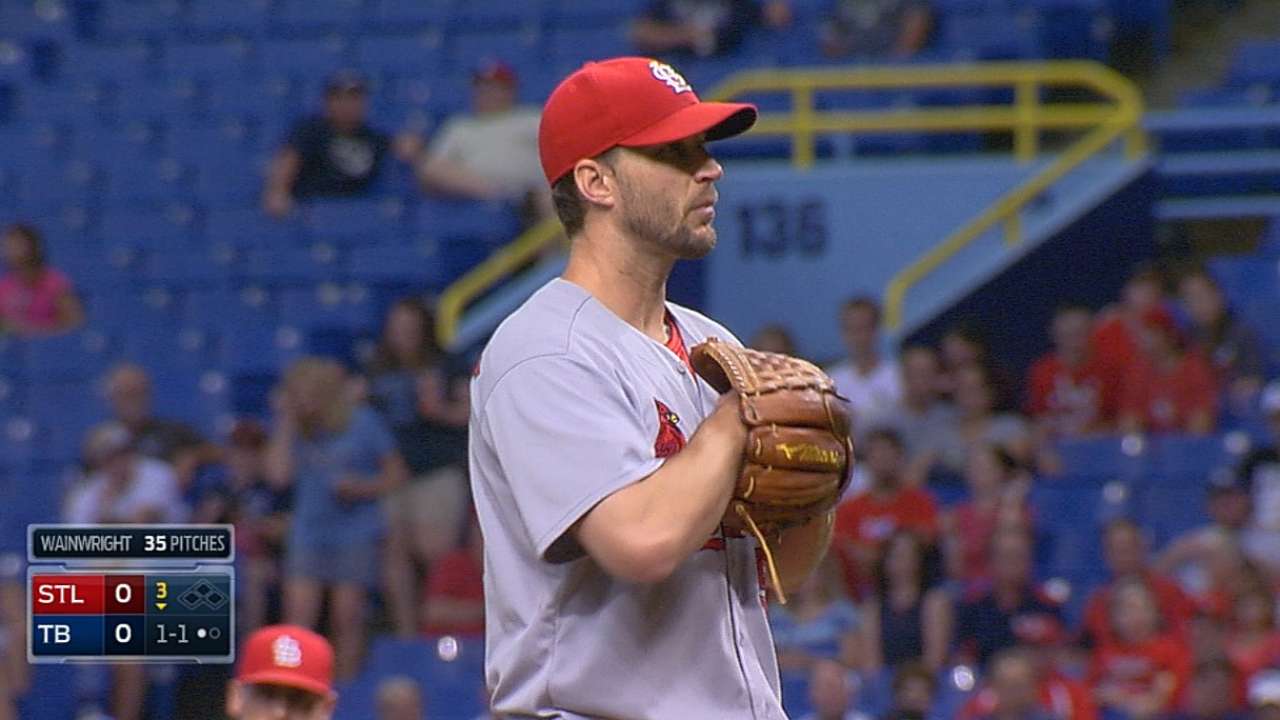 ST. PETERSBURG -- Before the Cardinals vacated the Rogers Centre clubhouse over the weekend, Matt Holliday strolled past his manager's office with a message to deliver.
Back tightness having just kept him out of Sunday's lineup, Holliday let Mike Matheny know he would be recovered by the time the Cardinals next took the field. Two days later, Holliday proved himself a prognosticator with one sixth-inning swing.
Powered by Holliday's bat and Adam Wainwright's ability to dominate with what he described as "subpar-to-average stuff" on Tuesday, the Cardinals struck a Rays team while it was already down for a 1-0 win, the Cardinals' third consecutive shutout.
"You'd like to give them more than one run, but you give Adam one run and follow that up with the back end of the bullpen, you feel pretty good about our chances to win," Holliday said. "They've pitched pretty well."
Exceptionally well, in fact, as of late.
St. Louis closed its visit to Toronto by outscoring the Blue Jays, 10-0, over the weekend. The staff's stinginess continued despite a change of venue, as Wainwright's seven shutout innings and another two from the 'pen boosted the club's scoreless-innings streak to 27 in front of 17,226 at Tropicana Field.
It added to the frustration for Tampa Bay, which has lost 14 of 15 and not scored in 28 straight innings.
"Right now, it's just difficult in general as a team, not being able to get the runs, get the big hits when we need it," said Rays starter Jake Odorizzi, who served up the game's lone run. "One of these days, it's going to break through and both [the hitting and pitching] are going to match up and we should be a pretty tough team."
The Cardinals' three straight shutouts is a first for the team since the second week of the 2013 season. It has been 71 years since the club recorded three consecutive shutouts on the road in a single season. The team boasts a Major League-most 13 shutouts this year and has had 14 games in which its starter has pitched at least six innings without allowing a run. That is the most in franchise history through 65 games.
"We're pitching very well right now," said Wainwright, the National League's first nine-game winner. "We just have to keep that momentum going. Shelby [Miller] led us off in Toronto with a great performance [on Saturday], and we're just trying to back that up every time."
Odorizzi, who grew up about 30 miles east of St. Louis, actually outpitched Wainwright in the early going. He threw four no-hit innings on 43 pitches before allowing a pair of two-out singles in the fifth. Those didn't hurt him.
The swing Holliday took the following inning did.
Holliday returned to the Cardinals lineup on Tuesday after proving himself healthy enough during batting practice. Holliday flew out in his first at-bat, drew a walk in his second and then tattooed Odorizzi's 1-2 offering in the sixth to break the scoreless tie.
"I didn't feel great, but good enough," Holliday said. "[The back] loosened up enough to get a good swing off of him."
The homer, Holliday's fourth of the season, was just the second in the left fielder's last 135 at-bats.
"I'm liking his bat speed. He's real close, I think, to getting on a tear," Matheny said. "Hopefully he was OK for carrying us today."
It was sufficient support for Wainwright, who has not allowed a run in half of his 14 starts and has pitched at least seven innings in all but two. This time, though, he needed some improvisation.
He characterized his cutter and sinker as just OK and his curveball as "not very good." It all led Wainwright to get more creative in moving pitches around and throwing them at varying speeds. He even added a slider to the mix.
"There are going to be days where you may feel 100 percent, but your stuff isn't 100 percent," Wainwright said. "You have to battle, and you have to find ways to get outs."
The Rays worked Wainwright during an 18-pitching first inning but couldn't capitalize on two singles and a walk. A double play -- one that Rays manager Joe Maddon unsuccessfully challenged -- helped Wainwright get out of the jam.
In the fourth, Wainwright's induced two lineouts to second baseman Kolten Wong to strand two in scoring position.
Though Wainwright's pitch count was relatively low (92), Matheny pulled him before the right-hander got a fourth crack at the lineup. A combination of a fresh 'pen, Wainwright's overall workload (he is the first pitcher to reach 100 innings) and his having to battle while not at his best led to the early unplugging.
"When they are rested, we typically will push them a little bit," Matheny said, as Wainwright was pitching on five days' rest. "Once again, we really liked what our bullpen could do today."
That bullpen made things interesting. Pat Neshek allowed both hitters he faced to reach in the eighth. Lefty Sam Freeman, slowly being pushed into a more important late-inning role, halted that momentum by retiring two.
"That could go in a couple of directions," Matheny said. "Fortunately, Sam made a couple of real good pitches."
"I throw what [catcher] Yadi [Molina] calls," Freeman added. "That makes it as simple as possible."
The one-run lead then went to Trevor Rosenthal, who, after hitting Jerry Sands to load the bases, induced a popout to close the eighth with the bases full. Rosenthal walked one in the ninth before sealing the four-out save with a pair of strikeouts.
Jenifer Langosch is a reporter for MLB.com. Read her blog, By Gosh, It's Langosch, and follow her on Twitter @LangoschMLB. This story was not subject to the approval of Major League Baseball or its clubs.