Beckett rolls over Reds after long delay
Dodgers end long night on high note with second straight over Cincy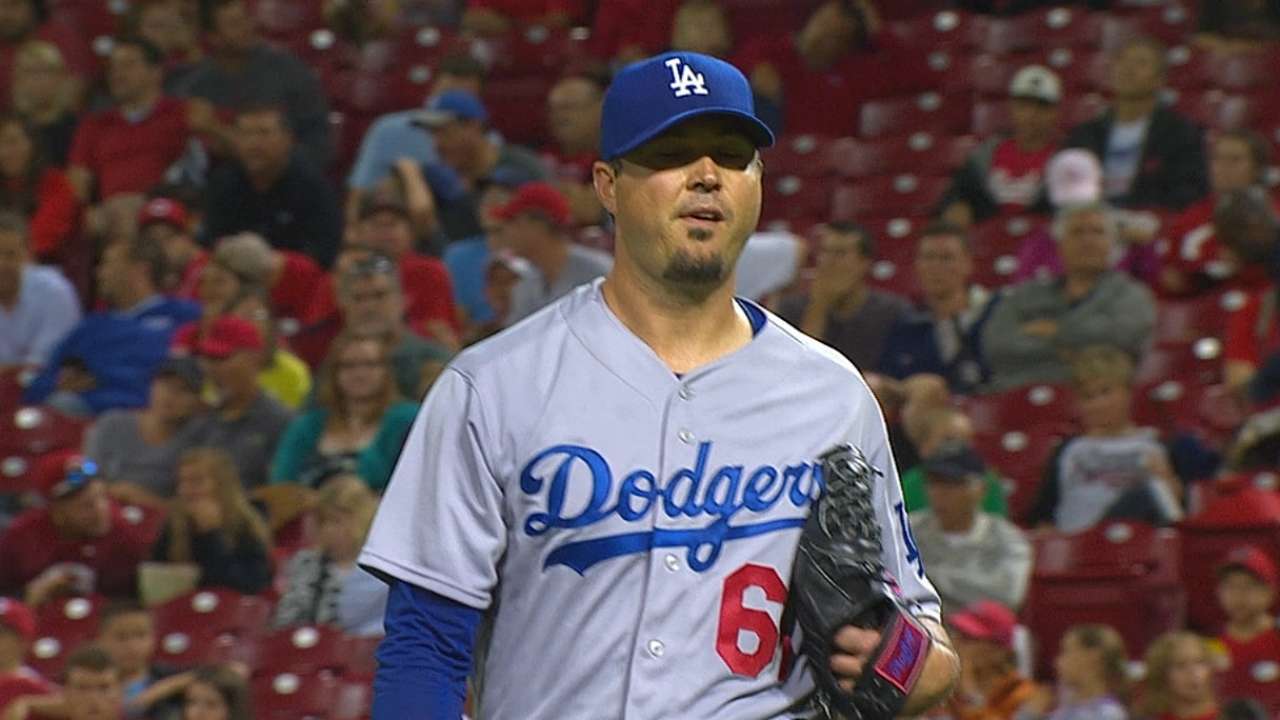 CINCINNATI -- Josh Beckett did a little bit of everything for the Dodgers on Tuesday night at Great American Ball Park.
The right-hander tossed six scoreless innings, singled and scored a run as Los Angeles took its second straight game from the Reds, 6-1, after a two-hour, five-minute rain delay.
Beckett didn't allow a hit until there were two outs in the third when his counterpart, Cincinnati starter Mike Leake, singled to left-center field. Beckett would allow just one other hit, walking one and striking out seven to earn his first win since throwing a no-hitter against the Phillies on May 25.
He has allowed two runs or fewer in six of his last seven starts, lowering his ERA to 2.35 for the season.
"It was a clean outing," Beckett said. "I was able to throw my curveball in there when I needed to and I threw some good changeups."
"It was actually probably the cleanest game since the no-hitter," Dodgers manager Don Mattingly said of Beckett's outing. "We thought the ball came out better; he seemed to have a better changeup. He kept the ball down better. It just seemed cleaner tonight."
Mattingly sent reliever Paul Maholm out for the seventh inning after noticing Beckett appeared to be tiring in the fifth and sixth.
"The long delay to actually start it, he's walking around in here and pacing around for two hours, trying to keep himself going," Mattingly said. "And he was done; we saw those last two innings looked a little bit like the ball was starting to get up, he wasn't as sharp, so he was kind of out of gas there."
Beckett was on board with that decision.
"Just sitting around today for two hours, trying to stay loose, I'm not 23 years old anymore," he said. "I was ready for a 7:10 game and they come in pretty much when I'm at the back end of all my stuff and say it started raining."
One thing the rain delay didn't prevent Beckett from doing was helping his own cause in the fifth, when he chopped a butcher-boy single over the drawn-in Todd Frazier at third base with one out and Justin Turner at first. Going into that at-bat, Beckett had been batting .095 (2-for-21).
"You see [Frazier] charging and he was playing so shallow as it is, and I took a shot," Beckett said. "It was probably just a fluke."
The next batter, Dee Gordon, then doubled in Turner to make it 2-0. Hanley Ramirez followed with a single into right field to knock in Beckett and Gordon to extend the lead to 4-0.
The Dodgers tacked on a run in the sixth on an RBI single by Turner, and another in the seventh on a double by Adrian Gonzalez.
Los Angeles scored its first run in the second, when Gonzalez doubled and scored one out later on another double by Andre Ethier.
Mattingly was pleased to see Gonzalez, who came into the contest hitless in his last 20 at-bats and batting .118 over his previous 10 games, have a couple of extra-base hits and an RBI.
"It was nice. His at-bats looked better and he had a couple swings on balls he fell back to and looked like he had some bat speed," Mattingly said. "He looked like the old Adrian."
Turner, meanwhile, continues to produce in the absence of the injured Juan Uribe (strained right hamstring), notching his fourth consecutive multi-hit game with his 2-for-4 effort. He's hitting .357 (20-for-56) with three doubles, three home runs and 12 RBIs in his last 16 games.
"J.T.'s been solid for a while now since Papi's been down," Mattingly said. "I feel like we're getting a decent handle on how to use him, trying to pick the right guys for him and things like that, give him enough days to keep him strong."
The Reds scored their only run of the game in the seventh on an RBI single by Zack Cozart against Maholm.
The Dodgers have won four of their past five games and are a Major League-best 22-12 on the road this season. They've won a season-high three straight games for the fourth time as they try to build a more consistent level of winning to chip away at the Giants' lead in the National League West..
"You can't look at having to go 10 in a row or something like that to get on a roll," Mattingly said. "You have to basically continue to win series, continue to play well where the team's confidence grows, and then just that feeling is back."
Manny Randhawa is an associate reporter at MLB.com. This story was not subject to the approval of Major League Baseball or its clubs.