Burnett starts Phillies off right against Padres
Right-hander fires 7 1/3 strong frames; Byrd's jack caps 4-run fourth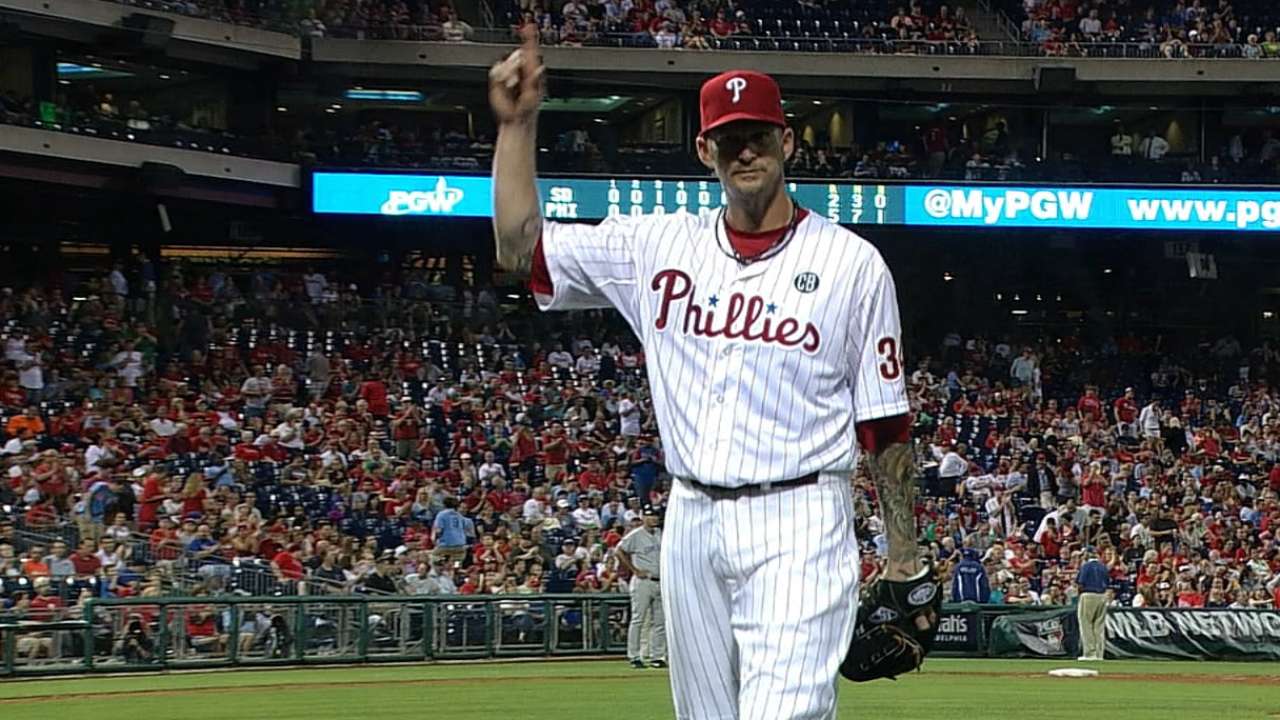 PHILADELPHIA -- On a day the Phillies signed what they hope is a future ace in Aaron Nola, their first-round pick in the 2014 First-Year Player Draft, they got an ace-like start from a veteran they desperately need to help carry their rotation.
Starter A.J. Burnett worked 7 1/3 innings on 89 pitches, while Marlon Byrd homered and knocked in four runs in the Phillies' 5-2 win over the Padres on Tuesday night at Citizens Bank Park.
"[Burnett] did a good job with his pitches," manager Ryne Sandberg said. "He got a big double play in the first inning, which was significant after the error with the middle of the lineup coming up. He didn't use a lot of pitches."
After nine losses in 10 games, the Phillies were in desperate need of a good start to a six-game homestand that includes series against the Padres and Cubs. Burnett, locked in a poor stretch of his own, gave the Phillies all they needed on this night.
Closer Jonathan Papelbon recorded his 300th career save -- the 26th reliever in MLB history to do so -- after escaping a bases-loaded jam in the ninth.
After issuing Seth Smith's leadoff double, Chase Headley hit a one-out single to put runners on the corners. Papelbon struck out Yonder Alonso before plunking Rene Rivera on a 1-2 pitch to load the bases, but he induced a forceout by pinch-hitter Tommy Medica to end the game.
"For me, it was a little tougher tonight because I hadn't felt those emotions in what seemed like a month or so," said Papelbon, who has had just three save opportunities since May 10. "All of those emotions and pressure in game-type situations. That's the toughest thing, I just tried to stay level-headed."
But this night belonged to Burnett.
"I felt like I got away with a lot tonight," Burnett said. "I didn't have a real good hook. I got outs out of it, but not the kind I want. I just had to get ahead and then put them away."
With the exception of a solo home run in the second and a tacked on run in the seventh, Burnett was in total control. Through his first six innings, Burnett was only three hitters above the minimum and easily cruised into the eighth inning with a three-run lead.
After both starters opened the game with two hitless innings, the bats finally came out of hibernation.
San Diego got on the board first as Will Venable hit a 3-1 offering from Burnett into the right-field stands for a 1-0 lead with two outs in the third. Burnett, who has been battling a non-sports hernia, had struggled in his previous starts -- going 1-4 with a 7.25 ERA. Even so, he settled in and coaxed a groundout to second to end the inning. Burnett recorded the next eight outs before and infield single by Venable in the sixth.
The Phillies responded in the fourth as Ben Revere opened with a double off the right-field wall. Revere moved to third on a wild pitch and after a popout, he scored on a line single into right-center by Chase Utley. Utley moved all the way to third on a single down the right-field line by Ryan Howard to put runners at the corners.
Padres starter Ian Kennedy then served up a 3-2 pitch to Byrd, who hit his 10th home run of the year and reached double digits in homers for the sixth time in a season. The three-run shot into the right-field stands gave the Phillies a 4-1 lead.
"It was a good offensive night from the top five guys in the lineup, all contributing," Sandberg said. "Marlon Byrd with a big game, the offense against Kennedy, a guy who had been tough on the team in the past. That was good."
Even with that, the game belonged to Burnett, who had a shutdown 1-2-3 fifth inning and didn't allow another run until the seventh.
"That was important," Burnett said. "The guys did a good job swinging tonight. It's about time I came through with one of those."
In the sixth, Utley again singled with one out and Howard followed with a single into right-center on which Utley moved to third. Byrd followed with a lofted ball into center for a sacrifice fly and a 5-1 lead.
With a single in the ninth inning, Jimmy Rollins raised his career hit total to 2,231 to pull within three of the franchise mark of 2,234 set by Hall of Fame third baseman Mike Schmidt. Rollins is already the team leader in doubles (465) and is in the top 10 of 10 categories in Phillies history.
Michael Radano is a contributor to MLB.com. This story was not subject to the approval of Major League Baseball or its clubs.