Wood sent to Gwinnett to stretch out as starter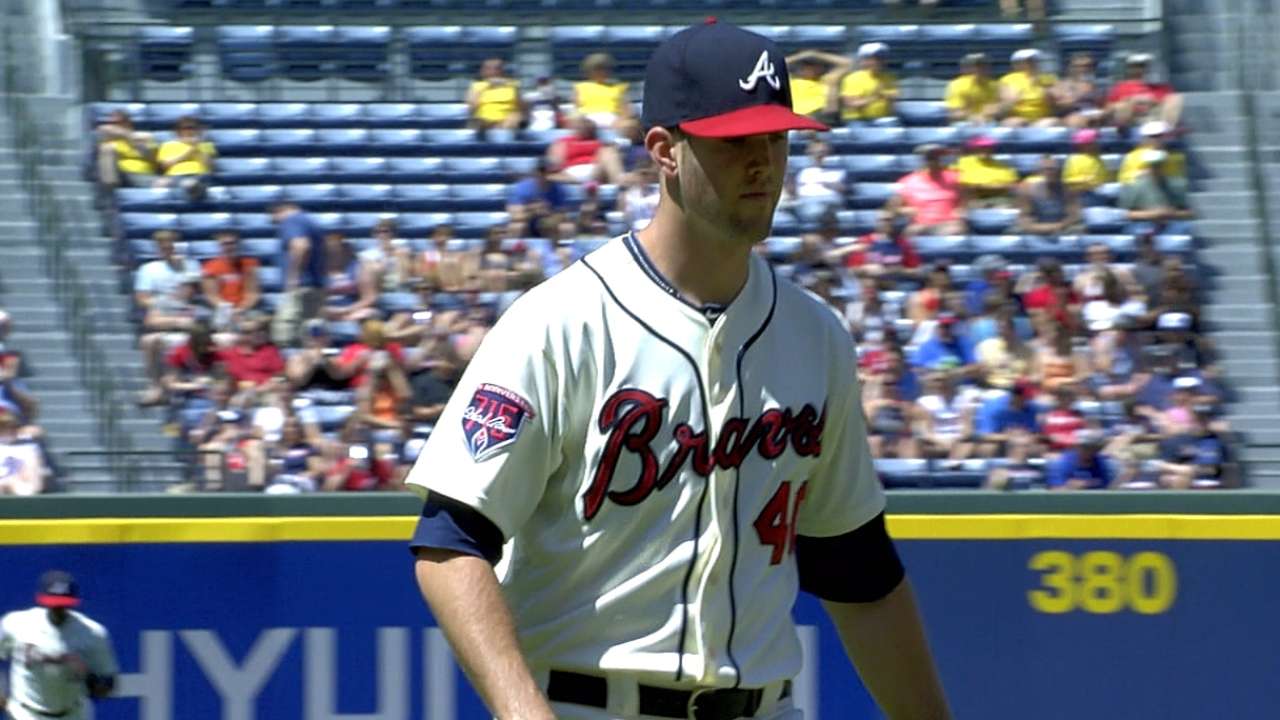 DENVER -- The Braves believe that 23-year-old left-hander Alex Wood is capable of being an integral part of the rotation during the final months of the season. Unfortunately for Wood, in order to prepare for this role, he will spend the next couple of weeks making starts for Triple-A Gwinnett.
Wood has been preparing for the assignment while being used in a relief role over the past five weeks, but the anticipation did not make him immune to the uneasiness he felt on Tuesday afternoon, when the Braves optioned him to Gwinnett to make room for Jordan Walden to come off the disabled list.
"It's one of those things, even if you know it's happening, when it happens it still puts you in kind of a weird place," Wood said. "I think everybody's goal is, once you get here, stay here, and never go back down for any reason."
Whereas Walden has made a much-welcomed return to the bullpen, Wood will spend the next couple of weeks looking to regain the form that he had when he allowed two earned runs or fewer in six of the seven starts he made before being moved to a relief role after his May 4 outing against the Giants.
Wood will likely be back in the big leagues by the time the Braves play a doubleheader against the Phillies on June 28, but he could return sooner if one of the current members of the rotation sustains an injury or is traded.
"There comes a point in time when you've got to do what's best for the individual, the organization and your team," manager Fredi Gonzalez said. "We need him to go down and stretch out. There's no timetable. But he's a big piece of our organization and our future."
By moving Wood to the bullpen, the Braves were able to harness his workload, as he was on pace to complete more than 200 innings when he made that May 4 start. The Braves want to limit him to between 170 and 180 innings in his second full professional season, but they don't want to enter next season with similar limitations. Thus they will stretch him out now, with the expectation that he will serve as a starter for the remainder of this season.
Wood will be targeted for three innings or 60 pitches when he makes his first start for Gwinnett, on Friday. In addition to rebuilding his endurance, he will have a chance to regain a feel for his secondary pitches, which he has not been able to throw as frequently as a reliever.
"When I was in the 'pen, they were looking for opportunities for me to throw multiple innings, but at the same time, they can use me lefty-lefty or other times late in the ballgames," Wood said. "That in itself is a tough thing for anybody to do, because you don't know what is going on. From that standpoint it will be nice to lay some roots back down and get back to starting."
Mark Bowman is a reporter for MLB.com. This story was not subject to the approval of Major League Baseball or its clubs.