Late surge lifts Bronson over Astros
Arroyo sharp over seven innings; D-backs capitalize on errors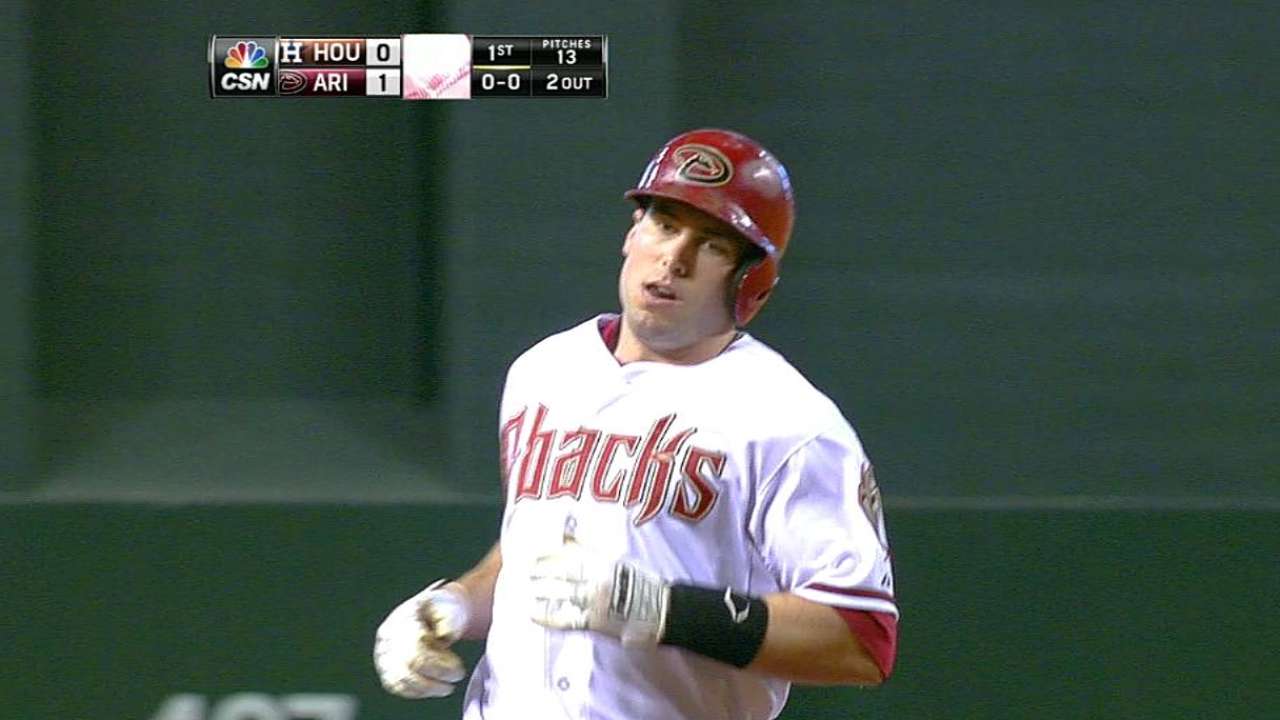 PHOENIX -- When his arm is feeling at its best, D-backs right-hander Bronson Arroyo can get his fastball up to 88-90 mph.
When the 37-year-old's elbow is barking, as it has been the past few weeks, the already small margin for error becomes even more narrow.
Relying on guile and movement, Arroyo put together another quality outing as the D-backs beat the Astros, 4-1, on Tuesday afternoon at Chase Field.
The teams split the two games in the desert and now head to Houston for two more.
"Physically I don't feel so good, but my ball is moving and I'm keeping hitters off balance, and we've just got a better flow as a team," said Arroyo, who improved to 6-4 on the season. "I've just been banged up, man. My arm has just been banged up. It's just the way it is. I'm just grinding. You look on the board and my velo is down."
Arroyo has gone 15 years in the big leagues without missing a start and he has no plans to skip a turn, but in order to make that many starts, he has to find a way to somehow get through discomfort like he's experiencing right now.
"If I can throw 88-90, I feel like I can really have a lot better chance of dominating the game a little bit better," Arroyo said. "But if you don't have it, you don't and you just go out there and try to stay on the black with movement and change a lot of speeds and see if you can get guys frustrated."
That's what Arroyo did to the Astros, as he held them scoreless until Jon Singleton led off the sixth with a double to right, advanced to third on a groundout and then scored when Matt Dominguez's grounder hit off the glove of a diving Chris Owings at short for a single.
That erased the 1-0 lead the D-backs got by virtue of Paul Goldschmidt's two-out homer in the first inning that splashed down in the pool located beyond the fence in right-center field. It was his first-ever splash-down homer, but it wasn't something he was looking to commemorate.
"Was it?" Goldschmidt said of the homer being his first to splash into the pool. "I don't know. I mean you guys pay attention to so much stuff we have no idea about. I'm just glad it was a homer. Just a fastball middle of the plate that I was able to hit it hard and get it out of there."
That was the lone run that Astros starter Brad Peacock would allow over his six innings as he held Arizona to three hits. That might have been enough to win on another day, but not the way Arroyo was pitching.
"He was throwing the ball good," Peacock said. "We've been doing a good job on jumping on people, but he's one of the best starters in the game, and we just couldn't get to him today."
Arroyo (6-4) allowed six hits and the one run over seven innings.
After pinch-hitting for Peacock in the seventh, Astros manager Bo Porter turned to Josh Fields (1-4) in the bottom half of the inning.
Things did not go well for the Astros after that.
Martin Prado led off the inning with a triple and Aaron Hill followed with a sacrifice fly to give the D-backs a 2-1 lead.
After David Peralta flied out, things got ugly for Houston as shortstop Jonathan Villar and center fielder Dexter Fowler each committed errors, and the D-backs were able to tack on an unearned run to go up, 3-1.
Brad Ziegler held the Astros down in the eighth and closer Addison Reed wrapped things up in the ninth for his 16th save.
"Kind of a slow-starting game," D-backs manager Kirk Gibson said. "But we finished strong."
Steve Gilbert is a reporter for MLB.com. Read his blog, Inside the D-backs, and follow him on Twitter @SteveGilbertMLB. This story was not subject to the approval of Major League Baseball or its clubs.