Garagiola unable to make trip to accept O'Neil Award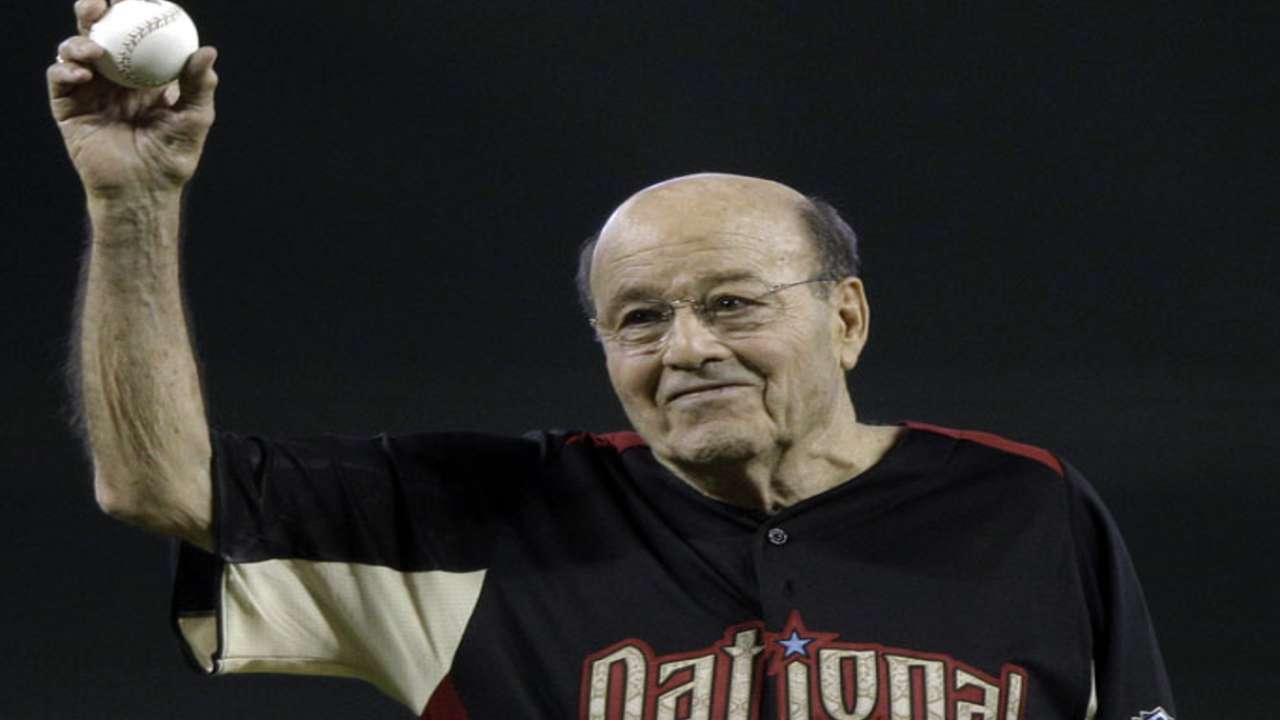 Joe Garagiola appreciates the sentiment but will not be able to make the journey.
Garagiola, named in December as the third recipient of the Buck O'Neil Lifetime Achievement Award, announced Tuesday that he will not be able to accept the award in person. Garagiola had previously been expected to attend Hall of Fame Weekend in Cooperstown, N.Y., to accept his award.
But Garagiola, 88 years old, has been advised by his doctors not to travel. The longtime executive announced Tuesday that he will not attend the ceremony as part of an official press release.
"My doctors have advised me not to travel long distances, so it is with great sadness that I will not be present in Cooperstown over Hall of Fame Weekend," he said. "I am grateful to the Hall of Fame Board of Directors for this tremendous honor, named for one of the game's greatest ambassadors."
O'Neil was honored as the first recipient of his namesake award in 2008. Roland Hemond was the second recipient of the award in 2011, and Garagiola, the founder of the Baseball Assistance Team, is just the third winner of the award.
O'Neil has been honored with a life-sized bronze statue in the Hall of Fame's first floor, and the award in his honor is presented by the Board of Directors of the Hall of Fame. The award can only be distributed once every three years, and it goes to an individual whose efforts have broadened the game's appeal.
Garagiola, who played in the Majors for nine seasons, helped found the Baseball Assistance Team and the National Spit Tobacco Education Program. Garagiola will accept the O'Neil Award via video statement as part of the Awards Presentation on Saturday, July 26, at Doubleday Field.
Spencer Fordin is a reporter for MLB.com. This story was not subject to the approval of Major League Baseball or its clubs.