A's split on Machado's apology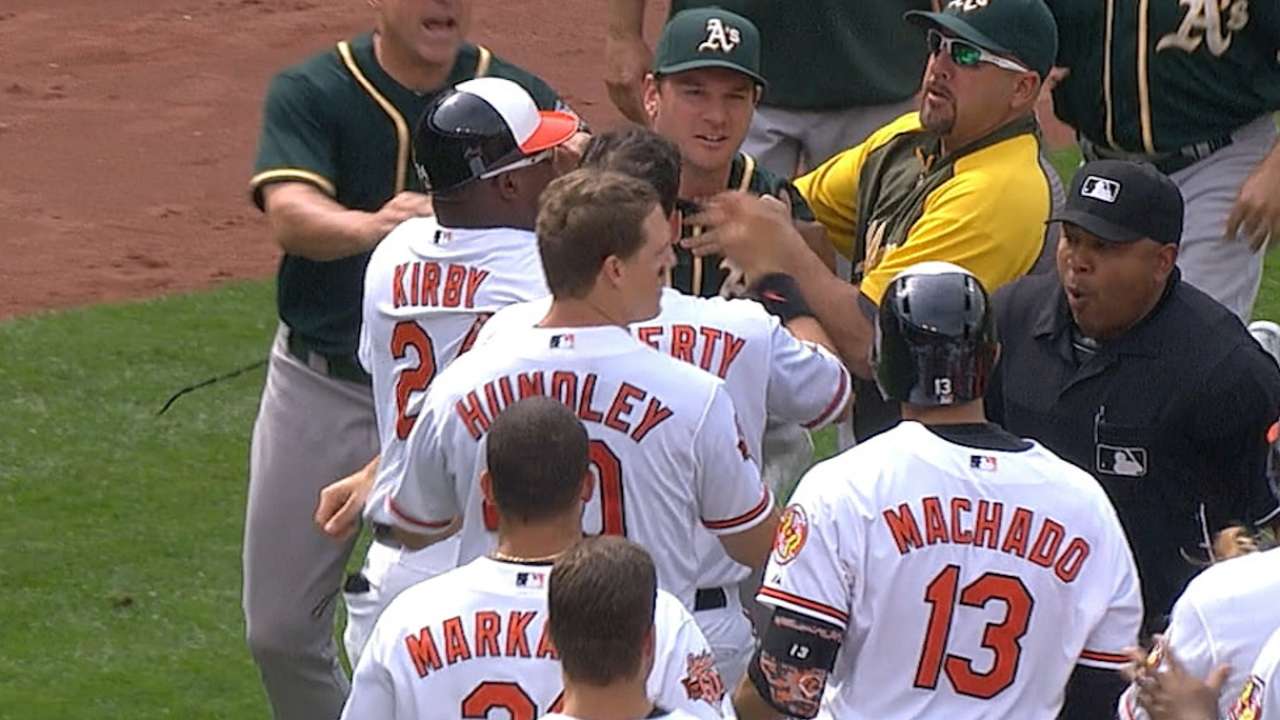 "I knew, once he left the ballpark, once he looked back, it would kind of sink in," Norris said of Machado on Monday at Angel Stadium. "If you have any kind on cognitive response to anything, you'll feel remorse.
"It looks like he feels sorry for what he did. It looks like he just got a little carried away emotionally [Friday and Sunday]. That [the apology] is good enough for me."
The first confrontation between the A's and Machado came in Baltimore on Friday, when Donaldson tagged out Machado, who stumbled, fired his helmet to the ground, then went nose-to-nose with the A's third baseman. That led to the benches clearing. Donaldson was later hit by a Wei-Yin Chen pitch, after another missed.
On Sunday, Machado's backswing conked Norris on the head, knocking him out of the game. Norris said he was upset, only because Machado didn't show any contrition while he was being attended to behind the plate by the medical staff, a courtesy commonly offered when such an accident occurs. Later, when A's pitcher Fernando Abad buzzed Machado with a second consecutive pitch, Machado swung and his bat went flying toward third, clearing the benches again.
Donaldson was asked Monday if Machado's apology meant anything to him.
"Doesn't. Words are words. You have to go out there and prove something every day," he said. "It takes a long time in the game to develop a [good] reputation as a player, and a short time to lose it. The only thing to get that back is to go out there and play it the right way."
When asked about Machado's apology, A's manager Bob Melvin said: "Good for him. I would like for us to just put it behind us, and go out and play today."
Earl Bloom is a contributor to MLB.com. This story was not subject to the approval of Major League Baseball or its clubs.