Norris twirls gem as Orioles blank Red Sox
Righty allows three hits over eight; Jones, Markakis, Flaherty go deep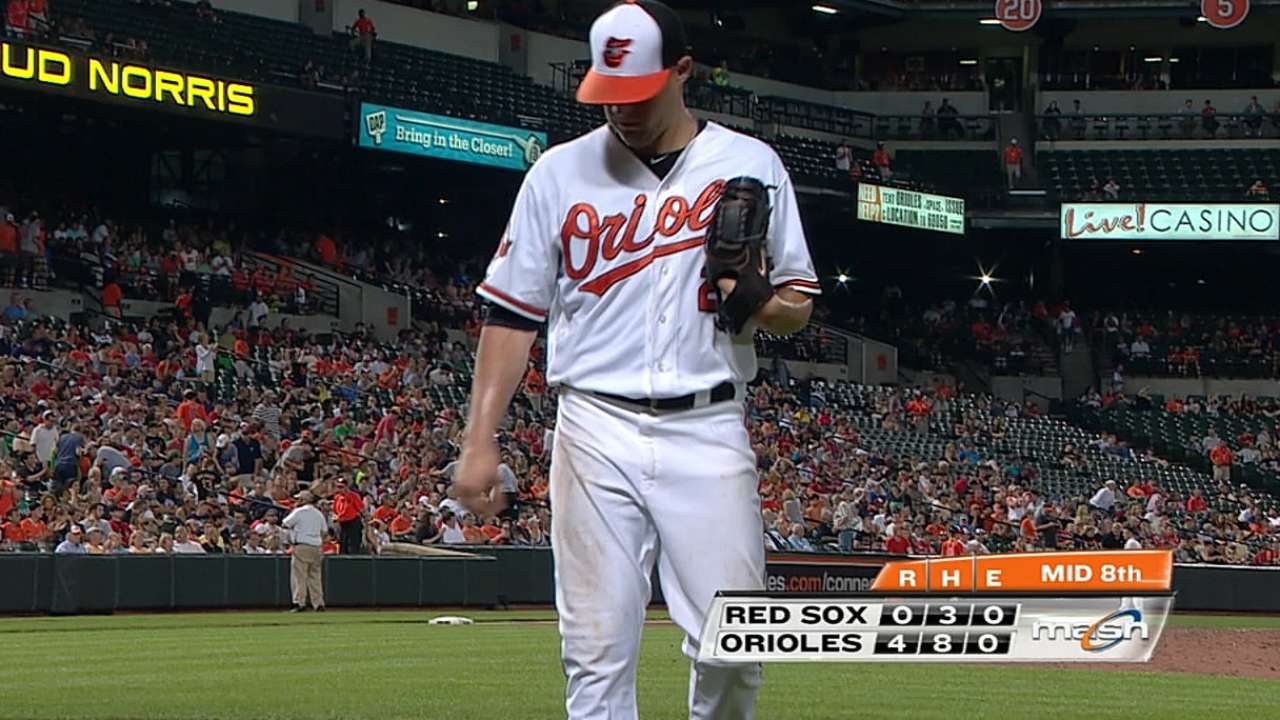 BALTIMORE -- Bud Norris is tired of trying to figure out his best start this season. He hasn't always been brilliant, but the Orioles starter has posted enough strong ones that there's at least a conversation to be had.
He tossed seven scoreless in his first outing of the year. In mid-May, he pitched into the eighth inning in back-to-back starts. On Monday night, he was asked to figure it out again. He didn't come up with an answer, but eight innings of three-hit ball to beat the Red Sox, 4-0, ranks at the top statistically.
Norris (5-5) struck out six against the defending World Series champs in the opener of a three-game series at Oriole Park at Camden Yards. He left the game after eight innings having thrown just 98 pitches. Were it not for a blister on his hand, he could have come back out for the ninth and tried to notch his first career shutout in front of 19,729 in the stadium to watch the rivals battle.
"We needed a well-pitched game," O's manager Buck Showalter said. "We had bullets down in the 'pen, but Bud was really good. I probably would have given him a chance to finish that game."
It wasn't until the fifth that Norris faced a semblance of adversity. Through four innings, he had faced the minimum. The only baserunner came when Brock Holt led off the game with a single, but catcher Caleb Joseph erased him trying to steal second. After that, Norris cruised.
When Daniel Nava dropped a two-out single into right field in the fifth, Norris induced the next batter to ground out softly. After he walked two batters in the sixth, he got Xander Bogaerts to fly out and ended the inning with a fielder's choice by Dustin Pedroia.
"We're always focused on getting ahead in counts and fastball command," Norris said. "Caleb called a great game and the guys made great plays behind me."
Opposite Norris, Jake Peavy (1-4) held his own. Boston's starter lasted seven innings and struck out seven, but his mistakes were more costly.
With two outs in the first, Adam Jones belted a home run to center field. It was his fourth home run in seven games as his torrid start to June continues.
The All-Star is batting .455 with a 1.306 on-base-plus-slugging percentage in the first eight games of the month.
"I'm trying to use the whole field," he said. "I'm not trying to limit myself to just pulling the ball. That's how I get in trouble. Just trying to use the whole field. If it's in, try to pull it. If it's away, try to stay on it.
"It's not rocket science, but some sort of science."
Peavy stayed out of trouble for the next three innings before outfielder Nick Markakis tacked on two more runs with a two-RBI bomb to right field. He finished with two hits to run his hitting streak to 13 games.
Two innings later, Ryan Flaherty hit Baltimore's third home run, and with the way Norris was dealing, the homer put the game well out of reach.
"We ran into a good pitcher," Boston manager John Farrell said.
Showalter invoked Orel Hershiser when trying to explain why Norris was as good as he was Monday. The former NL Cy Young Award winner said a pitcher needs one pitch to compete, two to win and three to dominate.
Norris wasn't dominant, Showalter said, but he threw two pitches well. His fastball was strong and he used his changeup, his third pitch, effectively enough to put together the best start of the season and give the O's a sixth win in nine games.
"That third pitch kind of put his game at a different level," Showalter said. "Got some early outs, didn't really get a lot of deep counts. I thought that was fun to watch. He was a lot more entertaining, I can tell you that."
David Wilson is an associate reporter for MLB.com. This story was not subject to the approval of Major League Baseball or its clubs.