Astros break out early, stave off D-backs' rally
Lineup scores four runs in first two frames, sends Cosart to fifth win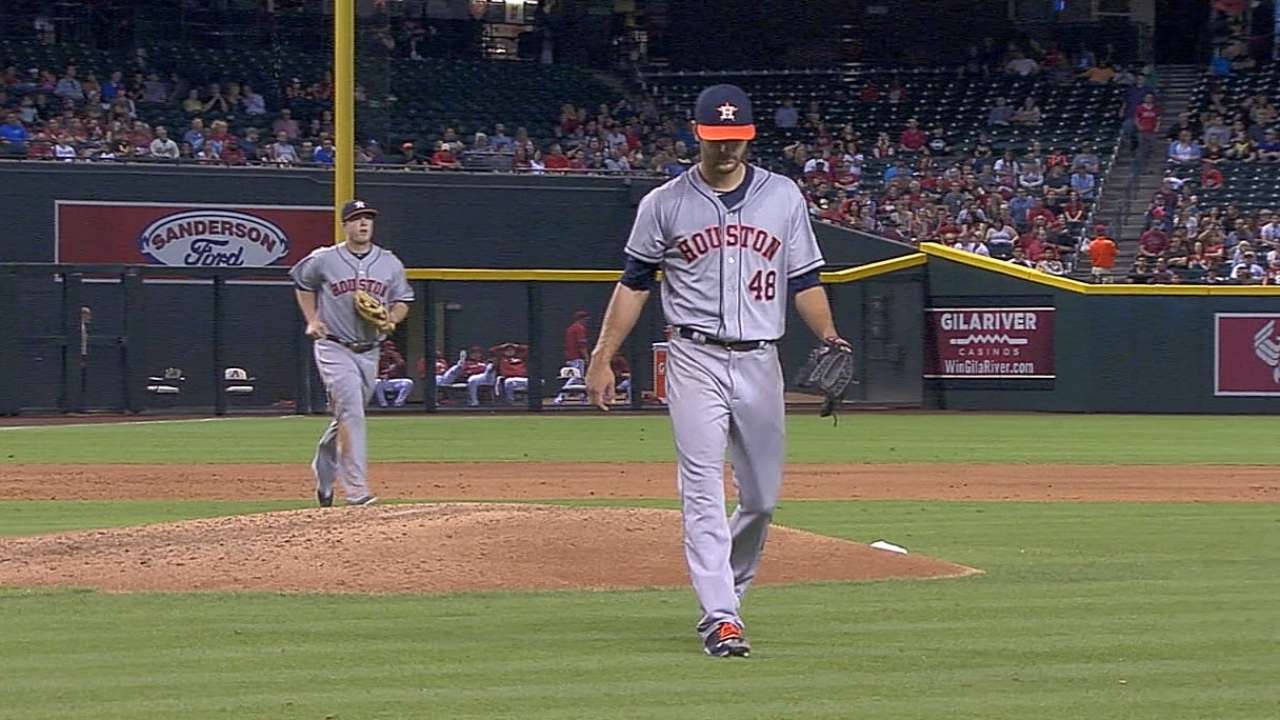 PHOENIX -- The Astros' first game in a National League ballpark since last July was full of National League-style baseball, featuring solid pitching and managerial moves that would make American League fans wonder if they were actually watching the same game they're accustomed to.
Despite the culture shock, the Astros pulled out a series-opening 4-3 win against the D-backs on Monday at Chase Field.
"I think [the team] did a great job," manager Bo Porter said. "We were kind of up against it with a short bullpen, so coming into that situation, as a staff, we kind of knew that once [starting pitcher Jarred Cosart] came out of the game, we were going to have to be creative."
That creativity may have saved the Astros' victory.
Relief pitcher Tony Sipp came in to start the seventh inning and didn't allow a hit, but in the eighth inning, he did something he had never done in any of his six years in the Major Leagues.
After he faced one batter -- D-backs right fielder Gerardo Parra -- to open the eighth, Porter took the ball from Sipp. But instead of heading to the clubhouse and taking a shower, Sipp headed out to right field, taking an outfielder's glove with him.
Sipp, who played some outfield in college, played right field for one batter while Jerome Williams walked D-backs first baseman Paul Goldschmidt. Porter then went back out to the mound and brought Sipp back in to pitch.
"I've been out there before, but it's just been a long time since I've been out there," said Sipp, a former D-back. "I think I was more focused out there on that one out than the rest … [Goldschmidt] likes to go that way. I've seen him go that way plenty of times."
Sipp proceeded to come back into the game and, without missing a beat, struck out D-backs catcher Miguel Montero.
"Never lose focus," Sipp said. "It's one of those things I don't think you can prepare for."
Sipp, Williams and closer Chad Qualls secured the lead given to them by their offense early in the game.
The Astros scored four runs in the first two innings thanks to the strength of their top-of-the-order hitters.
Center fielder Dexter Fowler and second baseman Jose Altuve combined to go 4-for-4 in the first two innings, scoring three of the Astros' four runs on Monday. The only run they weren't a part of was when first baseman Jon Singleton scored on an error by D-backs second baseman Aaron Hill.
Altuve, who has hit safely in 22 of 24 games, went 3-for-5 and didn't only set the table -- he drove in Fowler with an RBI double in the second inning.
The Astros feasted off of D-backs starter Josh Collmenter (4-3) early in the game. Collmenter struggled to locate the ball, and the Astros' lineup took advantage, knocking five hits, drawing a walk and getting a hit by pitch in the first two innings.
But Collmenter settled down after the first two frames, putting zeroes on the scoreboard from the third inning through the seventh.
"He had a tough inning. They led off with a couple of hits on him," D-backs manager Kirk Gibson said. "We made a mistake that extended the inning, gave them another run. Colly did a heck of a job, all things considered, with our bullpen the way it was. For him to give us seven innings and 100 pitches in that situation the way he started, that was excellent. He did his job."
Unlike Collmenter, Cosart started the game strong but struggled toward the end. Cosart (5-5) pitched three perfect innings to begin the game, but the D-backs began chipping away their second and third times through the order.
In the fourth, Goldschmidt doubled in a run and Montero singled him to third before Cosart forced an inning-ending double play. In the sixth, the D-backs added a pair of runs off of an error by Fowler on a single by Parra and another Montero single. Cosart, however, again worked out of the jam.
"[I am] more frustrated now for what happened late in the game," Cosart said.
"I just didn't execute pitches in the sixth, which led to the runs. But for the most part, early in the game, really, I had a fastball, curveball, had a changeup working, and I was able to hit my spots pretty well."
Adam Lichtenstein is an associate reporter for MLB.com. This story was not subject to the approval of Major League Baseball or its clubs.