Early stumbles haunt D-backs as comeback falls short
Hill commits error, Collmenter allows four runs in first two frames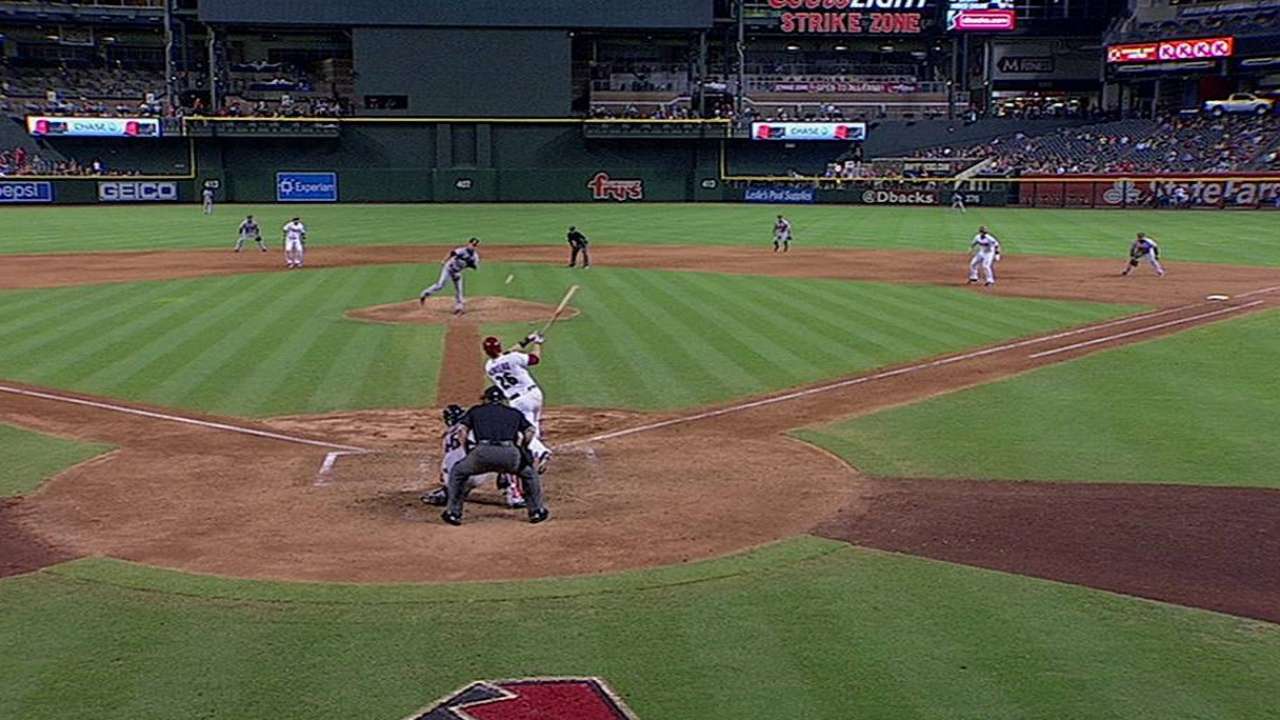 PHOENIX -- An early hole proved too deep to dig out of as the D-backs fell, 4-3, to the Astros on Monday night at Chase Field.
The loss snapped Arizona's two-game winning streak, but the D-backs have still won five of their last seven games.
It took a little while for starter Josh Collmenter to get settled in and that was all it took for the Astros to score a pair of runs in each of the first two innings to take a 4-0 lead.
"I wasn't very good the first two innings, didn't settle in for a while, couldn't find a rhythm and pitches that I made better late in the game got out and pitches early in the game were getting hit," Collmenter said. "They just weren't going where they wanted to, a little up in the zone, a little out over the plate. They didn't do a whole lot with them, but they got some hits and some singles and stuff like that and then were able to capitalize on some stuff."
Collmenter's defense did not provide a lot of help as an Aaron Hill first-inning error accounted for an unearned run.
"We made a mistake that extended the inning, gave them another run," D-backs manager Kirk Gibson said.
Overall it was a sloppy first two frames with Collmenter walking and hitting a batter.
After that, though, the right-hander seemed to find his rhythm as he allowed just two hits before departing after seven innings.
That he was able to go seven innings was important given the D-backs' depleted bullpen situation.
"Colly did a heck of a job, all things considered, with our bullpen the way it was," Gibson said. "For him to give us seven innings and 100 pitches in that situation the way he started, that was excellent. He did his job. We had a great opportunity to come back and win and couldn't push them across."
Astros starter Jarred Cosart, meanwhile, was in a groove from the first pitch as he tossed three perfect innings to open the game.
"He's got a good, live arm," Gibson said. "We haven't seen him. His ball has natural cut, had a good curveball. With guys on base he's a little different pitcher and we had some pretty good at-bats on him, had some pressure on him and we got him out of there. He's got a good-looking arm."
The D-backs were finally able to break through in the fourth when Gerardo Parra drew a one-out walk and scored when Paul Goldschmidt followed with Arizona's first hit of the night, a double down the line in left.
It looked like the D-backs might do further damage after Miguel Montero singled to put runners on the corners with one out, but Martin Prado grounded back to Cosart for an inning-ending double play.
"Attacking the strike zone with his fastball," Houston manager Bo Porter said of Cosart. "He used his changeup tonight, and it was the difference maker. And his ability to go the six innings that he went, it's because he was able to use his offspeed pitches, and I thought he did a tremendous job."
The D-backs pulled closer in the sixth when with one out, Didi Gregorius singled to left-center and scored all the way from first base when Dexter Fowler bobbled Parra's single to center to cut the Astros' lead to 4-2.
After a walk to Goldschmidt, Montero lined a single to right-center to score Parra and pull the D-backs to within 4-3.
That was as close as they would get as Porter deployed some creative managerial strategy in the eighth inning using lefty Tony Sipp to face the first batter of the frame -- a lefty -- and then moving him to right field to get a right-on-right matchup with Goldschmidt before bringing Sipp back to pitch to the left-handed hitting Montero.
"That was a good play," Gibson said. "Unless Goldy hits one to [Sipp]. I've seen it done before. I think I saw Lou Piniella do it in the playoffs once before. It's certainly within the rules. He's going to manage his team the way he wants to manage it. It worked out for him."
Steve Gilbert is a reporter for MLB.com. Read his blog, Inside the D-backs, and follow him on Twitter @SteveGilbertMLB. This story was not subject to the approval of Major League Baseball or its clubs.