Sox unable to generate any offense to aid Peavy
Club manages just three hits, while righty allows three home runs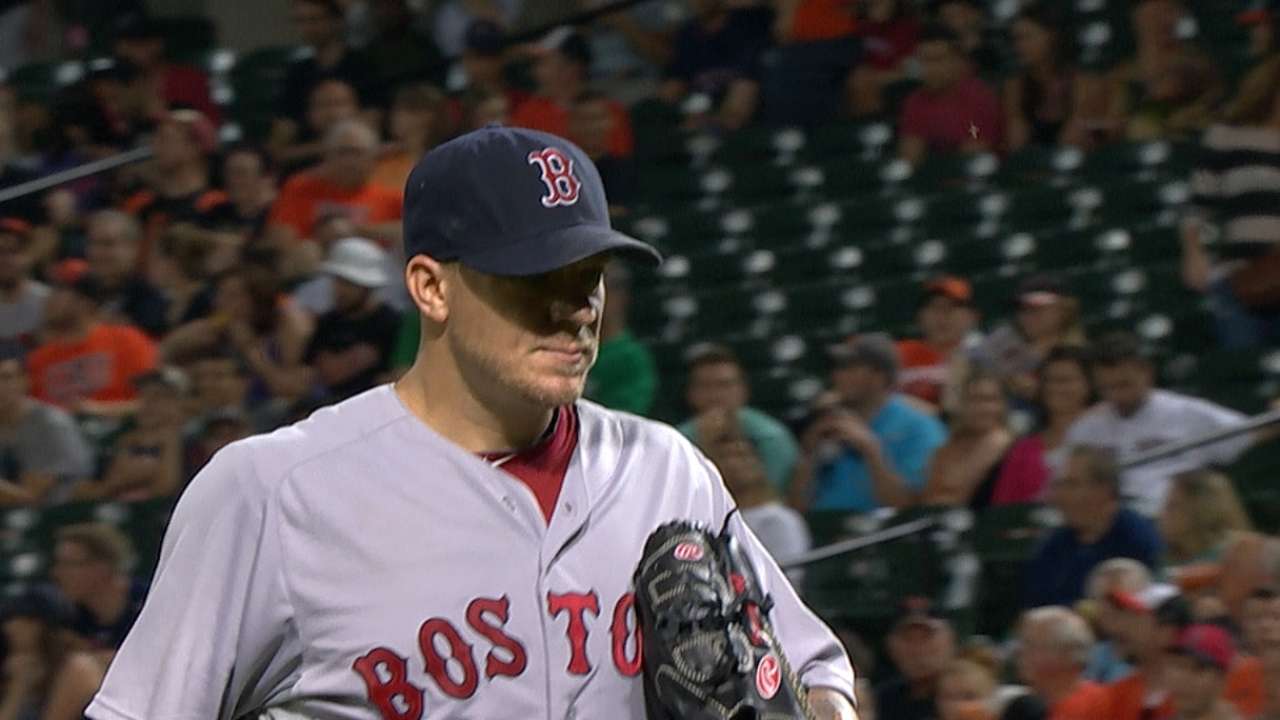 BALTIMORE -- The Red Sox keep looking for a spark -- or perhaps a moment -- that will change the direction of a season that has been utterly frustrating to date.
Judging by the early returns, the go-ahead, three-run home run that David Ortiz belted in Detroit on Sunday night is not going to be that something.
A day after Big Papi had delivered a comeback win, the defending World Series champions endured yet another night when they didn't generate enough offense to win.
In fact, Boston hardly delivered any offense at all Monday night, suffering a 4-0 loss to the Orioles in the opener of a three-game series at Camden Yards.
"It seems like our late game [Sunday] night, getting late here, it kind of [caught] up a little bit with everybody," said Ortiz. "Everybody was trying hard today, but the intensity wasn't like it used to be, you know what I'm saying? Hopefully everybody gets a good rest tonight and comes back [Tuesday] and fights back."
Of course, when teams are winning, they talk about being able to persevere despite nuisances like late-night flights, like the one that got the Red Sox into Baltimore at roughly 4 a.m. ET on Monday.
The Sox have lost six out of seven on this nine-game road trip, and without Ortiz's blast Sunday night, they'd be winless.
"I mean we have to get things going," said Red Sox first baseman Mike Napoli. "We have to score early runs, take pressure off the pitchers so they don't have to worry about just giving up one run. We need to do a better job of getting guys on base and driving them in."
Bud Norris completely stifled the Red Sox, only allowing more than one baserunner in one of his eight innings.
As far as the pitching goes, Jake Peavy had one of the stranger starts of his career. Aside from the three home runs, which accounted for all of Baltimore's scoring output, Peavy pitched a solid game.
The righty is 1-4 with a 4.76 ERA after allowing eight hits and four runs over seven innings while walking one and striking out seven.
"We made pitches, for the most part," said Peavy. "I could care less what my personal won-loss record is. What's grinding on me is the way we're going as a team. That's the hardest part."
That marked the first time Peavy allowed three homers in one game since July 25, 2013 -- his final start with the White Sox before he was traded to Boston.
"I thought Jake had good stuff tonight," said Red Sox manager John Farrell. "He made a couple of pitches, that fastball up to [Ryan] Flaherty in that seventh inning, breaking ball that doesn't get down close to [Nick] Markakis for the other two-run homer. As well as Norris was pitching -- he stayed out of the middle of the plate and had very good stuff -- one run was going to be the difference, the way this one turned out."
There could have been quite a few occasions when a performance like that would give the Red Sox a chance to win.
Norris was brilliant, allowing three hits and three walks while striking out six.
"You know that runs are a premium. We know that," said Peavy. "But you can't go out there thinking about that. If you're thinking about, you're thinking about the wrong thing. You might be a touch careful, but that's the last thing I want to do. You've got to be aggressive. If it takes your aggressiveness away, it ends up going against you. We'll pull out of it. We'll start scoring."
Adam Jones got the Orioles off and running by clocking a solo shot to center on a 1-0 slider Peavy in the first.
"The ball Adam Jones hit, that's down and away," said Peavy. "He's hitting everything right now."
The Orioles boosted their lead to 3-0 on a two-run shot down the line in right by Markakis in the fifth. That blast came on a 2-1 curve from Peavy.
"The Markakis pitch, that's a bad pitch. Can't throw the ball there," said Peavy.
Flaherty provided Baltimore's third long ball against Peavy, a solo shot that made it 4-0 in the seventh.
The 28-35 Red Sox are 10 games behind the Blue Jays in the American League East.
"Wins are hard to come by right now, but we've got a long season," said catcher David Ross. "It's one of those things, we're going out there and playing hard. Things just aren't happening for us right now."
Ian Browne is a reporter for MLB.com. Read his blog, Brownie Points, and follow him on Twitter @IanMBrowne. This story was not subject to the approval of Major League Baseball or its clubs.