Miggy to DH until hamstring fully recovers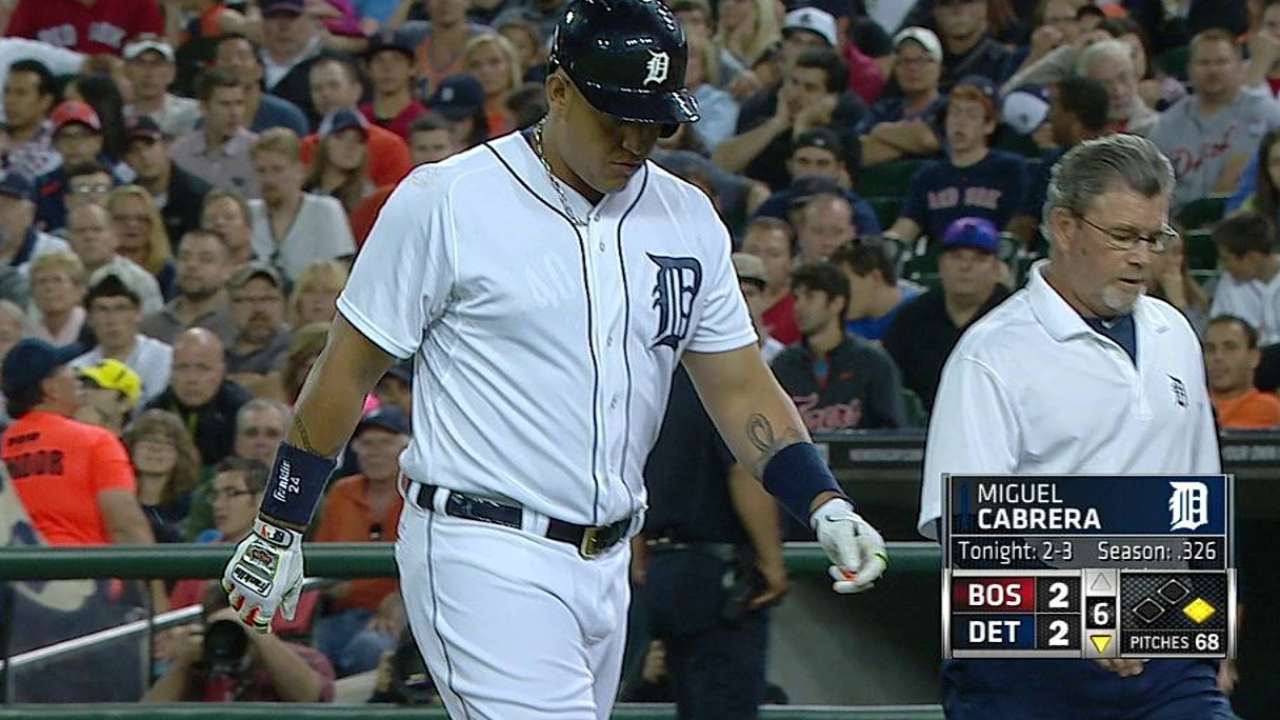 CHICAGO -- Miguel Cabrera's left hamstring apparently feels good enough for the two-time MVP to take some swings, but not quite good enough to play the field.
Cabrera, who exited Sunday's loss to the Red Sox in the sixth inning after his left hamstring tightened up, hit third for Monday's series opener against the White Sox, while Victor Martinez hit cleanup and took Cabrera's spot at first.
"Yeah, he said he felt a lot better coming in today," Tigers manager Brad Ausmus said of Cabrera. "He's going to get the hamstring worked on and go through the pregame stuff and as long there are no unforeseen issues, yeah, he'll DH."
Fortunately for the Tigers, the injury doesn't sound like something that would force Cabrera to the disabled list, and Ausmus said it's not related to similar injuries last year. The club considers Cabrera to be day to day and will evaluate him accordingly, which means it's unclear how long Cabrera will DH before he's fit to return to the field.
Ausmus said that in an ideal situation, Cabrera would return to playing field when he feels "nothing" in his hamstring. He also noted that Cabrera was knocked out of the game against the Rangers on May 25 because of a right hamstring cramp but returned to play first base the next day, and this appears to be roughly the same situation.
"You know, I'm not sure how I'd classify it. It doesn't seem to be a strain," Ausmus said. "Maybe it's a cramp, kind of tightening of part of the hamstring tissue. I'm not a professional, but that's kind of what it sounds like. He acted like it kind of tightened up on him as opposed to being overly stressed or stretched."
Ausmus was also faced with choosing between schools of thought. One the one hand, it makes sense for Cabrera to play the field so he can keep his hamstring warm -- but that could also put him at further risk for aggriavting it. On the other hand, his hamstring could get cold by DH-ing, therefore putting more stress on his hamstring when he does hit. The Tigers will keep Cabrera active to combat the latter.
Cabrera stayed active Monday night by hitting a solo homer in the fourth inning of a 6-5 loss. He finished 2-for-4 and scored twice.
Joe Popely is an associate reporter for MLB.com. This story was not subject to the approval of Major League Baseball or its clubs.