Cingrani struggles in loss to Dodgers
Lefty allows six runs on seven hits in 4 2/3 innings; Ludwick homers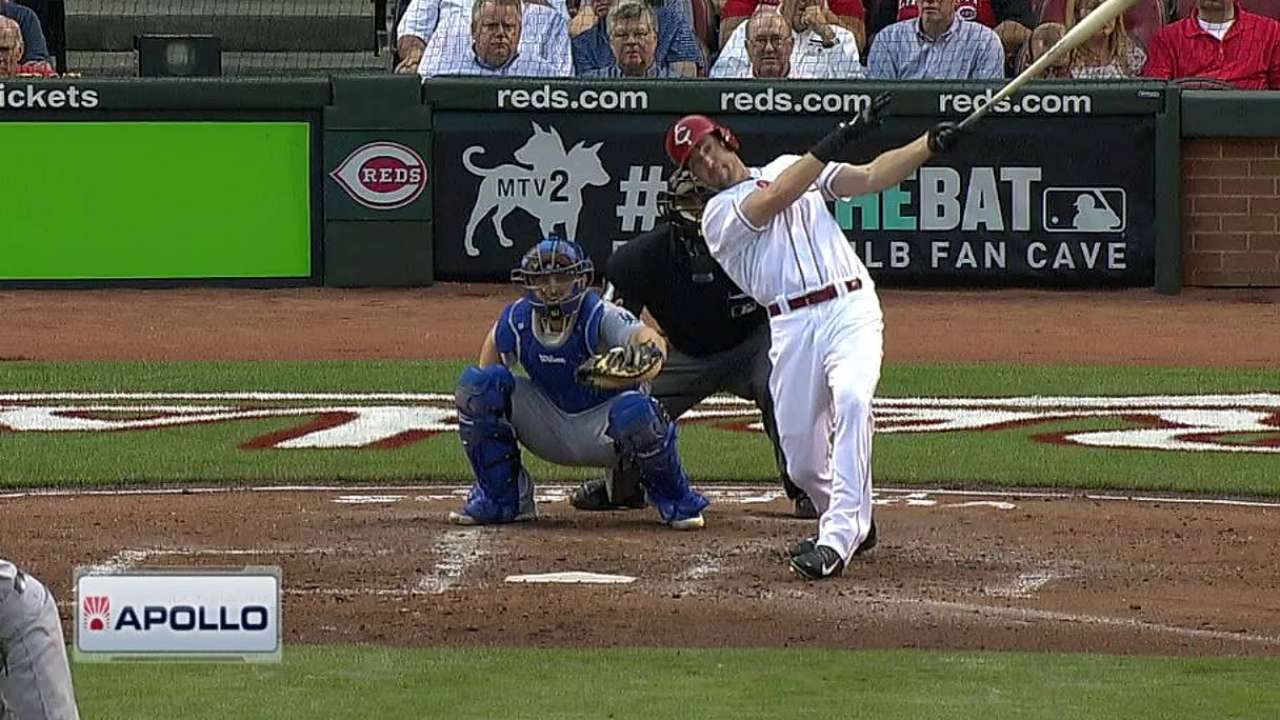 CINCINNATI -- Reds starting pitcher Tony Cingrani certainly doesn't want to come out of the rotation when Mat Latos comes off the disabled list, likely this weekend. But Cingrani has done little of late to position himself away from being the odd man out.
Cingrani gave up a career-high six runs in only 4 2/3 innings as the Reds were handed a 6-2 loss in Monday's four-game series opener against the Dodgers at Great American Ball Park. The pitch count was again high -- 97 -- as he allowed seven hits with three walks, five strikeouts and two Scott Van Slyke home runs.
Latos' impending return, Cingrani says, was not on his mind during the outing.
"I'm just trying to pitch," Cingrani said. "I can't be like, 'Oh my God.' I'm going out there trying to win. I'm trying to give my team the best opportunity to win. It's just hard. It's a hard game. What are you going to do?"
Cingrani, now 2-7 with a 4.68 ERA in 11 starts, is 0-5 with a 6.26 ERA in six games since returning from the disabled list on April 30 after he recovered from mild tendinitis in his left shoulder. He hasn't pitched more than six innings in a start since April 13.
"It's a frustrating season the way it's going. I don't know," Cingrani said. "I'll keep going out there trying to work hard and ride this thing out."
The man who was keeping Latos' spot warm -- Alfredo Simon -- has been so good this year that it would be stunning if he was moved back to the bullpen. Simon is 8-3 with a 3.15 ERA in 12 starts.
Meanwhile, Latos had a final rehab assignment start for Triple-A Louisville on Monday at Pawtucket that would put him in line to smoothly move into Cingrani's spot in the rotation on Saturday at Milwaukee.
Latos pitched 5 2/3 innings and gave up one run and four hits with 82 pitches before showers halted his outing. He threw 19 more pitches in a covered batting cage to reach his requisite 100 pitches needed before he might be activated.
"It was one of the things we wanted to make sure we accomplished today, was getting the pitch count up," Reds manager Bryan Price said of Latos. "I think we can safely anticipate if there are no issues with how he feels coming out of it, that he'll be probably in the mix here the next time through the rotation."
If Cingrani is moved out of the rotation, the question that does remain is whether he would go into the bullpen or be sent to Louisville. Price wasn't ready to make any determinations.
"The tough thing is that when we add Mat, we will have 13 Major League pitchers here for 12 jobs," Price said. "We'll have to find a way to make that work, which is going to necessitate making a very difficult decision. That doesn't necessarily mean that Tony is not involved in the equation. It's just something that we're going to have to talk about organizationally.
"We're going to have to make sure, No. 1, that Mat comes back and feels good and throws a good healthy side day before we have to think about it much beyond that. It's been discussed and we'll come up with what we think is the best decision here in the next few days."
Cingrani seemed to have good velocity, mostly in the low 90s, vs. Los Angeles, something he lacked in some of his previous starts. His location wasn't as strong, however.
To begin the top of the second inning, Cingrani left a 94-mph 3-2 fastball over the plate for Van Slyke that was launched very deep to left-center field for a homer. The Reds tied it in the bottom half, when a Dan Haren wild pitch to Cingrani with the bases loaded scored Brayan Pena.
In the Dodgers' fourth, following a Van Slyke walk, Justin Turner blooped an RBI single on the outer edge of the infield dirt behind first base. A Tim Federowicz sacrifice fly made it a 3-1 game. Cincinnati stayed on Haren's heels when Ryan Ludwick led off the bottom half by hitting a 3-1 pitch for a homer to the first row of left-field seats.
Cingrani was one out -- one strike, actually -- from getting through the fifth inning and being in position to at least have a semi-decent line for the night.
"It's been kind of the hiccup a little bit, especially since he's come off the DL, being able to really have that shutdown inning as he's getting close to his pitch count," Price said.
With two outs in the fifth, as Cingrani's pitch count neared 100, Yasiel Puig drew a four-pitch walk. On a 2-2 count to Matt Kemp, Cingrani's fourth pickoff throw to first base was wild for an error that moved up the runner. The pressure was added when Kemp walked. Van Slyke then slugged Cingrani's 2-2 fastball to left field for the three-run homer.
"In the first at-bat he threw me all fastballs, so I was looking for a fastball. He left it middle-in and I made good contact," Van Slyke said. "The second one was 2-0 out in front of a changeup, and the next one was a high fastball."
Logan Ondrusek took over for Cingrani and pitched 2 1/3 scoreless innings, but Cincinnati has yet to come back from more than a two-run deficit all season.
Following Ludwick's homer in the fourth, Haren retired his next seven in a row before allowing a one-out walk to Jay Bruce and a Ludwick single in the sixth. J.P. Howell took over and got Pena to ground into an inning-ending double play -- the first of three in the game. The third one came with the bases loaded and no outs in the eighth against Brandon League. Ludwick bounced into a 1-2-3 double play and Pena grounded out to kill another rally.
Mark Sheldon is a reporter for MLB.com. Read his blog, Mark My Word, and follow him on Twitter @m_sheldon. This story was not subject to the approval of Major League Baseball or its clubs.