Twins rally to tie but fall victim to walk-off
Morales gets key single to spark comeback in debut vs. Toronto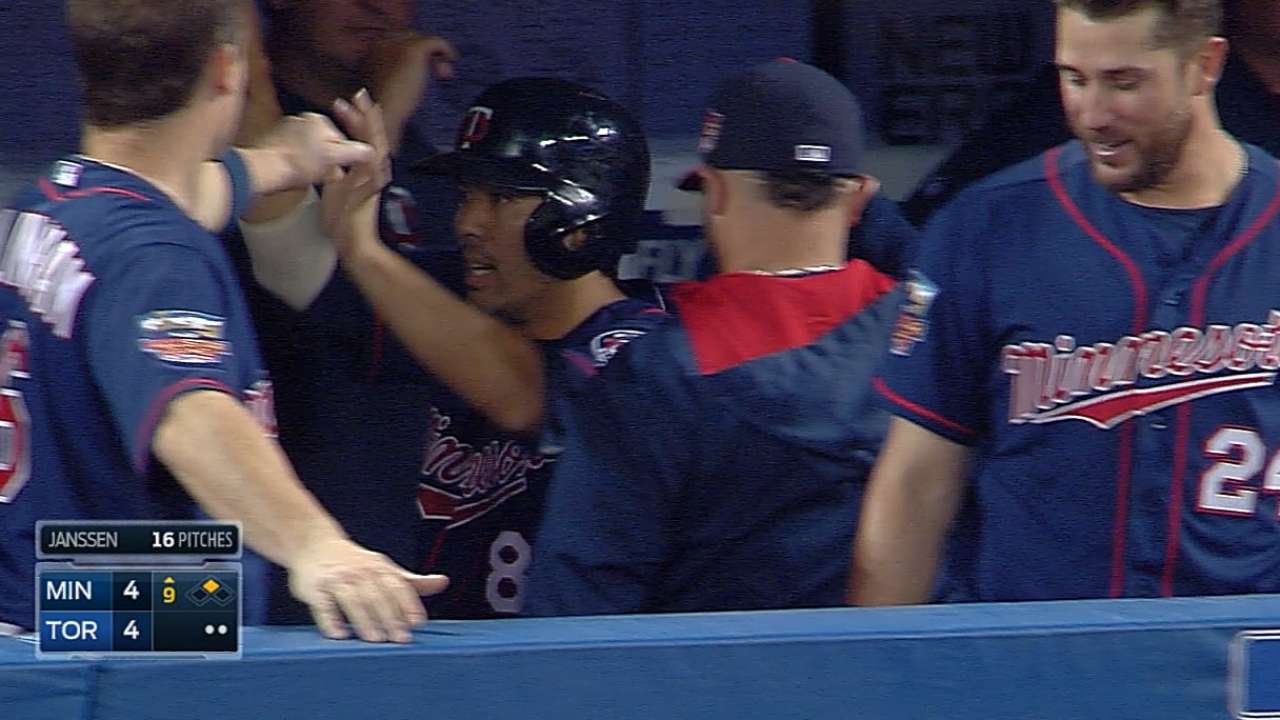 TORONTO -- With Kendrys Morales officially in the fold, the Twins are trying to prove they can compete this year and keep up their surprising start, as no one is running away with the American League Central or the Wild Card at this point in the season.
Morales made his debut against the Blue Jays on Monday just one day after joining the club, and helped spark a two-run rally in the ninth to tie the game, but the Twins ultimately lost a heartbreaker on a walk-off single from Kevin Pillar that lifted the Blue Jays to a 5-4 win at Rogers Centre.
Right-hander Casey Fien gave up the walk-off single to Pillar, who was able to bloop one to right field to bring home the game-winning run with one out. Dioner Navarro started it with a leadoff walk against reliever Matt Guerrier before Fien gave up a single to Jose Reyes to set up Pillar's clutch hit.
"We got back in it and kept competing like we have been but just like we scored, they scored," Twins manager Ron Gardenhire said. "We blooped a couple and feathered them in there and they did the same at the end there. We competed again and had some good hits to tie it up, but when you walk the leadoff guy anything can happen after that."
Guerrier had gotten out of his own jam in the eighth, but Gardenhire opted to bring him back out for the ninth with the bullpen depleted after their blowout loss to the Astros the day before. Guerrier simply couldn't make a pitch to Navarro, and it came back to haunt the Twins.
"I was just having trouble getting the ball over the plate," Guerrier said. "It's always tough with a leadoff walk. I was fortunate to get a strikeout after that. But then a couple cheap hits. That's what happens."
It spoiled the season debut for Morales, who made a surprise start at designated hitter just one day after signing a one-year deal to mark his first game since Sept. 29, 2013. He went 1-for-3 with a walk and started the Twins' rally in the ninth with a one-out single against Blue Jays closer Casey Janssen before being lifted for pinch-runner Aaron Hicks. Hicks reached second on defensive indifference before scoring on a two-out double from Kurt Suzuki, who was down to his last strike.
Eduardo Escobar followed with a bloop double to left to even the game at 4, but Danny Santana struck out to leave Escobar in scoring position. The Twins went 2-for-6 with runners in scoring position and stranded six runners, which proved to be costly with the Blue Jays winning in walk-off fashion.
"To scratch a win out like that was big for us," Blue Jays manager John Gibbons said. "Even when things didn't go our way, we still managed to pull out a nice win."
The comeback came after right-hander Ricky Nolasco went 5 2/3 innings, surrendering four runs on seven hits and two walks with six strikeouts. All four runs against Nolasco came on homers from the Blue Jays, who lead the Majors in that category.
"It's starting to get a little old as kinda the story of my season," Nolasco said. "But that's what those guys are going to do, especially in this ballpark. You make a mistake and they make you pay. I'd like to have them back, but I thought I had decent stuff tonight."
Edwin Encarnacion came through with a three-run shot with two outs in the first for his 20th homer of the year after Melky Cabrera singled and Jose Bautista walked. Reyes added a solo blast to lead off the fifth for his fourth homer of the year.
The Twins started off strong, keyed by back-to-back solo homers from Santana and Brian Dozier to open the game against knuckleballer R.A. Dickey. But Dickey settled down from there, retiring 10 in a row at one point until running into trouble in the sixth inning.
The Twins loaded the bases against Dickey with one out in the sixth after Morales drew a five-pitch walk. Right-hander Dustin McGowan came in to face Trevor Plouffe and was able to get out of the jam by getting Plouffe to ground into a double play.
The double play loomed large after the Twins rallied in the ninth, only to lose for the fourth time in the last five games.
"It's tough," Guerrier said. "Coming back from two runs against a guy who has pitched well gave us a chance to win. We fought back, but it's a tough loss getting walked off anywhere."
Rhett Bollinger is a reporter for MLB.com. Read his blog, Bollinger Beat, and follow him on Twitter @RhettBollinger. This story was not subject to the approval of Major League Baseball or its clubs.