Pillar redeemed as walk-off single saves Blue Jays
After making defensive blunder, outfielder a hero in ninth inning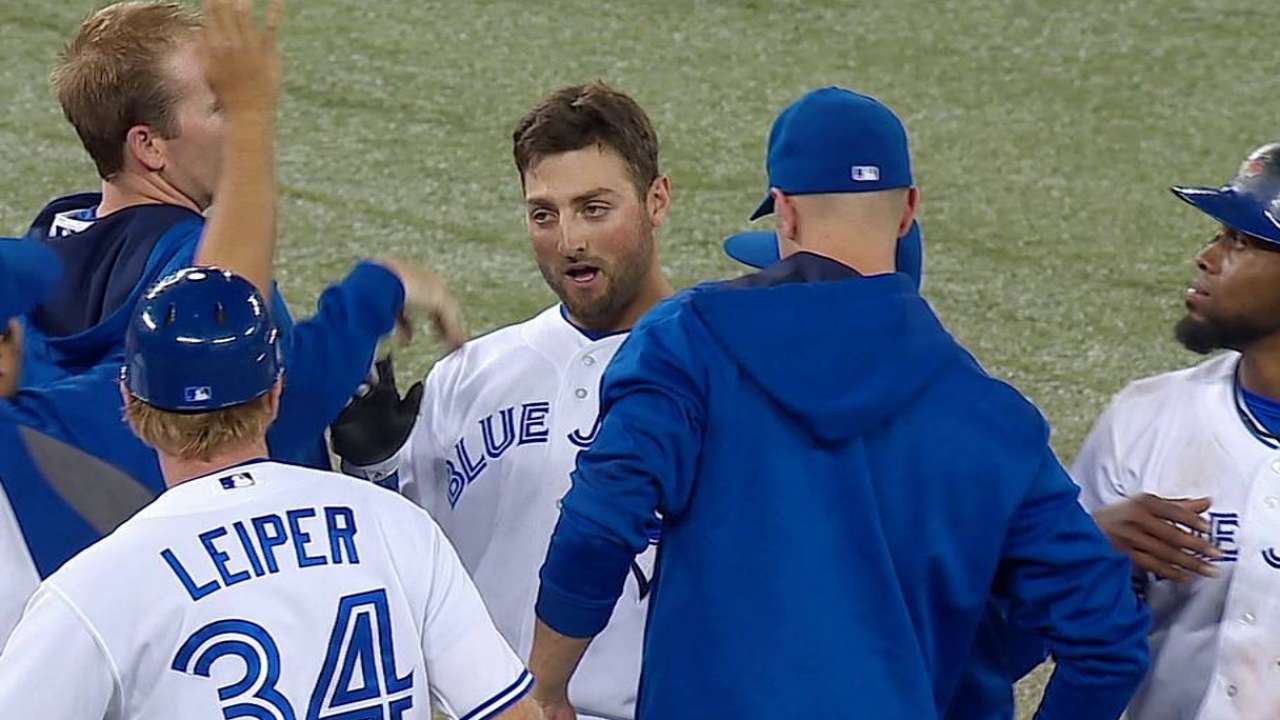 TORONTO -- Kevin Pillar went from the goat to the hero in a matter of minutes during the ninth inning of Monday night's 5-4 victory over the Twins.
Toronto's outfielder made a costly defensive miscue in the top of the ninth that played a major role in the Blue Jays losing a 4-2 lead. Much to Pillar's relief, he didn't have to wait long for his second chance.
Pillar redeemed himself by hitting a walk-off single to help snap a mini two-game losing streak as Toronto escaped with the win in front of 19,428 fans at Rogers Centre.
"It's a huge roller coaster of emotions right there, and I guess that's baseball," Pillar said. "There are a lot of ups and downs, you've just got to find a way to get back centred and deal with the task at hand."
Pillar's eventful ninth began when the Blue Jays were one out away from taking the series opener. With a runner on first, Casey Janssen was attempting to put the finishing touches on his 12th save of the year. Everything was rolling along fine enough until Kurt Suzuki hit a sinking line drive to shallow left field.
When the ball left Suzuki's bat, Pillar thought he had a play on it. He had visions of recording the final out and came in on a full sprint before sprawling with a head-first dive. Unfortunately, he wasn't able to make the catch and the ball rolled all the way to the warning track before it was picked up by center fielder Anthony Gose.
That allowed one run to score and put Suzuki on second with the tying run. If Pillar had come up with the ball he likely would have been on highlight reels all over North America, but either way he had broken a cardinal rule. The smart play is to take the safe approach, keep the ball in front and limit the batter to a single.
With the winning run in scoring position, Pillar's nightmare came true a few pitches later when a little blooper by Eduardo Escobar went just over the outstretched glove of Brett Lawrie at third base. Just like that, Suzuki scored the tying run and both sides found themselves in a new ballgame.
"It's a tough read," Pillar said of the sharp liner. "I just erred on the side of being aggressive than being passive. It probably wasn't the right decision, but I feel like that's a catch I've made many times before and I felt like I got a good read off the bat.
"It had a little bit more top-spin than maybe I anticipated and I thought worst-case scenario I was going to get a glove on it and be able to keep it in front. I guess that's the reason you don't dive in those situations because you see what it leads to, the next hit barely gets out of the infield and scores the tying run."
Pillar's shot at redemption came in the bottom half of the inning. Dioner Navarro led off with a walk and Jose Reyes eventually singled to put runners on first and second with one out. Pillar came to the plate against right-hander Casey Fien and quickly fell behind 1-2, but he then fought off a 90-mph fastball that was down and away.
The end result was a shallow shot to right field that dropped in front of Oswaldo Arcia. The hit was just enough to allow pinch-runner Erik Kratz to score from second base and give Toronto its second walk-off victory of the season.
"We got back in it and kept competing like we have been," Twins manager Ron Gardenhire said. "But just like we scored, they scored. We blooped a couple and feathered them in there and they did the same at the end there. We competed again and had some good hits to tie it up, but when you walk the leadoff guy anything can happen after that."
Toronto entered the game struggling through an 18-innings scoreless streak, but that ended in the first when Edwin Encarnacion hit a three-run shot off right-hander Ricky Nolasco for his 20th homer of the season. Reyes also got in on the action with a solo shot in the fifth to extend his hitting streak to 10 games.
Blue Jays starter R.A. Dickey got off to a rough start as he surrendered a pair of homers to Danny Santana and Brian Dozier to lead off the game. That put Toronto behind early, but Dickey was able to keep Minnesota at bay until the sixth when he encountered some more problems.
A leadoff triple by Josh Willingham went just under the glove of a diving Jose Bautista in right-center field. Dickey then hit one batter and walked another before he was lifted in the sixth inning with the bases loaded and less than two outs for the second consecutive start.
Left-hander Aaron Loup fixed the problem in Detroit, and this time right-hander Dustin McGowan was the one who cleaned up the mess. McGowan induced a double play off the bat of Trevor Plouffe to end the inning.
"I felt like when I was starting I was in these situations a lot anyways so I had a lot of practice," said McGowan, who began the year in the starting rotation. "One thing on your mind, is when the starter ... had done a heck of a job and you want to help him too. You want to keep the damage to a minimum."
McGowan went on to pitch a scoreless seventh, and Loup bridged the gap to Janssen. Dickey was charged with the two runs on five hits and two walks with three strikeouts over 5 1/3 innings. With the victory, the Blue Jays avoided losing three games in a row for the first time since May 9-11.
Gregor Chisholm is a reporter for MLB.com. Read his blog, North of the Border, and follow him on Twitter @gregorMLB. This story was not subject to the approval of Major League Baseball or its clubs.