Angels stay hot as Richards holds down A's
Righty's seven strong innings lead Halos to fourth straight win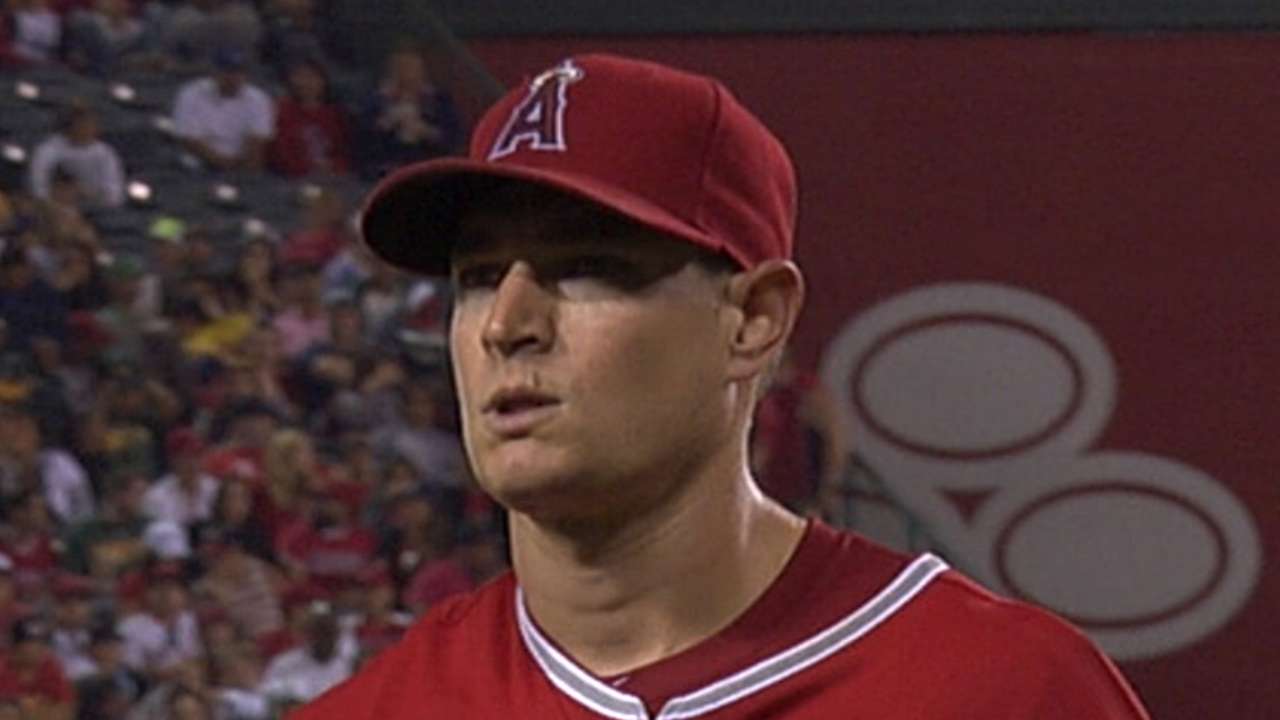 ANAHEIM -- Perhaps it was merely a singular win among what the Angels hope is a whole lot of them, and nothing more complex than what Mike Scioscia expressed in the Angel Stadium news-conference room after his team's 4-1 victory over the A's.
"We got a game," the Angels' manager said, plainly. "We have to come back and play a good game tomorrow."
The schedule keeps coming, as Scioscia often points out, and the series opener means little if the Angels -- still winners of just two out of seven against the American League's best team -- can't win this series.
But Monday night's game may have meant something more to three of Scioscia's players, all of whom exorcised some demons.
It was big for Garrett Richards, who gave up five runs in two-thirds of an inning on May 30 at the O.co Coliseum but redeemed himself on Monday night with seven innings of one-run ball to improve to 6-2.
"I gave them one that time," Richards said, "and I felt like this was my time to come out swinging."
It was big for Joe Smith, the veteran reliever who gave up a lead in the seventh inning on May 31, then pitched a 1-2-3 eighth to preserve a two-run advantage in the series opener.
And it was big, mostly, for Ernesto Frieri, the emotional closer who was eight weeks removed from serving up the game-winning homer to A's catcher John Jaso and one day removed from delivering an inadvertent bulletin-board comment about the A's, partly saying: "We're going to beat 'em. I hate to say this, but they've had a little bit of extra luck."
Then Frieri walked the walk, appearing in a fourth straight game for the first time in his career, facing the heart of the A's order -- Josh Donaldson, Brandon Moss, Yoenis Cespedes -- and striking out the side to pick up his 11th save.
"It was a misunderstanding," Frieri said of his quote the previous day. "I'm sorry if I offended somebody. I respect the Oakland A's; their team is playing really good baseball. But at the same time, I have confidence in my team. I knew that we were going to play better baseball."
The Angels and A's played three one-run games at Angel Stadium from April 14-16, with the Angels losing two of three. Then the A's outscored the Angels by 15 runs in Oakland from May 30 to June 1, the lowlight of a 3-7 trip that was forgotten about when the Angels (35-28) swept the White Sox this past weekend.
It took a collective effort for the Angels to win their fourth in a row.
Richards, Smith and Frieri did their thing on the mound against a team that had homered in 16 consecutive contests and has scored the most runs per game in the Majors. Offensively, against a staff with baseball's lowest ERA, Raul Ibanez had his first multihit game since April 28 and his first RBI since May 15, dumping a single to left off Jesse Chavez to give the Angels a 2-1 lead in the fourth; Mike Trout drove in two runs, and would've driven in three had his initial home run to right field not been overturned due to fan interference; and Hank Conger notched two hits, including an RBI single in the eighth that provided an important insurance run.
It was the Angels' season-high fourth straight win, and it put them 3 1/2 games back of the A's in the AL West.
"We can beat 'em, man -- we can beat anybody," Smith said. "If you look around this clubhouse, we have the talent in here to win, and we have the talent to win a lot of baseball games and play deep into the postseason. Obviously it's a division rival, it's Oakland. Do we want to win? Yeah. But we want to beat everybody every night we come to the ballpark."
Richards learned something from his previous start against the A's.
""I was nibbling last time," he said. "I can't even really explain it."
So the 26-year-old right-hander instead trusted his stuff, which is sone of the game's best, and notched a string of 15 consecutive innings without a walk. He pitched eight scoreless innings against the Astros on Wednesday, scattering four hits, striking out nine and twirling an immaculate inning, then scattered four hits while striking out four and walking none for the second straight time on Monday.
"He was throwing strikes," as A's manager Bob Melvin said.
And it all started with the very first at-bat of the game.
Richards fell behind on A's leadoff hitter Coco Crisp 3-0, then came back with five straight strikes -- one of them on what Melvin called "a questionable call" -- and ultimately induced a flyout.
Scioscia called it "a huge out."
It has set a tone, one the Angels would carry the rest of the night.
"After the first three pitches, getting that first one over at 3-0, you hit a little light switch and kind of get aggressive," said Richards, who now has a 3.09 ERA. "That's the kind of mentality I'm going to need for the rest of my starts this year."
Alden Gonzalez is a reporter for MLB.com. Read his blog, Gonzo and "The Show", and follow him on Twitter @Alden_Gonzalez. This story was not subject to the approval of Major League Baseball or its clubs.