Castro's strong game not enough for Cubs
Jackson allows four runs over six innings in uneven outing vs. Bucs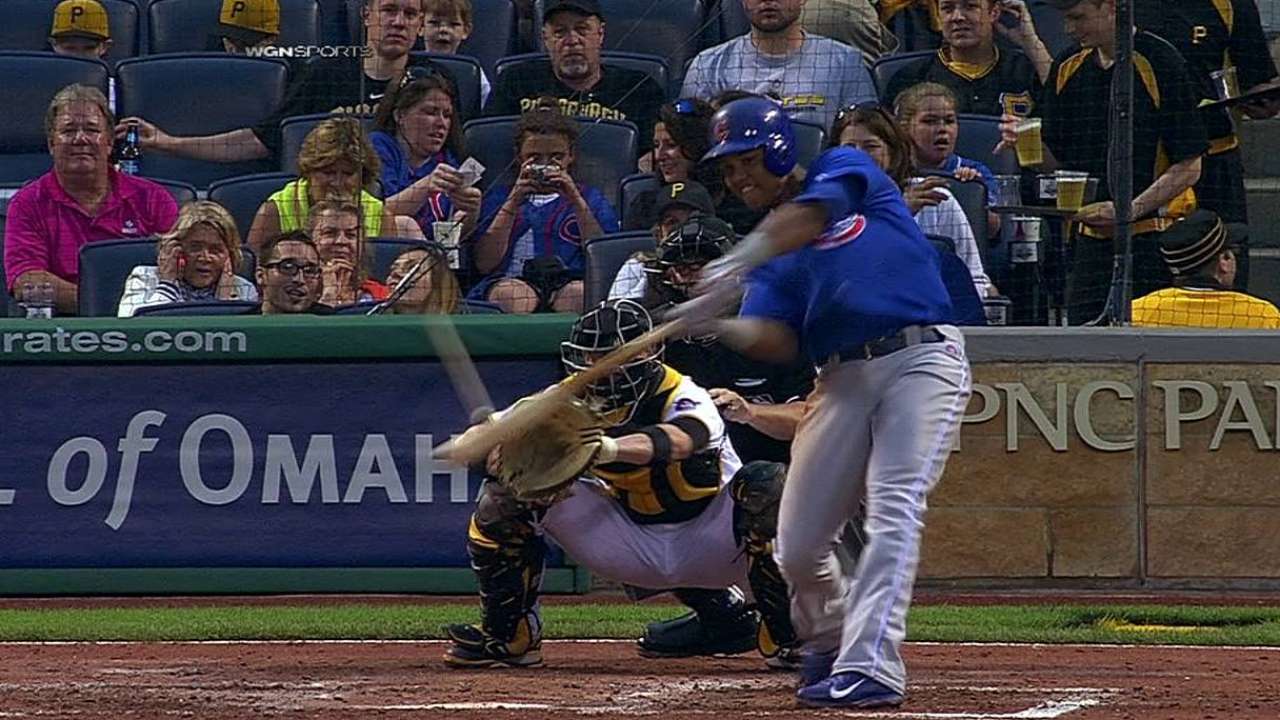 PITTSBURGH -- After winning five of six games in the last homestand, manager Rick Renteria was eager to see if the Cubs could continue that success on the road. Unfortunately for them, they had to deal with Andrew McCutchen and Charlie Morton on their home turf.
McCutchen smacked a two-run homer and an RBI double to back Morton and lead the Pirates to a 6-2 victory Monday night over the Cubs, who dropped to 10-22 on the road.
It wasn't room service or the early morning fire alarm at the hotel that was the problem on Monday.
"Obviously, Morton was really on his game today," Renteria said. "I thought his ball was coming back strong, hard, and you saw a lot of us backing away. He did a real nice job attacking the zone. Give them credit. Give McCutchen credit."
Morton now has pitched into the sixth inning in all seven of his starts at PNC Park, and has been charged with three earned runs over 26 2/3 innings in his last four games at home. He held the Cubs to six hits over seven innings and was efficient. The right-hander needed just seven pitches to zip through the first.
"He nailed the sinker early, used it inside to a number of left-handers, even pushed it in there to some right-handers," Pittsburgh manager Clint Hurdle said of Morton. "He had three Major League pitches tonight -- this might have been the first game in a while that he had all three weapons -- he was quick with strike one.
"He retired 17 [batters] on three-pitches or less," Hurdle said. "Only one three-ball count. He nailed every one on the list of things we wanted to see."
Edwin Jackson wasn't as successful. He took the loss and is winless in three starts against the Pirates this year. On Monday, the right-hander scattered seven hits over six innings, striking out eight. But McCutchen had the edge.
Pedro Alvarez singled to lead off the Pirates' second and scored on Starling Marte's double into the left-field corner. Pittsburgh made it 3-0 with one out in the third when Travis Snider doubled and McCutchen followed with his eighth home run, an opposite-field shot.
Snider singled with two outs in the fifth and McCutchen followed with a double to right for a 4-0 lead. The reigning National League MVP, McCutchen is batting .390 (23-for-59) in his last 15 games at PNC Park and is batting .461 against Jackson.
"I just have to make a better pitch," Jackson said. "I have to do a better job of mixing it up instead of getting beat on the same pitch twice [to McCutchen]. You feel good and you let the guy on their team who's the threat beat you twice.
"I just have to do a better job of executing pitches and keeping the ball down," Jackson said. "[McCutchen is] strong enough to where even if he gets beat, he has enough power to still hit the ball opposite field to the short porch and hit it well."
Starlin Castro provided the offense for the Cubs. He hit an RBI double with two outs in the sixth and led off the ninth with his eighth home run. There's been no more talk about the shortstop taking a day off.
"I told [Renteria], 'If I need it, I'll tell you. Let me make it my decision,'" Castro said. "I want to keep playing. I feel good."
So did the Pirates, who added two more runs in the eighth off Carlos Villanueva as Ike Davis led off with a home run and Marte hit an RBI double.
The Cubs did provide some excitement in the Pirates' sixth with an extended 2-5-1-5-4-6 rundown to get Marte, who had broke for home.
"That's not actually the way you write it up," Renteria said. "But we got the out."
If the Cubs played .500 on the road, they'd have a winning record. What's going on with road games?
"I don't know, man," Castro said. "We've tried to figure out what it is."
Carrie Muskat is a reporter for MLB.com. She writes a blog, Muskat Ramblings, and you can follow her on Twitter @CarrieMuskat. This story was not subject to the approval of Major League Baseball or its clubs.